The small mountaintop Buddhist community of Mount Koya (Koyasan) is one of Japan's most magical, if increasingly popular, destinations and the perfect place to spend a night at a Buddhist temple in shukubo temple lodgings.
Located in a remote wooded area of Wakayama Prefecture, south of Kyoto and Osaka, Koyasan is home to more than 100 temples and monasteries.
The headquarters of the Shingon school of Buddhism, Mount Koya was originally established in the year 819 by the famous monk Kukai (also known as Kobo Daishi), and to this day remains one of the holiest places in Japan.
Koyasan is fairly easy to access from Osaka and Kyoto, which undoubtedly contributes to its recent boom in visitors. Yet despite the rise in tourism, Mount Koya remains a rewarding destination for travelers interested in Buddhism, history, traditional culture, and nature.
Originally written in 2014, this post was updated and republished on July 15, 2020.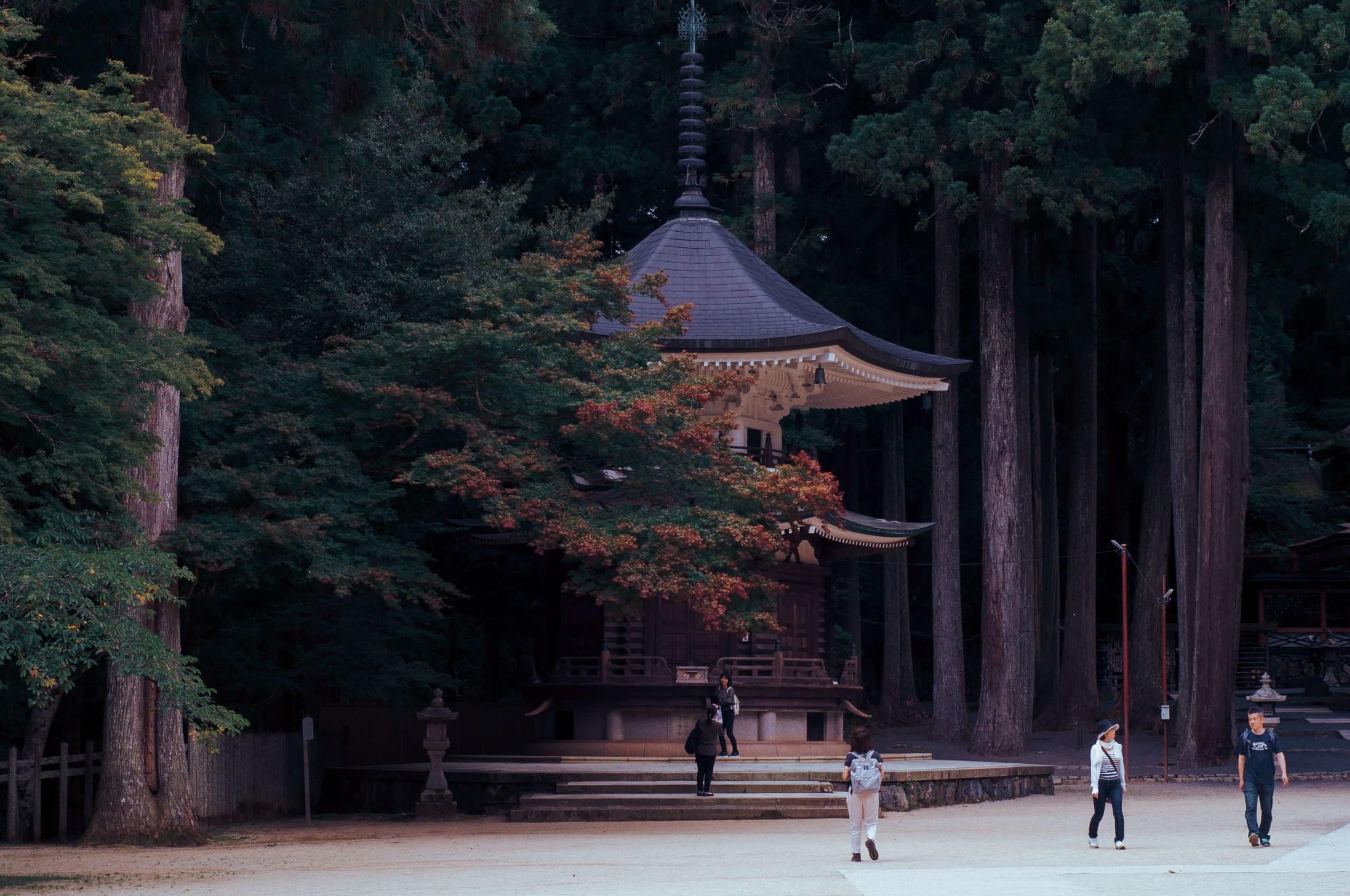 When to Visit Mount Koya
There's no bad time to visit Mount Koya, but it's wise to know what to expect.
If you like warmer weather, consider visiting in late spring, summer, or early fall. In late autumn it begins to get quite chilly, and winters are cold and often snowy (making this beautiful destination even more gorgeous).
For more on Japan's seasons and weather, see When Is The Best Time To Visit Japan?
Getting to Mount Koya
It's possible to visit Koyasan as a long day trip from Osaka (or even Kyoto), but for a richer experience we recommend spending a night or two here.
The most straightforward jumping off point for reaching Mount Koya is the city of Osaka.
If you're coming from Kyoto, you'll first need to make your way to nearby Osaka. Rail connections between Kyoto and Osaka abound, and the best option will depend in great part on where in Kyoto you're starting. You can look at route options using sites such as Google Maps, Hyperdia, and Jorudan.
From Osaka there are a handful of options, but for most travelers the simplest and most direct way to Mount Koya will be departing from Osaka's Nankai Namba Station (not to be confused with the nearby Namba Station). Nankai is the name of the railway company that operates the Nankai Koya Line to Mount Koya.
Rail travel in Japan is a pleasure, and for our clients we typically suggest the Nankai Koya Line's Limited Express Koya train, which gets you to Koyasan as quickly and efficiently as possible (there are slower, non-express options as well).
The end of the line is Gokurakubashi Station, where everyone makes the easy transfer to the charming Koyasan Cable Car, which takes you up to Mount Koya itself. From there, taxis and buses are waiting to whisk travelers to their shukubo (temple lodgings).
For some travelers, it may make sense to obtain the Koyasan-World Heritage Ticket or the Kansai Thru Pass. For our clients, we often include one if the circumstances make it worthwhile. (Speaking of special rail passes, see our overview on the Japan Rail Pass.)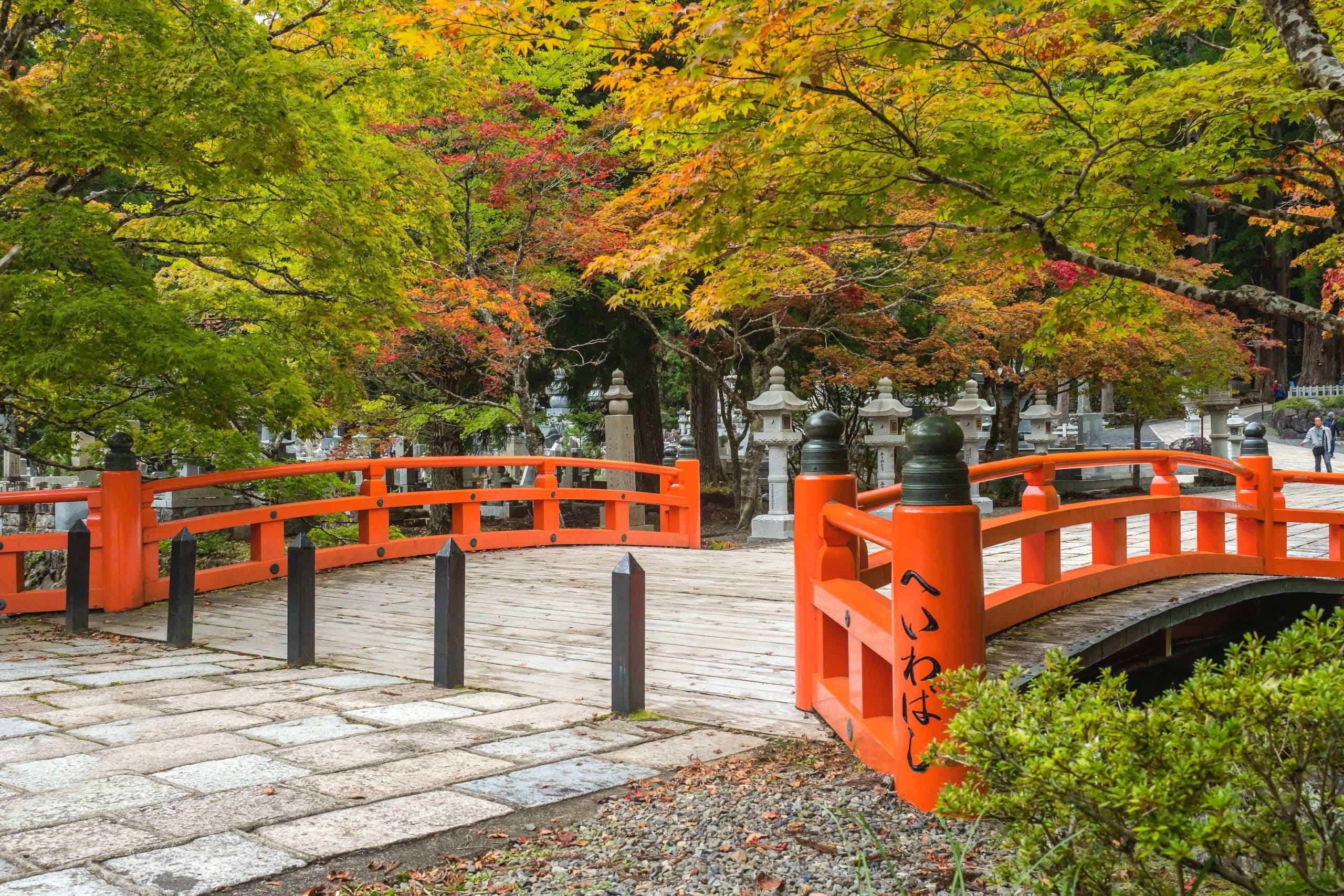 What to Do on Mount Koya
Aside from the chance to stay in a shukubo (more about temple lodgings below), Koyasan's most famous landmark is the otherworldly Okunoin Cemetery.
Okunoin is one of Japan's most sacred sites, and the location of Kobo Daishi's mausoleum. If you follow the lovely walking paths through this beautiful wooded cemetery, you'll end up at Torodo Hall, which houses more than 10,000 eternally-lit lanterns.
Most visitors come during the day, but for the more adventurous we recommend a visit at night. This will also give you the opportunity to enjoy a more serene Koyasan, once the day-trippers have departed.
Okunoin Cemetery is a about a 10-minute bus ride from the center of town, where most of the temples – including the famous Kongobuji Temple – are located.
Kongobuji is the headquarters of the Shingon sect. Inside, you'll find exquisitely-painted gilded sliding doors adorned with cranes, plum blossoms, and the story of Kobo Daishi's journey to China and subsequent founding of Koyasan.
Also located within the Kongobuji temple complex is Japan's largest rock garden, Banryutei Rock Garden. The beautiful Banryutei depicts a pair of dragons emerging from a sea of clouds.
Just a short stroll from Kongobuji you'll come upon another of Koyasan's most sacred sites, Danjo Garan. This is a complex of about twenty structures, including the impressive 45-meter tall Konpon Daito Pagoda and Kondo Hall, where important ceremonies are performed.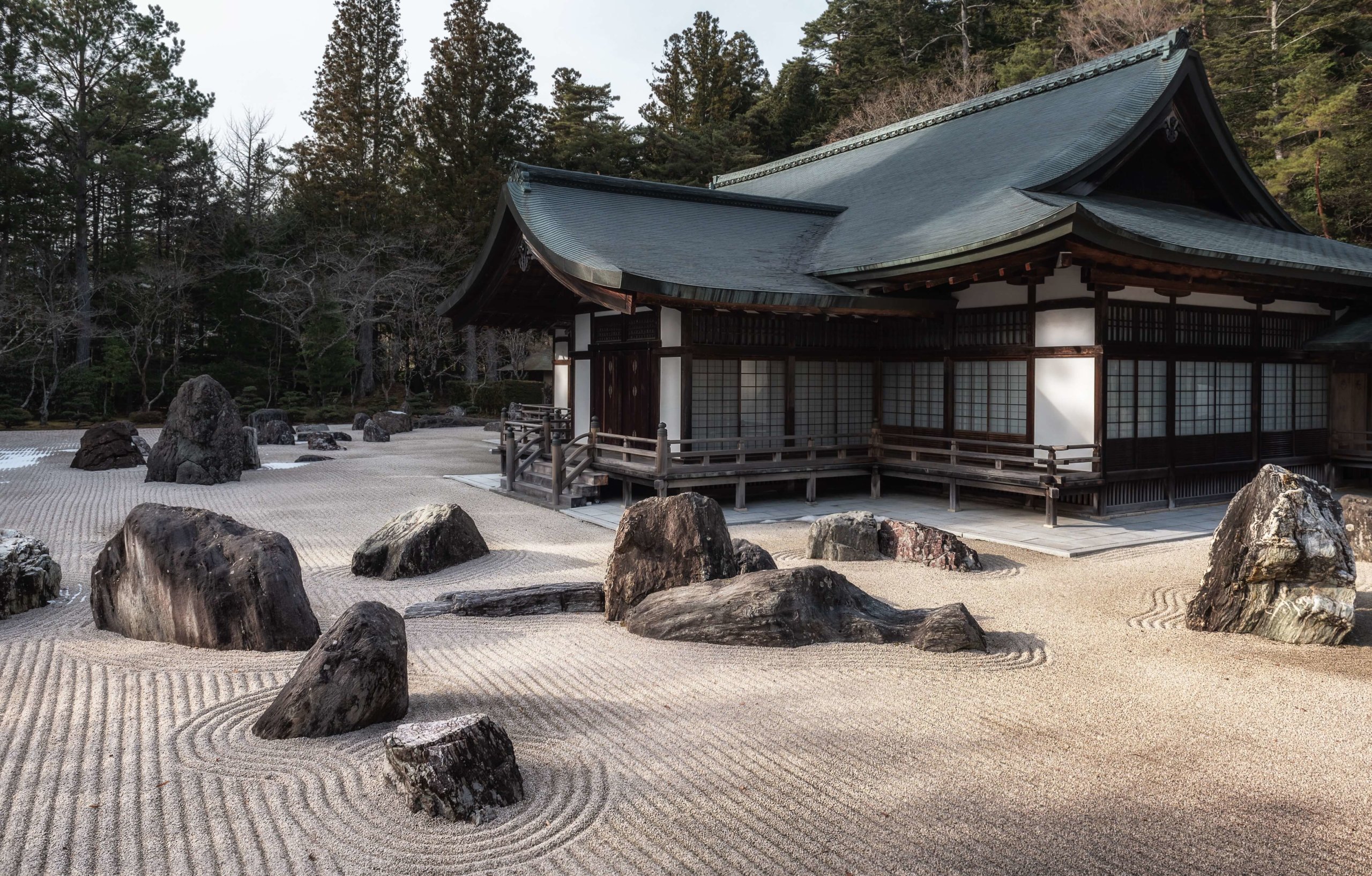 Hiking Around Mount Koya
The Kii Peninsula is one of Japan's premier hiking areas and there are also some fantastic hiking options around Mount Koya.
For a challenging multi-day trekking experience, the Kohechi route – which is part of the UNESCO World Heritage Kumano Kodo Pilgrimage Route – is a beautiful and steep 70 kilometer (43.5 mile) hike through the mountains, which ends at Mount Koya.
For more on the Kohechi and other Kumano Kodo pilgrimage routes, we highly recommend the maps and resources provided by the Tanabe City Kumano Tourism Bureau.
If a day hike is more your speed, then consider the Koyasan Choishi Michi trail, which can be enjoyed as the full 23.5 kilometer (14.6 mile) hike or modified all the way down to about a 9.5 kilometer (5.9 mile) hike, depending on your starting point of origin.
Getting Around Koyasan
A great way to explore Mount Koya is on foot, since the majority of Koyasan's main sights are within walking distance of one another.
There are also local bus lines connecting you to the rest of the surrounding areas, including Okunoin and Daimon Gate.
Most of the temples and surrounding sites do charge small entrance fees. However, the town's tourist information center sells an almost all-inclusive pass, called the "Combination Ticket," which gives you access to most of Koyasan's main sites.
Where to Stay: Mount Koya's Best Shukubo (Temple Lodging)
For many travelers, one of the highlights of visiting Mount Koya is a stay at a shukubo.
While a stay at a Buddhist temple lacks many of the conveniences you would find at a modern hotel, it is the experience of a temple stay on this spiritual mountain that makes it worthwhile.
You'll have the chance to interact with resident monks (at some temples there are English-speaking monks), and enjoy shojin ryori meals of traditional Buddhist vegetarian cuisine.
Sleeping arrangements are also traditional, and indeed staying at a shukubo has many similarities to staying in a ryokan. However, it's important to note that shukubo are definitely more on the rustic and spartan side.
These are some of our favorite temple lodgings on Koyasan: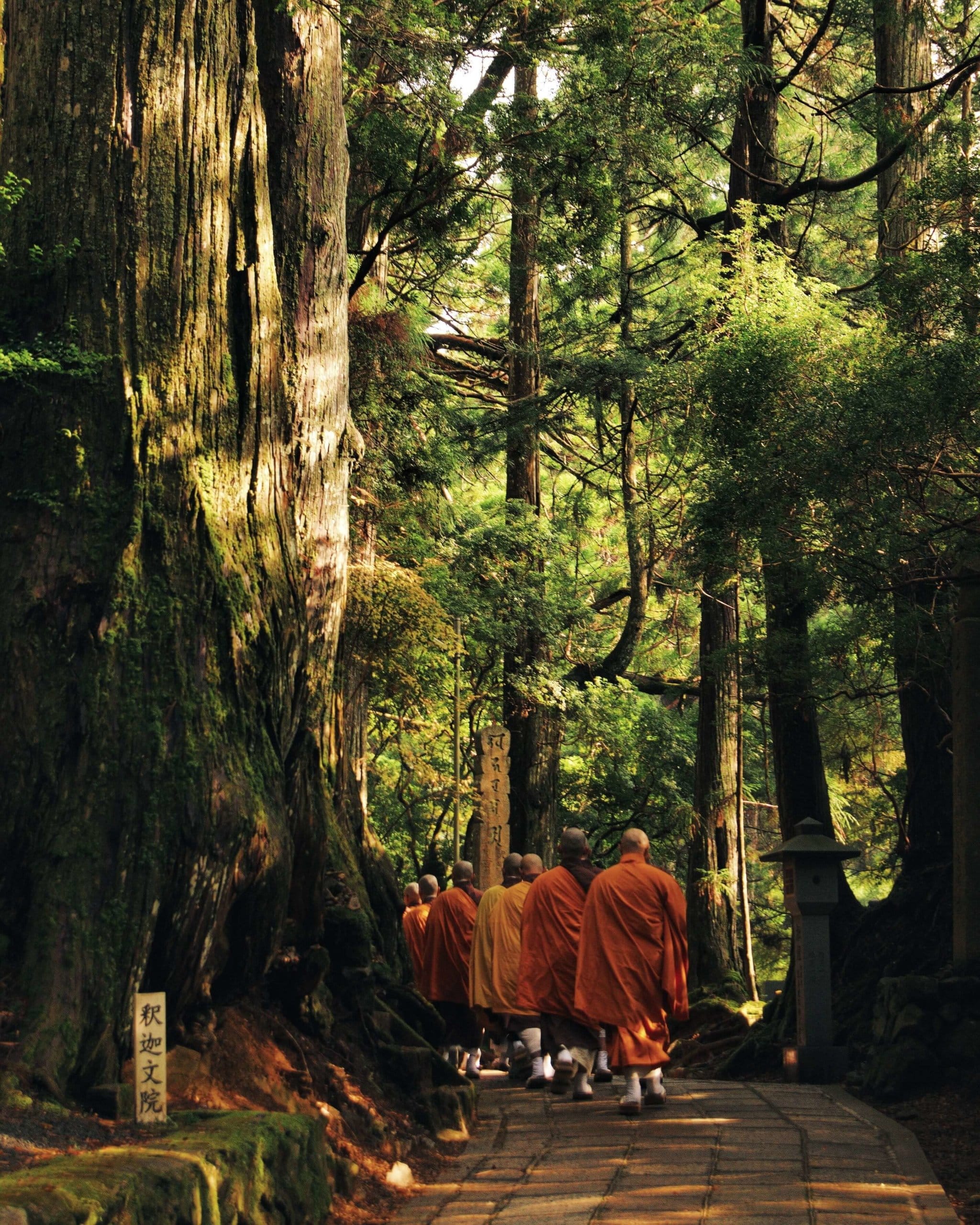 We hope our guide to Koyasan helps you get the most out of your Mount Koya visit!