If you are afraid of heights, do not attempt the Shimanami Kaido.
A little harsh, perhaps, but it's what I was thinking as my legs pumped through high winds over the Seto Inland Sea. On the Innoshima — the first of six bridges we'd cross along the way — I grabbed my Utsurun to snap a photo, ignoring a gust that could have easily snatched it from my hand. My boyfriend could have been bowled over when I told him to wave. It was the first of many "don'ts" I'd log throughout the two-day trip.
We're getting ahead of ourselves. Let me assure you, whether it's your first or 47th bike tour, you can (and should) ride the Shimanami Kaido. Known as the most scenic route in Japan, the 76-kilometer trek between Imabari and Onomichi is dotted with orange orchards, classic ryokans, and, of course, stunning views. It's also a great way to see the small-town Japan that tourists often miss.
But first, you need to make some preparations.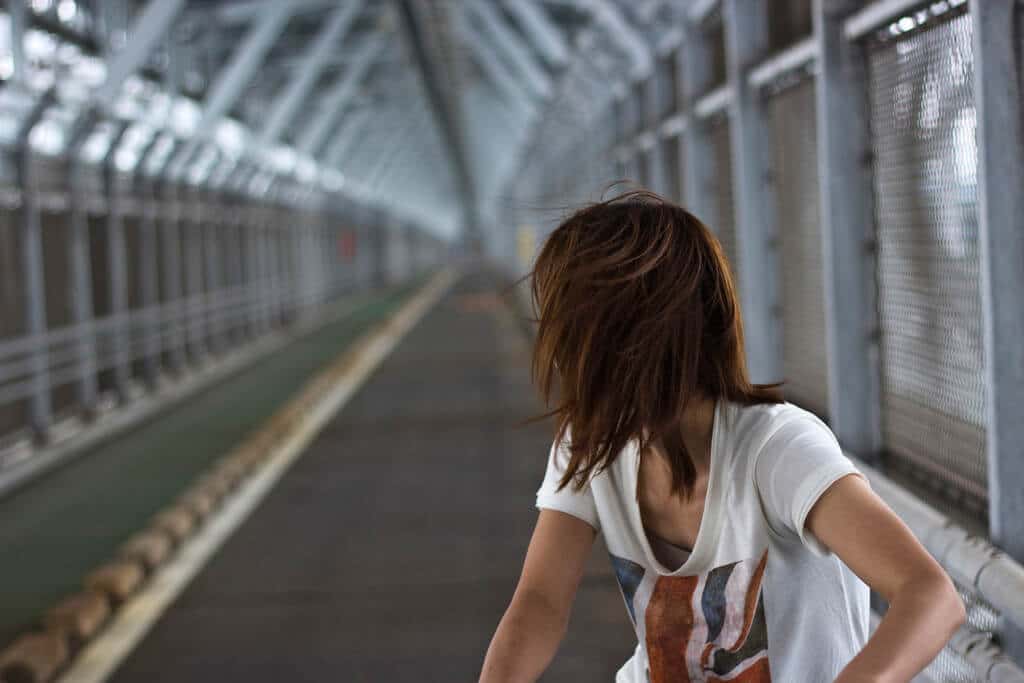 Getting to the Shimanami Kaido
You'll need to decide if you want to start biking in Imabari, manufacturer of famously fluffy towels, or Onomichi, Hiroshima Prefecture's emerging design hub.
Since most of the slopes on this trail are bridges, the elevation is comparable between the two cities. We chose to start from Imabari; getting there takes a little longer and is more expensive without a Japan Rail (JR) pass, but because of its small-town feel, delicious ramen, and hilltop temple, we decided Onomichi is a much better place to end up.
To help make your choice easier, here's how you get to each starting location:
For Onomichi: Take the Tokaido-Sanyo Shinkansen to Fukuyama, then change to the JR Sanyo line. Disembark at Onomichi Station (NOT Shin-Onomichi Station). The trip is about four hours, and costs 18,000 JPY.
For Imabari: Take the Tokaido-Sanyo Shinkansen to Okayama, then change to the JR Yosan Limited Express line toward Matsuyama. The trip is about five and a half hours, and costs 20,000 JPY.
Alternatively, you could make your trek a bit longer by starting in Matsuyama, a charming
resort town that's home to the oldest working bathhouse in Japan, Dogo Onsen, and a stunning original castle. Though not an official length of the Shimanami Kaido, the trail is a scenic waterfront ride that will add 40 kilometers to your trip.
You'll need your own bike for that option, however, as the official Shimanami rentals don't offer a pickup or dropoff in Matsuyama. Don't forget your bike bag!
Once you've decided where to start, you need to decide where to stay. There are plenty of guesthouses at either end. Imabari's Cyclo No IE and Onomichi U2's Hotel Cycle are geared toward cyclists specifically and can help you rent a bike or store your own. Guesthouses are a dependable way to save money and meet people in Japan — we paid 2,500 JPY for what ended up being a private room, since no one else had booked it. Most guesthouses include a morning meal and ocha (tea), which takes the edge off before a long ride.
Next, there's the matter of luggage. When taking the recommended two-day route, it's best to pack just a light backpack and ship the rest of your things to your final destination. Even on a holiday weekend, Kuroneko Yamato worked for us; just look for the mama kitty sign outside a konbini (Lawson, 7-Eleven) or post office. They will need the address of where you're staying at your end destination and a phone number that works in Japan.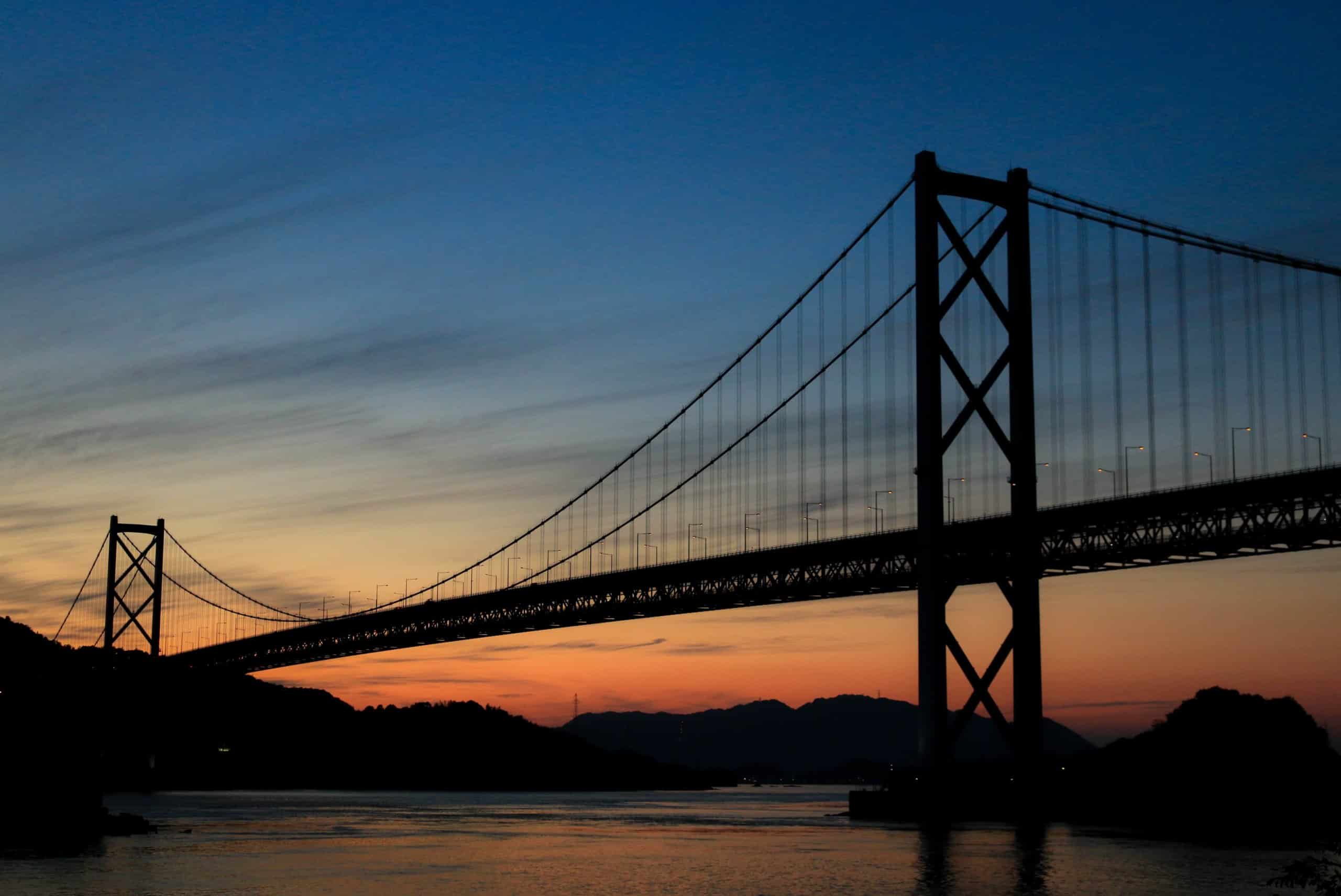 Choosing Your Bike
Some travelers, myself included, choose the cheapest feasible option when it comes to transport. With bikes, you basically have four options (from least to most expensive):
Mama chari (city cruiser with a basket and fewer gears)
Mini Velo (the folding bikes you may see on trains and buses)
Hybrid or mountain bike (thicker tires with better tread, but achieve lower speed)
Road or racing bike (Cannondales you ride with Spandex)
The first two are not good options for the Shimanami Kaido. Since the climbs are sudden, and often last a couple of kilometers, you will want to shift gears, and you will want to do so easily.
The other concern is pedal arms. I learned on another bike tour that, like all Japanese bikes, my 1972 Corsaro has a shorter arm than Western models, which makes the stride more shallow for taller riders and actually decreases your leverage.
I solved the problem with hammock pedals, but when you're renting a bike, the best you can do is raise the seat. Needless to say, we saw a few families and solo riders struggling on minis and mama charis. Plus, they're not as aerodynamic for the downhills. Don't you want to go fast?
I'm not saying go to Giant and throw down 6,000 JPY per day for something state-of-the-art. Make a cross cycle reservation at Shimanami Cycle and you'll have your pick of the lot for just 1,000 JPY per day, plus a 1,000 JPY deposit.
Though Japan is an extremely punctual country, don't worry about the pickup and return time on your form. They just ask that you return the bike within the terminal's open hours, on the date you indicated.
A couple of things before you pedal off: Make sure your chain shifts and helmet fits. Try a carbon belt if one's available — Trek developed these in 2009 to save commuters the indignity of grease stains — it was a real game changer for me and I'd never seen one in the U.S. If you're over 5'9" tall, raise the seat — your toes should just touch the ground when seated for ideal leverage.
Everyone at the Onomichi start was very friendly, so take advantage of a test ride and don't forget to have your picture taken!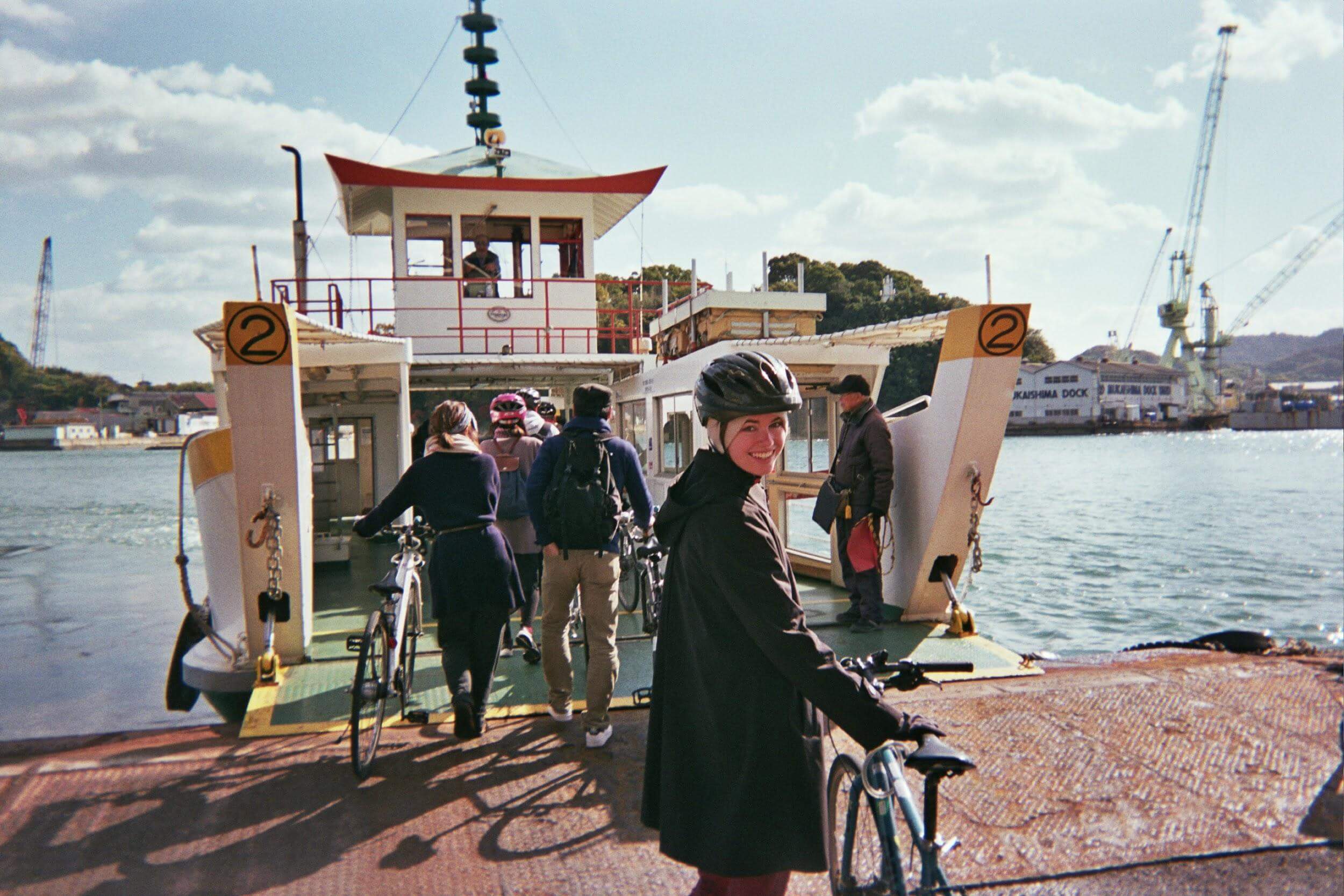 Mapping Your Stops along the Shimanami Kaido
To get the most of this route, two things are key: maximum daylight and knowing your skill. When you're not crushing the final 25 kilometers (as we were) to get in by sundown, you can really enjoy these islands' earthly delights. Wake up early for your first day and agree to rest at every other stop, every 10 kilometers, or a similar benchmark. Grab a map from the Shimanami Cycle so you can gauge these things beforehand.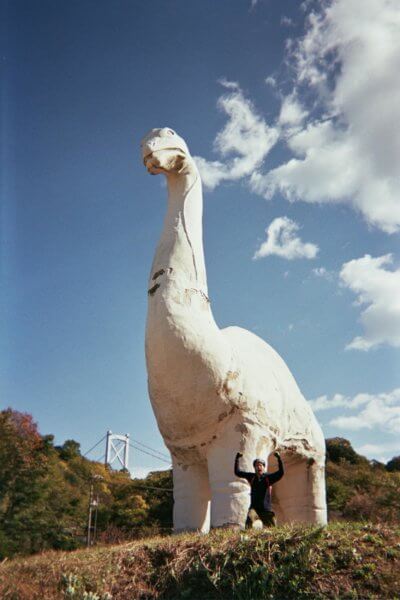 All signs have some romaji, and en-route konbini will fill your water bottle, so don't sweat these details too much.
Coming from Onomichi, we rode for a while with some locals biking denim-clad for charity. I do not recommend this attire.
We passed the Innoshima Flower Center first, a free attraction surrounded by playgrounds and guarded by a prehistoric friend. You'll wind around Mt. Shirataki (though you may not realize it), which is also a popular hike because of the 500 rakan — stone disciples of the Buddha — stationed at the top.
By the time we got to Dolce on Ikuchijima, we were ready for the famous gelato everyone had recommended. I renewed my commitment to matcha-flavored everything, but ended up jealous of my boyfriend's salt and orange cream combo. Mikan are this region's mandarin oranges, and I encourage you to try them in everything. As for the salt and orange cream gelato, it's produced in Hakatajima, where we'd later try salt candy. Load up on free lemon water for some added electrolytes.
It's easy to spend an afternoon exploring the shrines of Setoda, home to Kosanji Buddhist Center (1,200 JPY, with an added cost to enter the marble garden) and the Hirayama Ikuo Museum of Art (900 JPY). Hirayama painted the Shimanami Kaido as it was constructed in 1999. The museum explores his life and interpretation of Honga (classical Japanese watercolor), so for art fans, it's not to be missed.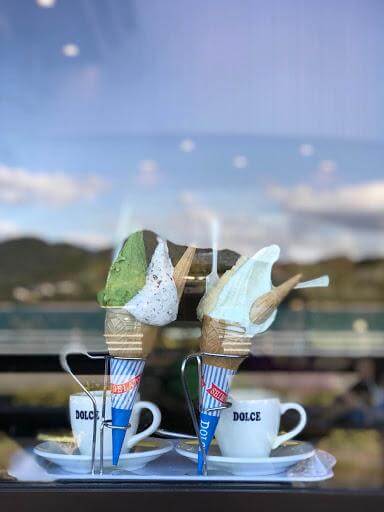 Lock your bikes at one of the racks and stroll west on the Setoda shopping street until you reach an uphill path on your right. Hike up through the narrow alleys and you'll reach the three-story pagoda at Kojoji, completed in 1432 and later declared a national treasure. If your legs can take the climb, you might find someone meditating at the viewpoint, as well as some spectacular views of the surrounding bridges.
If you have an extra day, Omishima offers a thriving art scene, with three architectural galleries on the southern tip of the island: Tokoro, Imajishi Itotoyoo, and Mother and Child. There are plenty of accommodations near the Utena Beach Resort, or an indoor hot spring just off the trail that will rest your tired muscles for just 310 JPY. This is about the halfway point, so it's a good idea to look for ryokans or guesthouses on Omishima or Hakatajima.
The two steepest climbs occur on Oshima: Miyakubo Pass and Kurushima Bridge, about a 200-foot elevation gain for each. Pace yourself, use your gears, and don't lose momentum. It will be a lot harder to get going if you halt before reaching the top.
That being said, Oshima is the island for shrine enthusiasts. Don't be nervous about leaving the main road, especially around Yoshiumi, where we found Okamehachimandai atop a hill and a lily thriving in the gutter
Yoshiumi is also home to a brilliant seafood grill, where you buy shellfish by the kilo and grill them on an open stove. The coffee's not great, but the mikan was the best I've ever tasted.
Speaking the Language
The Shimanami Kaido winds through many little towns, and a lot of the locals don't know any English. This is a great opportunity to practice what you've learned of the Japanese language, even if it's just to order biiru o futatsu (two beers) at the izakaya. Focus on reservations, ordering food, directions, and bike lingo. To impress the locals, use itte kimasu as you're leaving.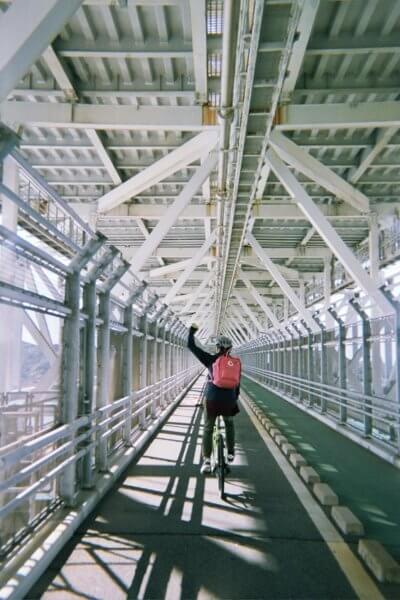 Bike etiquette is of the utmost importance. The Japanese bike on the left side of the road. Don't take up the full lane (this took some getting used to). The bike route is not protected in some areas of Innoshima and Oshima, but not to worry. Japanese drivers are very conscious of cyclists, and after some initial apprehension, I felt safer than I typically do biking in Seattle. If you're passing, say sumimasen and always nod or greet riders on the opposite side.
This tip applies to most of Japan, but always bring cash and coins on the Shimanami Kaido. A coin purse makes a useful souvenir, and we even found some with mikan on the front! The ferry to and from Onomichi costs 110 JPY, exact change, and though we biked during a free period, each bridge typically costs 50 JPY to cross (totaling about 500 for the trip). If you're in a pinch, most konbini have ATMs. You'll also likely pay in cash for your accommodations.
A word about ryokans — you must check in before 5 p.m. Familiarize yourself with time vocabulary, because they will expect you to schedule dinner, baths, and breakfast upon arrival.
People were very curious as to how we got to this corner of the country, so prepare some conversational phrases as well. Learn the words for "boyfriend, not husband!"
Ladies, learn to use a Japanese squatting toilet; your quads will thank you. And lastly, something I wish I'd brought was a handkerchief. Everyone expects you to own one in Japan; often, restaurants won't have cloth napkins because it's so common. My nose made a mess of itself in those high winds and toilet tissue made it so much worse.
Hopefully, these tips help you navigate the Shimanami Kaido and get some exercise along the way. You'll have a great time if you pack little more than an open mind. Breathe deeply and keep an eye out for dinosaurs!