At Boutique Japan, we're obsessed with creating amazing travel experiences for our travelers, and you can read detailed reviews below (warning: some are quite long!).
We've been named a Top Travel Specialist for Japan by Condé Nast Traveler, and in addition to the below you can see third-party Google reviews here.
Owen R., Morristown, New Jersey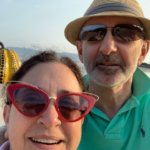 Our trip was truly a great experience planned by a very professional group. My family and I are frequent travelers. We've been to all continents and about 70 plus countries (much on pleasure, but some on business). We have used many travel companies to help plan trips, including the high end well known groups.
My family and I travel mostly on bespoke trips these days and Boutique Japan was very careful to tailor our trip to our interests. For example, after spending considerable time understanding our travel preferences, including our love of art and architecture, Boutique Japan sent us to Naoshima and Teshima to see the amazing museums and art installations.
We have already recommended Boutique Japan to a friend and would do the same to anyone else planning a trip to Japan. Great work, great team, great trip. We particularly thank Piper, Roni and Andres for a fabulous experience. Highly recommended. They were professionals in every sense of the word.
Bobby Wollman, Los Angeles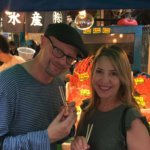 Our trip was so perfect from initially working with Roni and then Piper and the rest of the team. The travel arrangements were awesome and communicated so very clearly. The Axus app was terrific.
Every time I thought about what to do somewhere (when there was time) the answer came (as if you knew that's what I would be wondering right at that time).
For example, the second morning in Kyoto I woke up super early with jet lag. And, of course, you suggested Fushimi Inari. I got there and it was truly empty and very peaceful.
Thanks for everything. We will tell everyone about Boutique Japan.
Doris Finch, California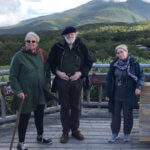 First off, the trip beautifully fulfilled our very demanding expectations. Given our many areas of interest, prior experience and particular needs, I can't imagine anyone else meeting all that so well.
Our guides were all excellent. That was maybe our greatest apprehension because we have met our share of ho-hum as well as very good guides in our careers. What they didn't know, they freely admitted and looked up, supplementing with later emails. They freely welcomed questions, which we just as freely dispensed.
Our drivers were excellent and communication was never really a problem. Both were eager to share places of beauty and/or cultural interest. We never could have covered so much territory or seen so much without them.
Accommodations were absolutely of the best. They offered the ideal combination of traditional Japanese sensibility/style and the comfort of a western bed.
Andra Smith, Connecticut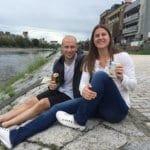 We absolutely loved our trip. I fell in love with Tokyo and am secretly hoping I can convince my sister or friend to visit soon so I can go with them to see more of the neighborhoods we missed this time around.
Each guide was very, very well-matched with the type of tour they gave. After each tour it was undeniable that we got more out of the experience by having an expert with us.
In general: I didn't want to leave (although it is good to be home and back with the dogs), I definitely want to go back, it was super easy to get around (much less intimidating than I had anticipated) and I had no idea how good the food would be (freshest ingredients around).
Gary & Shiona, Australia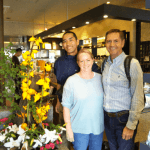 We are just settling back after a truly wonderful trip during which every aspect was quite special. The itinerary was full of highlights, superbly structured and finely organized – even down to the 'comfortable' 4-minute train change in Nagoya.
Boutique Japan brought the team's deep knowledge of Japan to bear to develop a range of experiences that met all our objectives, and in many case exceeded them. It has provided us with a much better informed view of Japan and its wonderful people, landscapes, food, drink and history. Each location added additional layers to the context of the culture and created its own special memory.
The guides assigned to us were knowledgeable and truly engaged with our interests and us and were great company. They all freely shared their knowledge and opinions and added much to our experience.
Thank you for all your efforts in smoothly compiling the itinerary especially after we had to cancel the original timing and reschedule this almost identical trip in October.
Thank you so much for assisting us to meet our goals for this trip in a comprehensive and delightful fashion. Boutique Japan's service far exceeded anything we have experienced from any other agents.
Ally Vain & Chris Tillotson, Dallas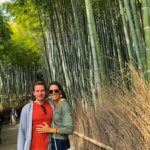 Boutique Japan brought our dream Honeymoon Trip to life. My husband and I visited Japan to celebrate our Honeymoon and the experience Boutique Japan provided for us was more than we could have imagined. I cannot reiterate enough, we could not have done this without them!
The staff was extremely responsive, professional and accommodating every step of the way. During our initial "interview", we felt that all of our ideas and interests were taken into account. This was immediately followed up with a summary of our call and a plan of action for the team to get started working on.
The app used by Boutique Japan is amazing. We were traveling to Japan immediately from our destination wedding. To say there was not a lot of time for us to prepare ourselves for this trip would be a gross understatement. Despite our lack of personal preparation, the app and the included pre-departure information and itinerary made is us feel more prepared than we ever could have on our own.
Upon arrival to our first hotel in Japan, we were provided with a welcome packet that included all of our tickets and passes required for transportation during the entirety of our stay. Coming from a city that lacks public transportation, the information made us feel confident and comfortable navigating the transportation system.
The hotels that Boutique Japan picked for us were perfectly located, easily accessible and we were provided with high quality service and amenities during our stay.
One concern we had going into this trip was the quality and knowledge of the guides provided for our tours. We can honestly say, we feel so lucky to have found Boutique Japan and have had the guided experiences they provided. Our guides were extremely professional, knowledgeable and easy to get along with. Most of the time we felt we were walking around with one of our friends. This turned all of our tours into truly enjoyable and memorable experiences.
Without hesitation, we would recommend the use of Boutique Japan over and over again!
Daniel Weinand, Canada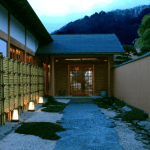 Thank you so much for arranging our travel!
It was such a wonderful time and I can't wait to go back to Japan. It wouldn't have been this amazing experience without your help.
Everything worked out perfectly and the schedule was spaced out and paced in a way that allowed us to explore some things while never feeling lost. The guides were all top-notch.
Aron & Cynthia Rosenthal, Charleston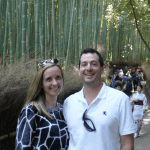 Boutique Japan = Perfect Trip. We could not have been happier with the itinerary and service provided by Andres and his staff at Boutique Japan.
From the very first interaction, it was clear that their goal was to craft a personalized experience that we would never forget. Expectations were high as my lifelong dream trip was to explore Japan. However, they were met and exceeded every step of the way.
Andres used his extensive experience from living in Japan to create a custom tour that allowed us to see all that we desired within the time frame allotted. From the hotels, to the suggested destinations, to the details such as transfers, luggage shipment, and Wi-Fi access, Boutique Japan had everything covered. This attention to detail gave us the freedom to enjoy our trip stress free.
I will absolutely use Boutique Japan for my next adventure in Asia!
Emily Choate, Atlanta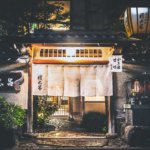 We worked with Boutique Japan for a 12-day whirlwind trip to Japan in November for my husband and myself.
I am actually someone who loves to research and plan trips, but knew I didn't have the time to do it as thoroughly as this once-in-a-lifetime warranted. They helped us create an incredible trip that revolved around our interests, budget, and accommodation preferences. Our trip involved 1 to 3 nights in each city, including the Hokkaido region. So logistically, pretty extensive!
Always responsive, polite, thoughtful, and informed, they were a pleasure to work with and really took the onus off me to ensure we had a fabulous trip. We were very pleased with all of the accommodations that were chosen, any organized tours/outings we did, and especially a little side trip we did to Noboribetsu that I'm not sure I would have found had I planned the trip myself.
In addition to the planning, while in Japan we found everything we needed (tickets, passes, rental cars, etc.) was extremely organized and very easy to execute.
I would definitely recommend Boutique Japan to anyone planning a trip to Japan. Thank you guys for everything!!
Susan & Frank, New York City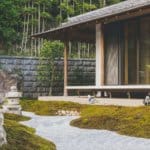 My experience with Boutique Japan couldn't have been any better.
From my initial conversation with Andres, through the back-and-forth about the itinerary with Piper, to the last-minute changes because of a typhoon hitting Japan, they were well-informed, thorough and responded quickly to questions and requests.
They really listened when my husband and I described the kind of trip we wanted, and they structured it to suit our preference for seeing out-of-the-way places in addition to the usual tourist stops.
Their planning created a stress-free experience for us. Over the course of a three-week trip, our transportation connections worked perfectly, our guides were well-informed and pleasant company, our city hotels were perfectly located and our ryokans were all charming in their own ways. Their sightseeing recommendations led us to places we may not have discovered on our own.
I'd be a repeat customer if we ever go back to Japan.
Lee Munson, Albuquerque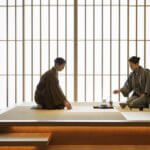 My wife Alison and I found Boutique Japan while researching and planning our 20th anniversary trip. We are experienced travelers, but between busy work lives and kids, it had been a while since we had the chance to take a special trip together alone.
We have wide-ranging interests and from the beginning realized that our contacts at Boutique Japan (mainly Piper and Andres) understood what we were asking for. We had been interested in Japan for a long time, and speaking with them helped us clarify what we wanted to do, and where to go.
Because it was such an important trip, we needed everything to be perfect. They understood this and took care of all the details, including guide escorts to drop us off and pick us up at bullet train stations, killer hotels and ryokans (the Oval at Benesse House was one of the most incredible places we have ever stayed), and brilliant guides who took us to amazing, off-the-beaten-path spots.
Judy Lau, Australia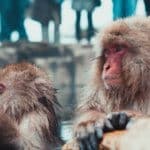 Boutique Japan has made our trip to Japan brilliant and totally unforgettable.
I have been to Japan many times, even studied there for some time. The experience from this trip is still right at the top of my list, in terms of accommodation, arrangement (everyone's happy!), and food (two thumbs up!!).
Thank you very much for giving us this great trip! Wow! We still can't stop talking about it.
Cathy & Denis, Washington, D.C.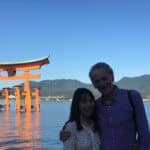 My husband and I just returned from an amazing trip to Japan. I had researched many travel agencies but, after I came across Boutique Japan, I knew very soon that this was the best one. Andres the founder is so knowledgeable and knows almost every corner. He was a pleasure to work with. After all the planning he assigned Piper to us to fine tune the trip and she was fantastic.
Boutique Japan initially asked many questions and customised the trip to our personalities and interests. For example we told them we loved art, so they arranged a trip to Naoshima, the art island, which was an exquisite gem. We stayed in beautiful hotels and ryokans, tailored to our desires, and went to many untouristy neighborhoods and restaurants. Everything was perfect.
We have travelled extensively, but have never had a travel experience like this. The detailed planning and organization was extraordinary. We were totally at ease the entire trip because we knew we were taken care of every step of the way. The guides and transportation were outstanding and extremely reliable. Each guide seemed to have been individually chosen to match our needs.
While we were there Japan had two typhoons. We thought they may affect us, but Boutique Japan was monitoring them and was ready to make alternative plans for us if necessary.
We are incredibly grateful to Andres and Piper who made this trip the best ever.
Frank and Tracy, California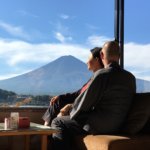 You organized a great trip.
The hotels, guides, train connections, etc were outstanding, and everything came off very smoothly.
We are probably going to visit Japan again in a couple of years, especially Hokkaido, and will have you arrange our trip.
Sabrina and Ken, Tasmania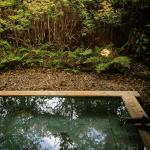 With the memories of our trip to Japan still with us, we'd like to thank you and your colleagues for organizing a wonderful trip. Everything worked beautifully. You listened well to our requests and put together an excellent itinerary.
Ilene Miller, Pennsylvania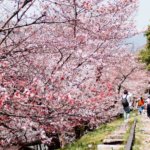 First of all, it was fabulous. We had such a wonderful time!
You accommodated us so well with all different kinds of activities and were very responsive to our needs. I have worked with other very large companies, and I really appreciated the kind of personal attention you get with a smaller operation.
Japan is so modern, yet so culturally different than the US. It was an amazing and enlightening experience. We will highly recommend you to all of our friends!
Michael & Debbie, Philadelphia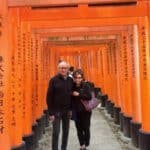 We had an extraordinary experience.
You listened carefully to our interests and created a detailed and varied itinerary which reflected those interests. The selected guides ranged from very good to excellent with no disappointments. The hotel accommodations…and the ryokan were really top rate and the organization of the travel, advance ticketing and descriptions were above 'A+'. And, we must not forget that you arranged for nearly perfect weather for 17 days. Not quite sure how you did that.
We consider ourselves as having been very, very fortunate to have taken our first dip into Japan and its culture. We met so many truly lovely people along the way. We cannot wait to return to Japan and we thank each of you for all of your wonderful planning.
Harley Finkelstein, Ottawa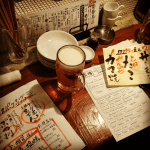 My wife and I cannot say enough great things about Boutique Japan. They planned the greatest trip for us, with special attention to our particular interests and desires.
If you're looking for a full service trip planning team, where every single aspect is curated perfectly, you need to work with Boutique Japan.
Tessa Scher, Cape Town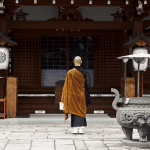 We have just returned from an outstanding 19-day holiday in Japan thanks to Boutique Japan. I cannot recommend this travel company highly enough. From the beginning to the end their service, attention to detail, advice and support were incredible.
We have traveled extensively but Boutique Japan is by far the best travel agency that we have ever dealt with. To give one small detail, Boutique Japan had supplied us with all the necessary tickets for public transport that we required. One ticket that they supplied was supposed to cover all the transport that we would require on one day – rail, bus, train. When we got onto the bus we were informed that the ticket did not cover it and we had to pay about 1,000 yen. I messaged Boutique Japan just to tell them what happened. The following day when we returned the conductor then refunded us 1,000 yen. Boutique Japan had contacted the railways in Japan to sort our this matter!
As I am allergic to seafood and have other dietary restrictions Boutique Japan had also advised all the hotels and ryokans about this so this made it exceptionally easy. Even when the hotels booked a restaurant for us the restaurant was advised of my dietary requirements.
To sum up – using Boutique Japan is not the least expensive way of travelling in Japan but the service they provided was well worth the additional expense.
Claire A., California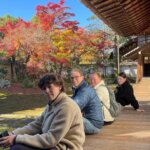 All in all, we had a fantastic trip. I thought everything was well planned and coordinated. I thought all of your pre-departure information was spot on and helpful. I would definitely recommend your company to friends and family. I will contact you when we are ready for our next trip to Japan!
Catherine and Paul, Australia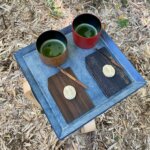 We had a truly wonderful time in Japan. Lots of people have asked what was the highlight and it really is hard to pick one, or even a few.
We really enjoyed the Tsukiji market, the visit to Yanaka, the Kiyosumi Garden, all the gardens in Kyoto, the evening in Osaka, the lunch with the master in Kyoto and the artisan visit with Momoyo (Paul in particular thought this was wonderful) (and in Catherine's case, the shopping). Naoshima and Teshima were every bit as good as we thought they would be. The Gora Kadan was brilliant, as was the Hakone Open Air Museum (the art inside is arguably even more impressive than what is in the open air).
The itinerary ran incredibly smoothly and the app we had on our phones was brilliant. We are very grateful to Piper, Roni and their colleagues (there was always someone to promptly answer a query) for their advice, their insights and their patience over the last three years. We have certainly been telling people (here and in Japan) about Boutique Japan and how wonderful you all are!
Rachel K., Brooklyn, NY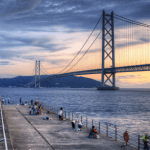 We really had an amazing time. We loved Japan, and the experience was made incredibly special by the thoughtfulness and care that went into the planning.
Each place was so different and wonderful in its own way. We felt we got a good sense of the country, even though we were there for such a short time.
All the travel went very smoothly — there were no glitches at all. The transfers were seamless. And we loved the trains and subways, especially compared to New York!
Paula Alsher, Marietta, Georgia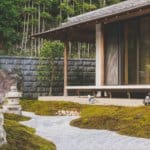 Boutique Japan did a fantastic job of planning an itinerary that completely matched our vision.
Our group of 4 came away feeling that for 2 weeks, we had the opportunity to become immersed in the daily life of the Japanese. The guides, the hotels, and the experiences were all expertly planned. The app they provided was a fabulous daily resource — so much information and detailed guidance.
We are very experienced travelers, and all thought this trip far exceeded our expectations. You will not be disappointed if you use Boutique Japan!!
Susan & Smiler, Palo Alto, CA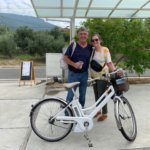 Nothing could have made this three-week, first time trip to Japan better. Andres and Piper's planning made it perfect. The level of thought and attention to detail they put into curating our experience in Japan was something I'd never experienced in many years of travel. I'm smitten, with Japan and Boutique Japan.
Philip Astley, Boston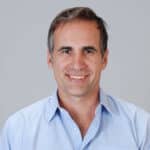 I found Boutique Japan to be one of the most professional outfits I have come across in any walk of life.
The client service is outstanding in its speed and efficiency. The organization was also there to guide me when the unexpected happened in terms of a typhoon that impacted the end of my vacation.
The itinerary that was put together exactly matched what I asked for in terms of tailoring to my interests; history, food and drinks and exercise and was very well thought through. The guides they used were amazing and very personable / easy company.
Evan K., New York City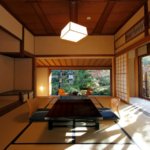 Boutique Japan did an excellent job of orchestrating our two-week trip.
Their intake process for new clients is thorough and thoughtful. Once on the trip it was clear that our itinerary was customized to meet our interests. When a typhoon derailed our original itinerary, Boutique Japan was quick to suggest and help book an alternative.
Tellingly, our guides had amazing things to say about Andres and the rest of Boutique Japan. Travel companies like this are often only as good as the guides they procure for you, and those we had through Boutique Japan were top-notch.
The team is also diligent in collecting feedback at all points in the process, particularly while planning the trip and once we had returned. I'm confident that our feedback will be used to make sure future parties enjoy an even better experience.
Many thanks to Andres, Piper, and all the rest of Boutique Japan for making our trip unforgettable!
Roberta K., Ontario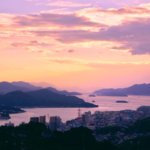 We had an amazing time in Japan.
Despite the super-hot, ridiculous weather, it was amazing. The trip was above and beyond what we could have put together ourselves. From the tours, to the accommodations, we never would have been able to find such a perfect combination of quality, and variety.
In my opinion, the tours were the highlight of our trip. The tour guides were amazing and knowledgeable. They were helpful and fun. We honestly can't pinpoint which tour was the best because the experiences were so varied.
Lisa Barnes, Austin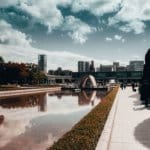 Boutique Japan is the only place you need to look if you're planning a trip anywhere in Japan!
We had a fantastic two weeks thanks to their meticulous planning…trains, guides, great hotels, transportation passes, private transfers, advice about places to eat and other things to do, info on things such as luggage transfers and portable wifi, even an app to organize everything and for easy referral on the trip.
They asked us many questions in the planning stage and worked with our personal tastes and likes. They are familiar with the cities as well as the off-the-beaten path spots because they travel to Japan often.
Highly recommend!
Eric K., Washington, DC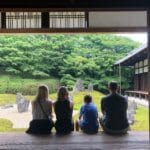 We had a terrific trip and are thankful to you and the team for a fantastic job. We loved your approach to everything, the attention to details, the responsiveness to our requests and the excellent trip that resulted from all of that. We'll be very happy to refer friends to you, as we have several considering future trips to Japan.
As for feedback, we really do think the trip was a homerun. I'm used to organizing trips myself, so it was a leap for us to turn that over to someone else. But it was clear that we never could have done everything we did or gotten everywhere we went with such terrific guides without your help.
The itinerary was very true to all of the requests we put in. While there's some things that, in hindsight we might have done differently, I think you delivered on exactly what we asked for. We loved it all. Even the parts we might have skipped in hindsight, were still fantastic experiences!
Barbara Kravitz, Pennsylvania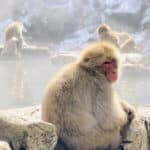 We had a wonderful time in Japan. We covered a lot of territory and saw so much. Our timing for the peak of the sakura was spot on in Tokyo upon our arrival (early this year). By the time we arrived in Kyoto the sakura were in full bloom there too.
The snow monkeys were great fun to see. It was important to go early, which allowed us a solitary hike up the mountain in the snow to see them — quite lovely.
The guides were all informative and pleasant. Kanazawa and Hiroshima were great day trips. Osaka was crazy fun and a pleasant surprise for an evening.
We really loved Japan, the food, the people, the culture. It is actually a little difficult adjusting back to our American ways!
Graham & Fiona Kane, London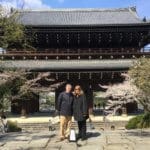 First of all we wish to thank you, your colleagues and all the team on the ground for a truly wonderful experience. We really enjoyed ourselves and loved Japan, its people, culture and sights.
Your pre trip questioning and input helped us to put together an itinerary which fully reflected our interests whilst opening our eyes to new ones. For us the "hand holding" of escorts, guides and the Boutique Japan team at base removed all of the stress and anxiety which can easily mar a trip such as this.
We were delighted with all of the guides who were informative and responsive to our questioning.
All in all a highly personalised and professionally executed trip which we thoroughly enjoyed and we have no hesitation in recommending Boutique Japan to all our friends.
Christopher Gower, London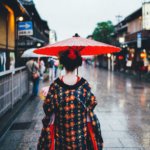 We have recently returned from a three week trip to and around Japan, which we so thoroughly enjoyed. Actually, "enjoyed" is a ridiculously inadequate word to fully express the wonderful experiences we had under the superb planning of Boutique Japan.
This company went way beyond the average tour companies in endless ways. Principally, they implemented visits to places, people, restaurants, hotels and events which were not standard touristy destinations. Hotels, for instance, and restaurants which visitors would find difficult to know of. We were taken to manufacturers, domestic institutions and "hidden" places which were unique, insightful and enormously memorable. I must also make mention of the quality and expertise of our guides, a very personable and impressive group.
Like a good Savile Row tailor, Boutique Japan took enormous care and expertise to make our visit very personalized and of unparalleled quality. We can recommend them unreservedly.
Kellie T., Wisconsin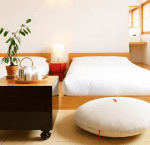 I just want to thank everyone at Boutique Japan, because this was truly a trip of a lifetime! I could not have done it without all your help.
I just can't believe how meticulously coordinated everything was and the incredible thoughtfulness and kindness from all of you, my guides, hotel/ryokan staff, and everyone I met in Japan. I've had people on Instagram ask me who helped arrange my trip, and I've sent raves reviews about Boutique Japan.
On a personal level, this trip gave me better self confidence in my myself and decreased any anxiety I had about traveling alone. I would do it again in a heartbeat. I hope one day, I can go back and even take my mom next time around. She'd love it!
Savas Totonidis, Tasmania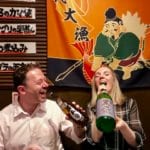 These guys were great.
Basically, you can plan any itinerary you want and they make it happen. Guided days, non guided days, bizarre japan, temples, nights out……whatever you desire. And they take care of all the drudge work like booking hotels, IC cards, and train tickets.
We had a great time and would definitely recommend Boutique Japan for their friendly and attentive service. Arigato Gozaimasu!
Barb Mayben, Austin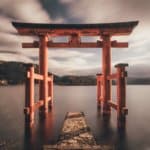 Boutique Japan's deep knowledge of Japan and incredible service and attention to details helped put this trip on my top 10 list. They know how to customize a trip to Japan so that it is a personal experience.
I got to see so many amazing things that I was interested in — the beauty, the traditions, the culture in cities and outside cities, a little history, a lot of delicious food, many kindnesses from the Japanese people, the shinkansen, the onsen, and so much more.
It was a trip I'll cherish for a long time. Thank you, Andres, Vanessa and Boutique Japan!
Ed Smith, Houston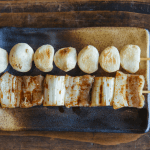 I was part of a small group of travelers that visited Japan for 3 weeks. We were fortunate that Boutique Japan did all of the planning, research and on-site orchestration for the entire trip.
The Japanese speaking guides that were provided were very knowledgable, extremely personable and were there to ensure our visit was everything we hoped for.
The trip was flawless, due in no small part to the extensive research, planning, follow-through and attention to detail that Boutique Japan provided. If you are thinking of a trip to Japan, I would highly recommend them.
Celia Coene, Hong Kong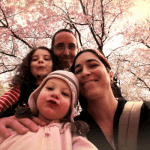 Andres is your ideal trip planner for Japan. He is so knowledgeable about Japan that it isn't worth trying to organize it yourself, just leave it up to him! He makes it so easy and fun.
We have just come back from our second family trip to Japan arranged by Andres, and once again we had an excellent time. Traveling with 2 small kids (2 and 5) has its challenges but Andres took it into account and made sure that everything was as easy as possible. He recommended fun places for kids too, such as Osaka Aquarium, which was great for them.
The cherry blossoms, the breathtaking castles and gorgeous weather sure helped the good times as well. Don't think twice and go with Boutique Japan, they are the best!
Chertavian Family, Massachusetts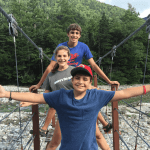 We had a wonderful trip and appreciate your help in making it so special.
Everything worked out as planned (small typhoon deviation but not much of a problem). Everyone agreed it was one of our best family trips. The combination of activities worked really well for us and I think it was timed perfectly.
Top 5 things were:
Climbing Fuji (pretty tough to do in one day…two might be advisable)
Miyajima (the mountain gondola and hike were great, town was fun)
Hiroshima (very meaningful for the kids to see this)
Bike Tour in Hida Takayama (guide was great and we met several locals which made it special)
Pottery tour in Kyoto was perfect for my wife and the kids enjoyed it too
Other cool highlights:
Kids loved the taiko drum lesson (samurai lesson was good but not great)
Tokyo was great (Robot Restaurant was crazy but worth seeing…once; Ninja restaurant had great food)
Sculpture park in Hakone was amazingly good
Hiking in Kamikochi was beautiful
The Miller Family, Palo Alto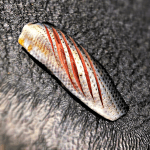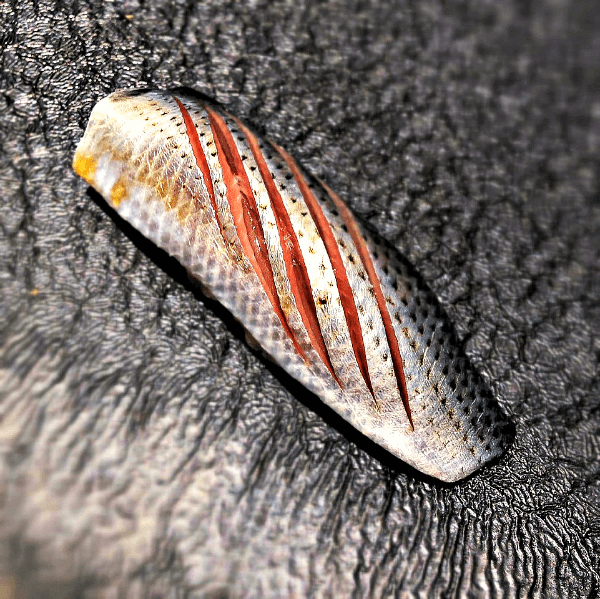 It was awesome. You guys rock!
Everything worked out perfectly. Even the weather. Thank you so much. The kids loved it. Kyoto was a big surprise hit as well.
Ithka Laws & David Gabrovec, Abu Dhabi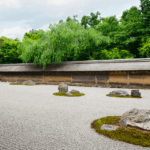 My amazing husband worked with Boutique Japan (behind my back!) to help put together the most amazing surprise birthday trip ever.
Having had the benefit of not doing any of the work but only enjoying the experience, I have to say there could not have been a more perfectly planned trip.
Boutique Japan was incredibly helpful and detailed in their planning and recommendations, and really understood our aesthetic and requirements while traveling. They were also very thoughtful (they sent me a birthday video during the trip!) and incredibly hands on during the entire trip.
I highly recommend their service, and as an avid traveler I have never encountered a team so committed to creating perfect holidays for their clients.
Brett & Kirsten, California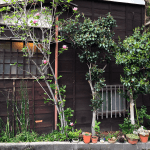 My wife and I just got back from our Boutique Japan trip, and it was fantastic.
Andres has excellent attention to detail, and the information they put together was tremendously helpful along the way. Some say Americans will never feel as foreign anywhere in the world as they do when they're in Japan, but all of the information that Boutique Japan provided beforehand made it much easier to adjust.
I really feel like we got an experience that we probably couldn't have put together on our own. Even if we could have, it would have taken a crazy amount of time to arrange. Even then, we probably couldn't have found the same excellent guides and arranged good tickets to things like the final day of the sumo tournament.
If we go back to Japan, we wouldn't hesitate to work with Boutique Japan again.
Becky & Jay, New York City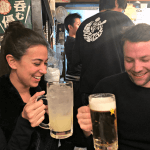 Boutique Japan planned our honeymoon in February 2016. Our overall experience with them was absolutely exceptional, I could not recommend them more.
My husband and I love to travel but had never used a travel agent before (truth is we've always been skeptical). We found an article written by Boutique Japan on the best sushi spots in Tokyo and decided to reach out to them – they seemed to be authentically in-the-know.
We instantly connected with Andres, the founder and owner, who spent time on the phone listening to us talk about our preferred style of travel and what we'd ideally love to find, do, see and eat in Japan. We are a very food-oriented couple and were looking for an authentic food and cultural experience – we wanted to eat our way through the country, visit a mix of urban and rural areas, and explore Japan the most local way possible.
Boutique Japan could not have delivered a better itinerary. Andres and Piper (the agent assigned to our trip) planned a 100% customized trip that was impeccably tailored to our style. They listened to everything we had told them, planning a perfect mix of urban and rural cities and days filled with fabulous tour guides and some of the best, local experiences we've ever had. The restaurants they recommended were some of the best meals of the trip (and our lives!).
We felt like we had the 'best of' everywhere we went in terms of local recommendations, including hotels, ryokans, guides, restaurants, bars, coffee shops and other little things to do along the way. Boutique Japan is constantly doing research on the country, so their advice/recommendations are extremely relevant and reflective of the latest trends, restaurant openings, etc. They have an expert handle on the culture and nuances of Japan, and their knowledge truly elevated our experience.
We are forever spoiled by the A++++ hotels and ryokans they booked for us. Outside of picking the best hotels, tour guides and restaurants, Boutique Japan had exceptionally helpful tips along the way – luggage forwarding (a must-do in Japan that made travel even more seamless than it already was), how to take advantage of all the amazing things the shinkansen has to offer (specifically train snacks), and so many other tips. In addition, they took care of all logistics – hotels, trains, buses, etc. When we arrived at our first hotel there was a folder waiting for us with every voucher, train ticket, and everything else we might need for our entire two week trip.
On top of everything, the service and staff at Boutique Japan is exceptional. Andres and Piper were unbelievably responsive and hands-on. They put an incredible amount of time and care into the planning and execution of our trip. They were such a true pleasure to work with, I could go on and on about how friendly and helpful they are. By coincidence Andres was in Japan at the time we were there and our trips overlapped in Tokyo. Andres met us for dinner and a night of exploring an incredible outdoor food market. We had one of most fun and local experiences of our honeymoon with him.
Thank you thank you thank you Boutique Japan for an unforgettable honeymoon and by far the best vacation of our lives.
David Shiomoto, California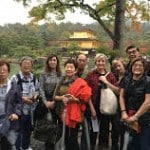 We recently returned from a fantastic two-week vacation in Japan planned Boutique Japan.
We had a group of nine very diverse people, from 25 to 79 years old, with most over 60. They were able to create a detailed itinerary that took into account everyone's wish list, physical limitations and dietary needs… no small feat.
Every detail was taken care of including hotels and a ryokan in great locations, private transportation, wonderful tour guides, advance tickets and restaurant recommendations. They exceeded my high expectations with ease.
Japan is known for their outstanding customer service but it really starts with Boutique Japan. I will definitely use their services again when I return to Japan (and I can't wait to return).
Harvey and Jan, Philadelphia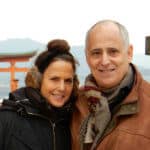 I only have positive things to say about my experience with Boutique Japan Travel.
They were everything a first time traveler to Japan would want. They were attentive to our needs and desires; they offered sensitive guidance when we needed it; they were flexible when we changed some scheduling on the fly; and they were overall a pleasure to deal with.
I highly and without reservation recommend them and plan on utilizing them again in the future. A job well done!
Greg Hickman & Sarah Takimoto, Denver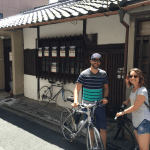 Our experience working with Boutique Japan was simply amazing.
My wife and I have wanted to go to Japan for a long time but the planning part of the trip was always so difficult for us. My wife is in her third year of residency and I'm building my own company so our time is very valuable and finding the time to do the research just wasn't happening.
After a quick call we were able to start reviewing our itinerary that was hand-crafted based on our trip goals and interests. This part of the experience literally eliminated all of the stress of making sure we were ready and having everything we needed once we reached Japan, and we hadn't even left yet!
Finally we get to Japan and if you ask my wife she'll tell you…there was not a day that passed of our trip where I didn't say "working with Boutique Japan was the best possible investment we could have made – they crushed it!"
We saw sooooo many things on our trip, our guides were amazing and the list of recommendations of places to go and restaurants to eat at while in our free time were simply on point. A perfect example is one of the sushi restaurants we went to that only sat eight people. When you're sitting in a restaurant and a local asks you "how did you hear of this place, you're lucky because it's the best in town," it's easy to grin and be thankful.
Our trip was full of experiences just like that where our guides or locals were impressed with how we found these gems. I can't say enough how perfect the experience was from start to finish. Every accommodation was perfect. The restaurant and cafe recommendations were all delicious and we enjoyed some of the best food we've ever had. Our guides were friendly, knowledgeable and couldn't have been better selected. The organization of our tickets, and travel documents made it super easy on travel days from Tokyo to our ryokan, to Kyoto, and getting to Osaka for a day trip.
If you've been wanting to get to Japan and want to make sure it's the perfect trip, quit wasting time and work with Boutique Japan. You won't regret it and your trip will be perfect. Period. We're so grateful for everything the team at Boutique Japan did for us to make our experience perfect and they hit it out of the park.
Alex Anderson & Aaron Kravitz, San Francisco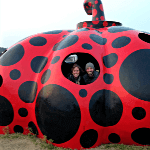 Our itinerary included the word "epic" and the trip met our expectations and more! We have always planned our own trips, but were intimidated by the logistics around multi-city travel in Japan.
Boutique Japan made it possible. They learned about our travel style to help shape our two week, multi-stop journey in a way that was both personal and logistically sound. We especially appreciated the accommodations, which were well-located and fit with our desire to see Japan "like a local."
The team was incredibly thorough: Due to their knowledge, we were able to eliminate hours of pre-trip planning, and to experience parts of Japan we might never have seen.
Thank you, Boutique Japan!
Kate & Varant, Australia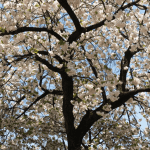 Boutique Japan masterfully crafted a spectacular and unforgettable two week Japanese journey for us. We had been dreaming of a Nippon adventure for some time, but never in our wildest dreams could we have planned a journey like this.
Andres' encyclopaedic knowledge, attention to detail, creativity, lightning quick responsiveness and insight made every step of our holiday magic. We fell in love and didn't want to come home! Andres filled our (sometimes challenging!) brief effortlessly…even finding cherry blossoms at the end of the season and securing a booking at a phenomenal sushi counter.
He surpassed every expectation and we were unfailingly supported throughout the whole process. Everything Boutique Japan did was incredibly thoughtful, personal and supportive. Beyond brilliant. Best trip ever. Cannot thank you enough.
Myke, New York City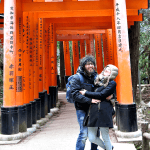 We took one of the best trips of our lives to Japan through Boutique Japan.
Two things in particular made the trip for us. The first was the time spent in advance getting to know the type of things we like and what we wanted to get out of the trip.
Every moment felt handcrafted for us. From the world-class dining in Tokyo, where we were accompanied by a sake specialist who added incredible insight into the meal, to our museum stay in Naoshima. For us, it goes without saying we could never have planned something we'd have enjoyed more.
Beyond that, when you're traveling in Japan in the winter you can hit some rough weather. When we did, what could have been a stressful moment that could even have crippled the trip went by smoothly. Boutique Japan also helped us through the travel insurance claim process which was a godsend.
If you're going to an amazing place like Japan, and feel you don't want to have the same experience that everyone who travels there might have, from the vastness of Tokyo to the striking mountains of the Alps, there are unique facets that Boutique Japan can help you discover. Boutique Japan knows how to find those moments that will be special to you.
Paula & Sven, Zambia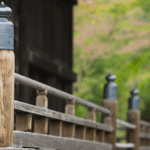 Boutique Japan dreamed, planned and organised the most perfect honeymoon for us! We could not be more thrilled with the collection of magical memories and treasures with which we now start our lives together.
At first we were hesitant, because a trip to Japan is an investment when compared with some other travel destinations one can choose. Admittedly, we did try to arrange our own tour of Japan without an agent, but we had no doubt we were in good hands and Andres really seemed to understand what we were looking for.
In the end we can say we received amazing value. Japan offers such a rich and diverse range of experiences and we could not imagine doing it any other way than in Boutique Japan style. We did and saw more in 13 days than we ever would have had we tried to arrange things ourselves. We were expertly guided some of the time and equipped with enough knowledge to explore on our own steam with ease the rest of the time.
From the pre-trip itinerary planning, right until we arrived safely at home, the Boutique Japan team delivered the most amazing service and clear passion for what they do. Only snag is, we just want to go back and do it all over again! Can't wait to get back in touch to plan and book our next adventure. Arigatou gozaimashita!
Shelley & Peter, Massachusetts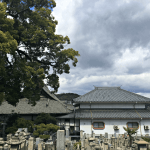 Our three week trip was planned with care and such detail that we were able to enjoy places that were more unusual than the bigger cities.
We were mostly in more rural areas so we really appreciated the information that Boutique Japan gave us. Often we were the only westerners in an area, which we really enjoyed.
I would highly recommend Boutique Japan for planning, and helping us implement a trip of a lifetime.
Lisa & Ruben, Florida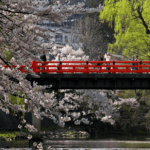 We had an amazing time in Japan. We can't thank you enough for helping us with the trip.
We know that we never would have been able to see so much if we had planned this ourselves. You really made this such a carefree and enjoyable experience. Our tour guides were wonderful and your recommendations were extremely helpful!
Tina & Glade, California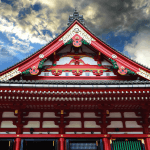 Boutique Japan epitomizes the Japanese standard of service that we have come to appreciate from our travels within the country.
This trip exceeded our expectations and was one of the best vacations we've been on. They did an amazing job fulfilling our 'wish list' of scenic vistas, onsen, and sensational kaiseki meals.
We toured Hokkaido, Tokyo, Nagano for snow monkey viewing, and saw historic Kyoto. We ended our trip at the amazing Hakone Ginyu. Our trip ran like clockwork and the travel details helped guide us to our next destination.
Personally, this trip was a transformative experience. I will not hesitate to use Boutique Japan in the future and recommend them to anyone interested in a customized journey to Japan. Thank you so much!
Charles & Jana Lewis, Austin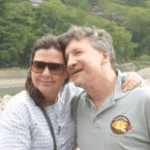 In the era of TripAdvisor, Expedia, and the Internet, do travel agents still serve a purpose? I'm afraid many travelers look at them like they're members of a moribund industry. After using Boutique Japan, I can say that that the best niche travel boutiques are not only useful, but indispensable.
I travel a great deal on my own — to Italy and France – but before this trip, always on my own. However, I'd never been to a country like Japan before, one with such profound cultural and linguistic differences from America's. Hence, I thought I could probably use some help. The owner, Andres Zuleta, proved himself a cognoscente of Japanese culture. He is fully bilingual and steeped in the subtleties of Japanese life. His insider knowledge and connections proved invaluable. The whole group undertook the trip with very lofty expectations, yet Andres still managed to exceed them. Our highest compliments to him!
Andres custom designed our itinerary to provide an ideal balance between old and new, fast and slow, traditional rural and urban chic. Even better than the planning, however, was the service. We especially appreciated each of our four guides. Their expertise added immeasurably to our experience.
I cannot thank Andres and Boutique Japan enough for arranging and executing a 30th anniversary trip that we will never forget. While I remain largely an Italian at heart, I think there's a bit of Nihon-Jin in there too. What's not to love? Fantastic food, fascinating sights, great tradition, genuine hospitality, and amazing technology. I hope to return one day, again with Boutique Japan's guidance.
Julie Hochman, Boston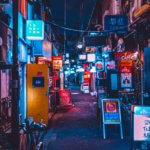 Boutique Japan planned the perfect trip for us! The attention to detail and ability to cater to our tastes/needs was incredibly impressive.
They know Japan inside and out and provide the best insider and local recommendations. We loved every second of our trip!
Betsy Cotton, California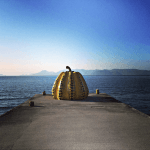 Thanks Boutique Japan for your guidance. Even though I've traveled and lived in Japan (eons ago!), it was really helpful working with you.
Piper and Andres had wonderful recommendations and their suggestions were always right on. I would absolutely utilize your services again.
Kara Ridenour, New York City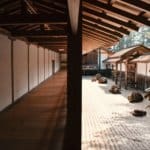 Our Japan trip was magical and ranks as our most favorite destination to date. Much of that magic was due to Andres, Piper and the Boutique Japan team.
Our accommodations were perfect at every stop. Takako, Kenzo and Sam were excellent guides. We loved the balance of having our guides for part of the day and then having the rest of our days to wander, discover and get lost.
We will not hesitate to recommend Boutique Japan to our family and friends!
Deborah Bailey, Mississippi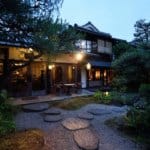 Japan is beautiful and clean and orderly, and not hard to navigate physically for the unfamiliar tourist. It is also a complex, many layered and highly structured culture in which there is much that is invisible to the uninformed.
Boutique Japan, and its founder Andres Zuleta, addresses that gap with deep local knowledge and access to people and places that most tourists will never see. In addition, they focus each client's interests, and build carefully curated and well organized experiences based on those interests.
Andres did a remarkable job on our recent trip, whether we were dining in a tiny sushi restaurant or a working man's soba place, spending a day with a ceramics dealer or studying the tea ceremony and the production of green tea matcha, or finding the perfect ryokan or delightful coffee shop. Did I mention our trips to the cat cafes?
We recommend Andres and Boutique Japan without qualification, and will go so far as to say that going to Japan without in some way involving Boutique Japan may be a waste of time and money.
John Miya, Chicago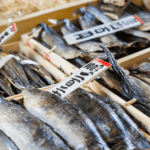 I couldn't have done this trip without you. Your guidance gave me and my family a lot of confidence that everything would be well planned.
It was a real bucket list trip for us and the logistics of our adventure were flawless thanks to you. Your web presence helped us plan, and your local knowledge helped to get sumo and a baseball game for us and a group of old friends. You found the perfect variety of accommodations at prices in our budget. I'm so glad to have been able to see and eat at Tsukiji Market again before has to move. The hotel in walking distance made that early morning a lot easier too.
Thanks again for all of your help and attention to make this dream come true for me and my family.
Jennifer & Ray, Australia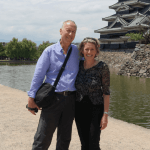 We would like to thank Boutique Japan for all of the great choices and suggestions for our recent holiday. We had the most fabulous time – we expected to, but it was even better than we expected.
Highlights were the guides – they were all terrific and so enthusiastic. And the evening in Tsumago – what a treat that was! The hospitality and superb food presented to us was simply wonderful.
You did a great job of matching our likes/needs with the locations (hotel types, food, the spectacular mountain region). And we have both said, we'll have to come back in autumn!
Casey & TJ, New York City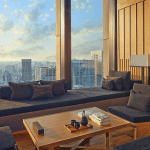 Boutique Japan designed the perfect luxury honeymoon.
Organizing a trip can be a challenging task, so we were thrilled to find someone as knowledgeable and easy to work with. We were consistently impressed with the attention to detail in each element of the journey.
Boutique Japan exceeded our expectations. From booking truly impressive accommodations to securing sumo tournament tickets, it was truly a special trip. We will not hesitate to recommend Boutique Japan to our family and friends!
Robert & Elaine, Florida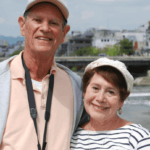 Their service and responsiveness were fantastic. They pretty much removed any anxieties we had about traveling independently in a country where we did not speak the local language and vice versa.
The hotels they selected were well located within our preferred areas and were good value for our price range. The guides they provided were uniformly excellent and greatly enhanced our trip.
This company is definitely an expert on Japan and we would recommend that anyone planning a trip there check with them first.
Michael Pollack, New York City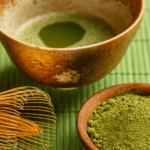 Our trip was truly amazing.
Things ran very smoothly and there was a perfect variety of activities. The guides were uniformly strong and were punctual and pleasant to be with in addition to being knowledgeable and flexible.
Thank you Boutique Japan for helping us plan a wonderful and memorable trip!
Kristin, New York City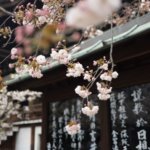 Boutique Japan did an excellent job coordinating our 2-week trip.
This included making all of our hotel/ryokan/temple arrangements; obtaining all of our train tickets and subway passes; arranging for several guides throughout the trip; obtaining tickets to a geisha dance show; arranging for a tea ceremony; and arranging airport transfers.
Andres is extremely well-informed about Japan, responds promptly to emails, and provided innumerable recommendations and reassurances over the 9 months preceding our trip.
Once in Japan, everything went off flawlessly–there literally was not a single hitch. I recommend Boutique Japan unqualifiedly if you are organizing a trip to Japan.
Keri and Marvin, Los Angeles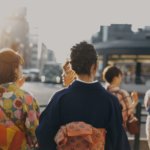 We really had a terrific trip! Can't thank you enough for the thoughtful planning and recommendations along the way.
From Naoshima for the guys (a huge highlight), to the magical Kyoto of temples, bamboo forests and geishas, to sumo in Osaka, through the restful ryokan and walking around Shuzenji Onsen on a rainy day, and finally to vibrant Tokyo where we felt we only scratched the surface but loved wandering and eating and people watching.
It was a remarkable introduction to Japan.
John Given, Los Angeles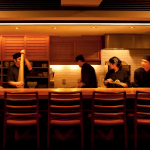 Thank you again for planning such a special and perfectly curated trip for us. We will definitely be recommending you to all of our friends, who now want to go to Japan after hearing about all the fun we had! We hope we will be returning to Japan again sometime soon as well.
Jess & Amanda Robinson, Austin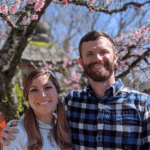 Boutique Japan did an extraordinary job in preparing a personalized vacation for our honeymoon. They spent time to ask us what sort of experiences and destinations we wanted to see, and they curated the perfect itinerary for us.
They were also attentive and resourceful while we were in Japan, as were the guides they arranged for us. We never felt lost or alone, and they gave us enough resources to venture out on our own into neighborhood cities and remote seaside villages.
We sincerely appreciate the care with which they arranged for everything.
Anne Chudnofsky, South Carolina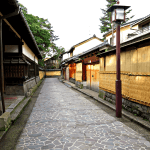 Boutique Japan lived beyond all our expectations!
Our itinerary was totally personalized. They took care of every detail from purchasing train tickets, helping select hotels, and choosing fantastic guides.
If you are going to Japan it would be a mistake not to choose Boutique Japan.
Janet C., Switzerland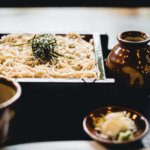 I hardly have the words to say how wonderful the trip was.
My time on Naoshima, Teshima and Shikoku were wonderful and I had many experiences that I don't have enough superlatives for. The guide and driver were so nice and fun to be with and the people I met along the way were memorable. I was stunned by the art on Naoshima and Teshima, it was like nothing I have ever seen before (or possibly will see again) and I've seen a lot of art. So incredibly creative.
I loved the Ryokans and the pure beauty and seamless service of the places. I also loved the food and the lovely way it is served and the gorgeous tableware used to serve the dishes. The Soba, Udon, and Sushi making experiences were so fun and the locations for all three were perfect, as well as the teachers. The Indigo dyeing experience was a delight and I now have a beautiful handkerchief that I made myself.
Boutique Japan's organization and planning of all details was spotless. I was a little afraid about the app in the beginning but it worked perfectly and I used it often.
Japan is a fascinating country and I definitely want to go back. I have so many stories and fortunately I was able to keep a day book so I won't forget anything. I would like to thank all of your team who made this wonderful experience possible.
Anne and Myron, Ottawa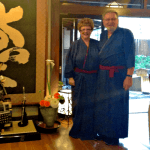 When my husband first approached me about a trip to Japan I was very apprehensive. Apprehensive about the distance, apprehensive about undertaking such a trip at our age as we are no longer 'spring chickens.' I was apprehensive about the food, apprehensive about pretty well everything.
The stars must have aligned that day as I researched the Internet and quickly found Boutique Japan.
From our initial phone contact Andres and his team at Boutique Japan have been nothing but professional and respectful and have given us exemplary service. Andres listens to where your interests lie and incorporates those interests into a personalized itinerary. We could not have been happier. From our initial 'get to know you' phone call right through to arranging our trip, having a personalized origami card welcoming us at our first hotel in Tokyo, to keeping contact with us during our trip as well as a welcoming home email waiting for us, Andres and his team at Boutique Japan were professional all the way. We felt like royalty.
We could not have asked for better service and Boutique Japan has made our dream trip become a reality. No stone was left unturned and we highly recommend Boutique Japan. We firmly believe that it would be difficult to find another travel agency who would give such incredible five-star service. Our hats off to all of you. We are forever grateful for giving us the most incredible trip of our lives.
Cathy & Mark, Houston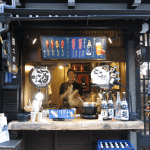 Boutique Japan helped us arrange three wonderful weeks in Japan.
We visited seven different locations in the country which required someone (not me, thank goodness) to arrange all the travel, hotels, and transfers – not to mention the actual fun stuff like tours of local sites, unique food tours and even a shopping guide.
It was a good mix of seeing the major sites but customized to our interests with some 'off the beaten path' experiences thrown in (like a private tea with a geisha).
I know these days you can do all kinds of research on the internet yourself, but to be honest, who has time? I always found myself researching everything to death and being paralyzed by too much information.
This was my first time using a travel agent/guru and I'm forever spoiled by it. Thanks Boutique Japan!
Lyn & Peter, Australia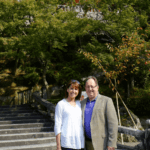 We are very experienced, independent, international travelers but we found trying to plan and book a personalised holiday in Japan in late 2015 to be very challenging. That is until we discovered the wonderful team at Boutique Japan.
After describing our areas of particular interest in art, architecture, culture and fitness, Andres and his team crafted a wonderful three weeks in Japan that was filled with memories and experiences that we will keep forever.
The hotel and ryokan bookings that they were able to secure for us and the seamless travel bookings were beyond our expectations and could only have been achieved because of their intimate knowledge and contacts in Japan.
We have always prided ourselves on planning and delivering our own international travel experiences but we can honestly say that we will never travel to Japan (and we plan to do so many times) without using the team at Boutique Japan.
Laurel S., New York City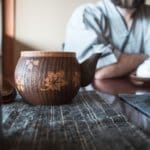 Boutique Japan helped us plan the trip of a lifetime.
They made excellent suggestions, taking into account our interests. The itinerary, the accommodations, and the guides they arranged for us were all superb. Everything went smoothly thanks to their careful planning.
We really benefitted from their detailed knowledge of and passion for Japan. We highly recommend their services.