If you're like most travelers visiting Japan, a high-end sushi meal is on your culinary bucket list — it's no surprise, as eating sushi in Tokyo (and Japan in general) is on an entirely different level!
The cult documentary Jiro Dreams of Sushi made the rarefied sushi meal highly sought after by gourmands all over the world. But in the last few years, I've come around to the idea that it is far more rewarding to work your way up to top-quality sushi by eating widely at different price points, rather than jumping straight into the deep end with "Tokyo's best sushi" Why is that?
It's largely a cost-performance thing. The more you pay for sushi, the more discerning you'll have to be about your likes and dislikes. Not all high-end sushi is created equal.
"Best" is an extremely subjective metric. Is it best for first-time diners to experience a certain style of shari (seasoned sushi rice), at a particular price point, or for the relatively experienced sushi connoisseur who can distinguish between fish in different seasons? The answers vary depending on who you are, how well you know sushi, and how much you're willing to pay relative to the experience. The more widely you eat, the more you'll be able to discern and appreciate at each meal.
(Learn more about common sushi myths and misconceptions).
I've put together a list of great sushi restaurants in Tokyo. There are hundreds of them in Tokyo, and this is but a fraction of them. All of them have their strengths and drawbacks. It's up to you to decide which one to try!
You'll notice that some of these are exclusive, introduction-only restaurants. That's the unfortunate reality of some high-end sushi-ya, who cater to their regular customers first. Maybe one day, you'll meet someone kind enough to take you to one of these restaurants.
You won't miss out on much if you never eat at Jiro or Saito. But if your heart is absolutely set on eating at a particular restaurant, there's probably no harm in at least trying to obtain a reservation there. As the saying goes, you miss 100 percent of the shots you don't take.
Let's get right into our list of 25 outstanding Tokyo sushi shops.
1. Sushi Saito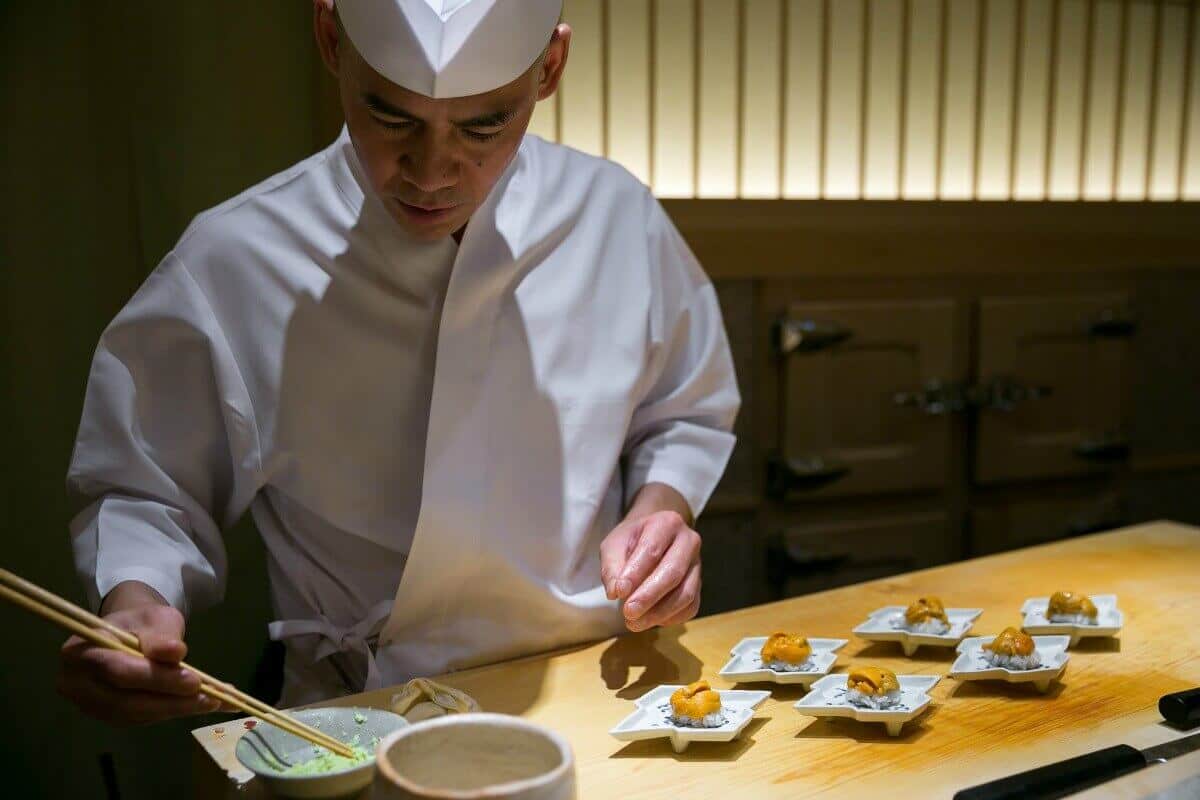 For most sushi eaters, the holy grail of eating experiences is at the tiny, eight-seat, introduction-only Sushi Saito in Ark Hills.
While perfection technically doesn't exist, the sushi is so consistently well-executed that it's hard to imagine anything better. Just watch Chef Saito make the sushi: the economy of movement, the deftness of his hands when shaping each piece. His shari is made with mild red vinegar and is a tad saltier than at most restaurants; it's then paired with impeccably prepared neta (topping) ranging from aged fish to rigorously temperature-controlled sea urchin.
This is the kind of restaurant you should eat at after you've eaten more extensively at other high-end sushi restaurants, simply because you'll be able to discern and appreciate the subtle differences and extraordinary care taken with even standard pieces far more.
It is notoriously difficult to even be able to dine here. Even Tokyo's most hallowed hotel concierges are unlikely to be able to help you. Even if you do manage to get in once, you're not immediately considered a regular (for obvious reasons). Apparently, you'll still have to dine with one of the "regular regulars" for several months to a year until you're allowed to make bookings independently.
However, if you're lucky enough to wrangle a seat here, you're pretty much guaranteed a transcendental meal.
2. Sushi Sugita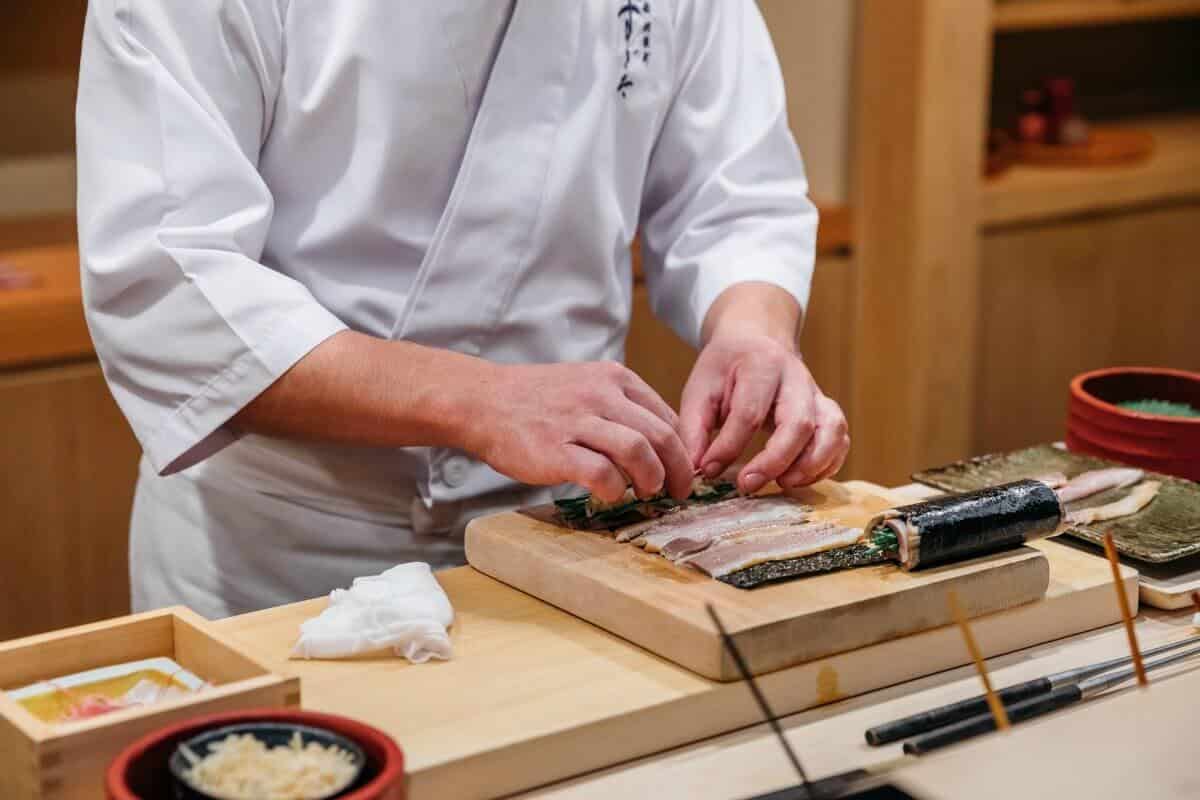 Another tiny sushi restaurant where it's just as difficult for the average traveler—and resident—to snag reservations. While they technically accept phone reservations, the reality at Sugita and other similar high-end restaurants is that seats for the following month are booked by visiting customers during their meal. In practice, this makes it another introduction-only place.
Chef Sugita is particularly known for his shari, made with a blend of amber and red vinegars. It pairs beautifully with his neta, primarily the hikarimono, or silver fishes like shad gizzard and sardine. The combination of sharp-tasting rice and fatty, oily fish makes for a flavour combination like no other.
Also noteworthy: His otsumami are super funky and flavourful, and perfect for sake pairings. These are not for unadventurous diners. Think white shrimp with umami-ful tomalley and brains, sea cucumber ovaries, salt-grilled cod milt, and a gorgeously sweet monkfish liver.
3. Sushi Sawada
Two-star Sawada is legendary, with top-notch sushi and equally high prices to match. It ticks every serious sushi restaurant box and then some—six seats, no assistants, a reverent atmosphere, expectations of good behavior, no photography, excellent tuna and sea urchin, and zero electricity used in the food preparation. That's seriously old-school. But the regulars keep going back for a reason.
It's a reasonably friendly place, but in terms of the food, Sawada is best for serious connoisseurs. If you're looking for a relaxed meal to chat with friends, you may be better off at another place like Kyubey.
4. Sushi Arai
Characterised by sharp, powerfully flavoured shari—made with a blend of white and red vinegar—and sublime fish, Arai's Edomae-style sushi, with nods to Sushi Shimizu, is a firm favourite with many connoisseurs. The quality is to be expected. Chef Arai has 15 years of experience under his belt, including eight years at the well-loved Sushi Kyubey. Unsurprisingly, his restaurant rapidly became one of Tokyo's most popular sushi-ya after opening in 2015, and it's now notoriously difficult to book.
But don't give up just yet: Arai is one of several high-end places in town with a second counter. At Arai, it's managed by the sous-chef, Watanabe-san, and it's significantly easier for visitors or non-regulars to reserve a seat here.
Should you be too upset about being "segregated" from the regulars, as some people think? No—Watanabe-san's sushi is also superb, and he speaks some English, which helps non-Japanese speakers and first-time diners feel much more at ease than at the regular counter.
5. Sukiyabashi Jiro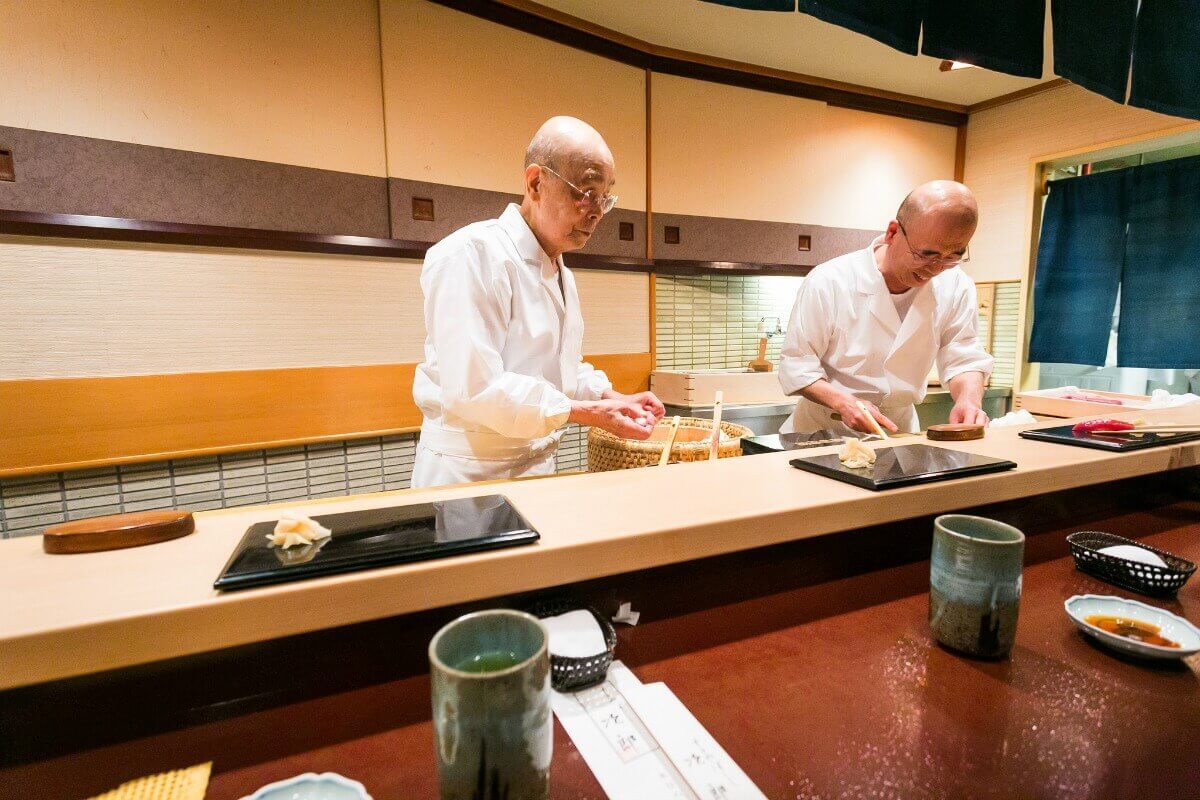 Anyone with the remotest interest in sushi has at least heard of Jiro and the eponymous Jiro Dreams of Sushi. The sushi is indeed as dreamy as the documentary suggests—the tuna, smoked katsuo, and uni are always winners here—but Sukiyabashi Jiro is not an ideal restaurant for first-timers to high-end sushi.
Made with a high proportion of white vinegar to rice, Chef Ono's shari can come off as too vinegary for some diners, though that is part of its cult appeal. A meal here can feel very rushed—you're really forced to focus only on the sushi, and eat rather quickly. It is also not the most relaxed of dining environments: The chefs have been known to scold diners for poor behavior or bad sushi etiquette. And, if it matters to you, prices here have escalated along with his fame to the point where the cost-performance ratio might no longer be justifiable for some. Learn more about prices in Japan.
It goes without saying that it's extremely difficult to get in here. You might be able to wrangle a reservation through certain hotel concierges, but it's so revered now that it's essentially an introduction-only place. If you're desperate to eat his style of sushi, you'll have better luck getting a table at his son's restaurant in Roppongi.
6. Hatsunezushi
With over 120 years of history and counting, 2-star Hatsunezushi serves Edomae-style sushi with several unusual twists. For one, the neta is warmed on a hot plate before being shaped into nigiri with the rice—marinated in concentrated red vinegar—and is intended to be eaten warm. The gari is made with older ginger in coin-thick slices, in contrast to the cotton-thin young ginger pieces served at most restaurants. It is probably one of the only high-end places serving oyster sushi. On top of all this, Chef Nakaji is incredibly friendly and interacts well with regulars and first-time visitors alike.
To contextualise just how difficult it is to get a reservation here: In around September 2018, there was a message on their website saying they'll begin accepting reservations for 2020. They can seat a maximum of 3,000 people a year. Every single place will probably be snapped up within a week, as happened for 2019 seatings. Good luck eating here!
7. Sushi Ishiyama, Ginza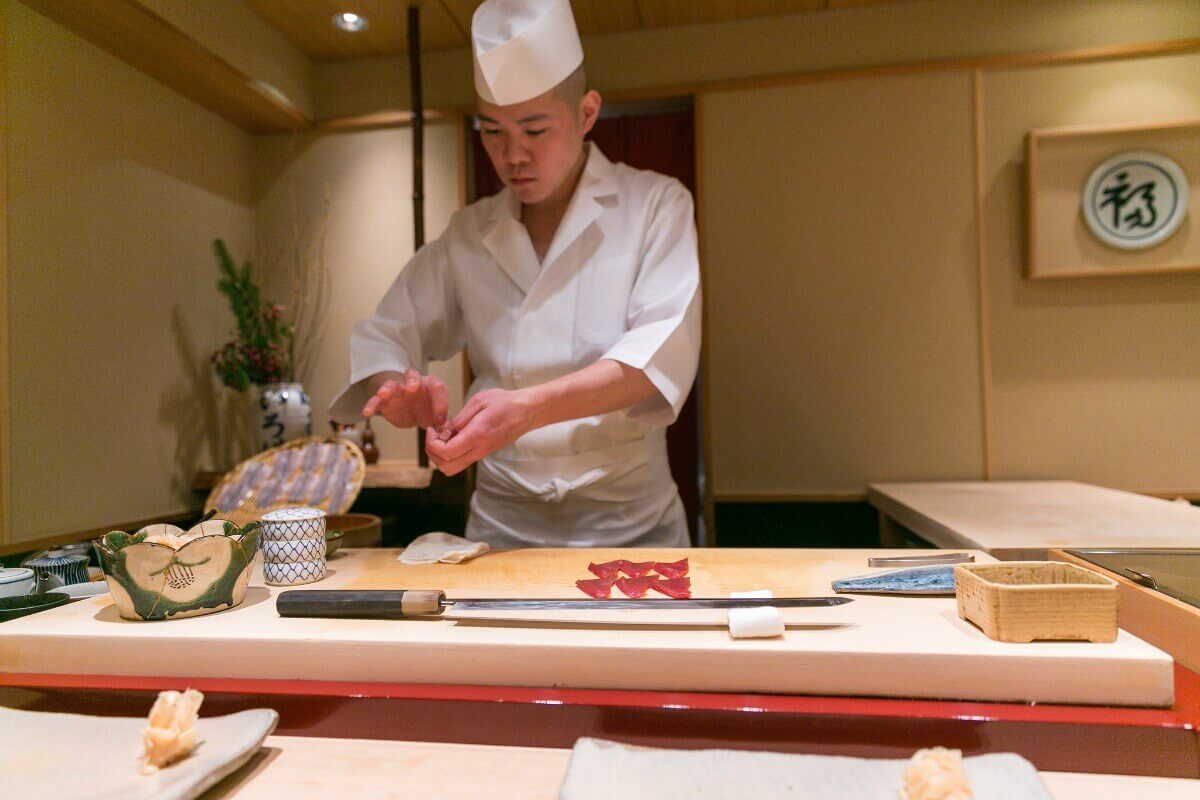 Those familiar with the sushi world in Tokyo will recognise the young and affable Chef Ishiyama, who previously headed Sushi-ya in Ginza, and also trained at Saito and Kanesaka. Not much has changed at his new location; his sushi is just as delicious, albeit with a higher price tag to match the bigger premises and increasing popularity.
Some of his signature items include the mackerel stick sushi—fatty cured mackerel on rice, rolled with kelp and sliced into thick slabs—and the lightly torched nodoguro (black throat perch) wrapped around skinny scallions in ponzu sauce. They're some of the best items you'll have in the omakase. Other standouts, depending on the time of year, might include a smoky grilled shirako, near-perfect sea urchin gunkan, or Pacific saury with a dab of umami-ful sauce made from its liver.
8. Harutaka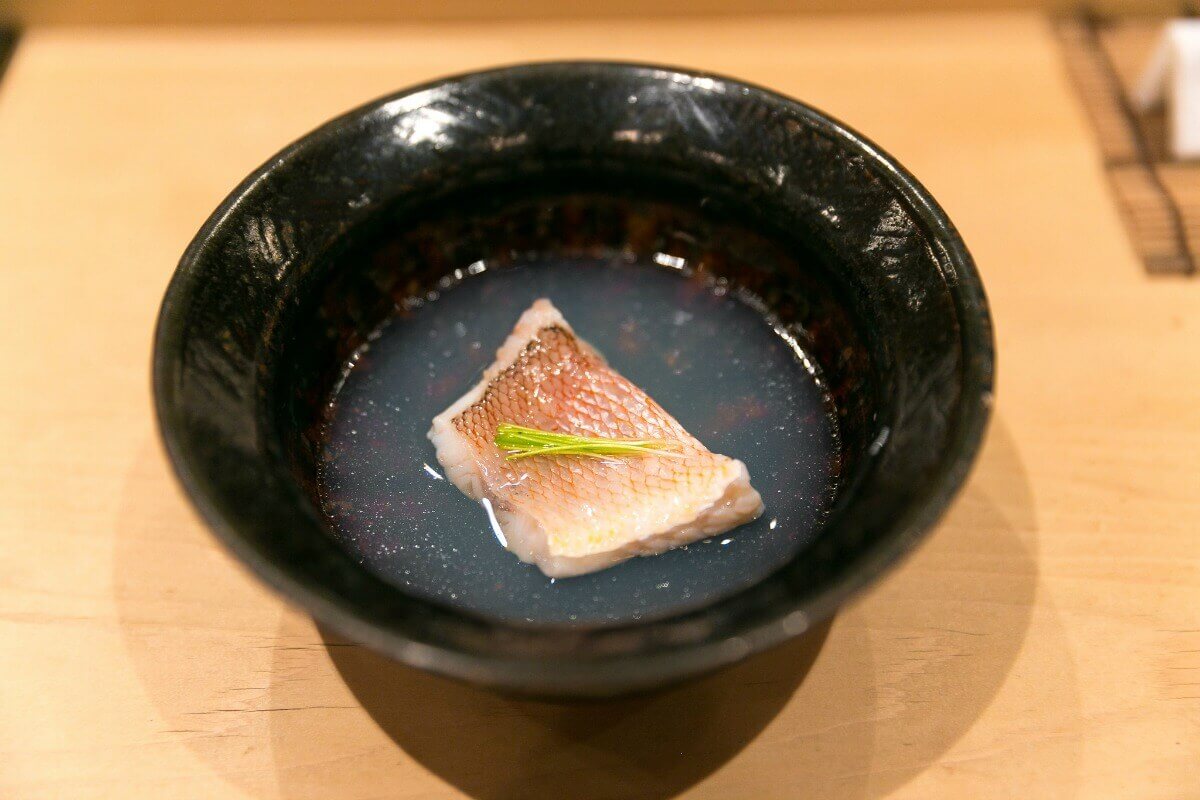 Harutaka is a favourite with many sushi connoisseurs in the city, and counts venerated chefs like Saotome-san of Mikawa Zezankyo as regular patrons. This is a great place for those who want Jiro-style sushi—large nigiri with sharp, strong shari and very high-quality neta—without the serious atmosphere or rushed pace of the original restaurant. The tsumami (appetisers) are gorgeous and precisely executed: think tiger blowfish milt, a rich and oily kinmedai poached in dashi.
For those who care about Michelin star rankings: Harutaka has gained and lost its two stars over the years. Personally, I would take Michelin stars with a huge pinch of salt—they mean very little beyond a certain level of cooking, and it's more useful to figure out your own preferences.
9. Sukiyabashi Jiro, Roppongi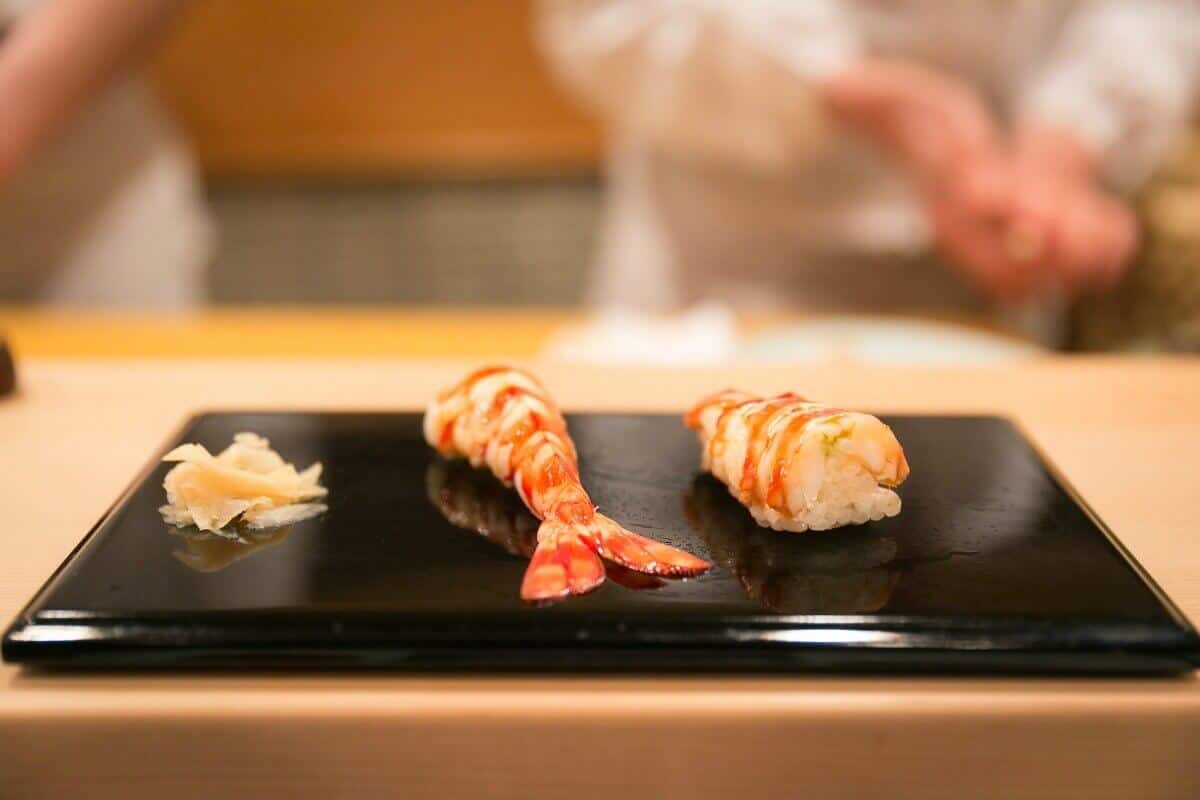 If you can't snag a seat at the original shop, you'll have better luck at Jiro's son's restaurant, which is sequestered away in a quiet corner in Roppongi Hills. As an overseas traveler, you'll still have to go through a hotel concierge or booking service if it's your first time.
Jiro's son serves characteristically sour shari made with white rice vinegar, and each nigiri is on the larger side compared to many other shops. Some truly sublime pieces here include the bonito (smoked over rice straw) and sea urchin gunkan. As a bonus, meals here are less expensive than at the original Jiro—though with lunch clocking in at around JPY20,000 (approx. USD180) for 14 pieces, that might not be saying too much.
10. Sushi Kimura
Aging fish has become much more common practice at high-end sushi restaurants—but few serve almost all their fish aged. Plus, you might not even eat fatty tuna during the meal, since Chef Kimura doesn't believe in that sort of hype.
What can you eat here, then? Think smoked clams, fermented whale, grilled ocean eel, sea bream marinated in kelp, sujiko, horse mackerel, kinmedai, and blue marlin. Most fish is aged between two days to three or four months.
This is another one of those holy grail sushi restaurants. Hotel concierges won't be able to do anything for you here. Unless you have an invitation from the chef, a regular, or encounter an extremely serendipitous cancellation via Tableall, it's probably best not to place all your hopes on eating here.
11. Sushi Sho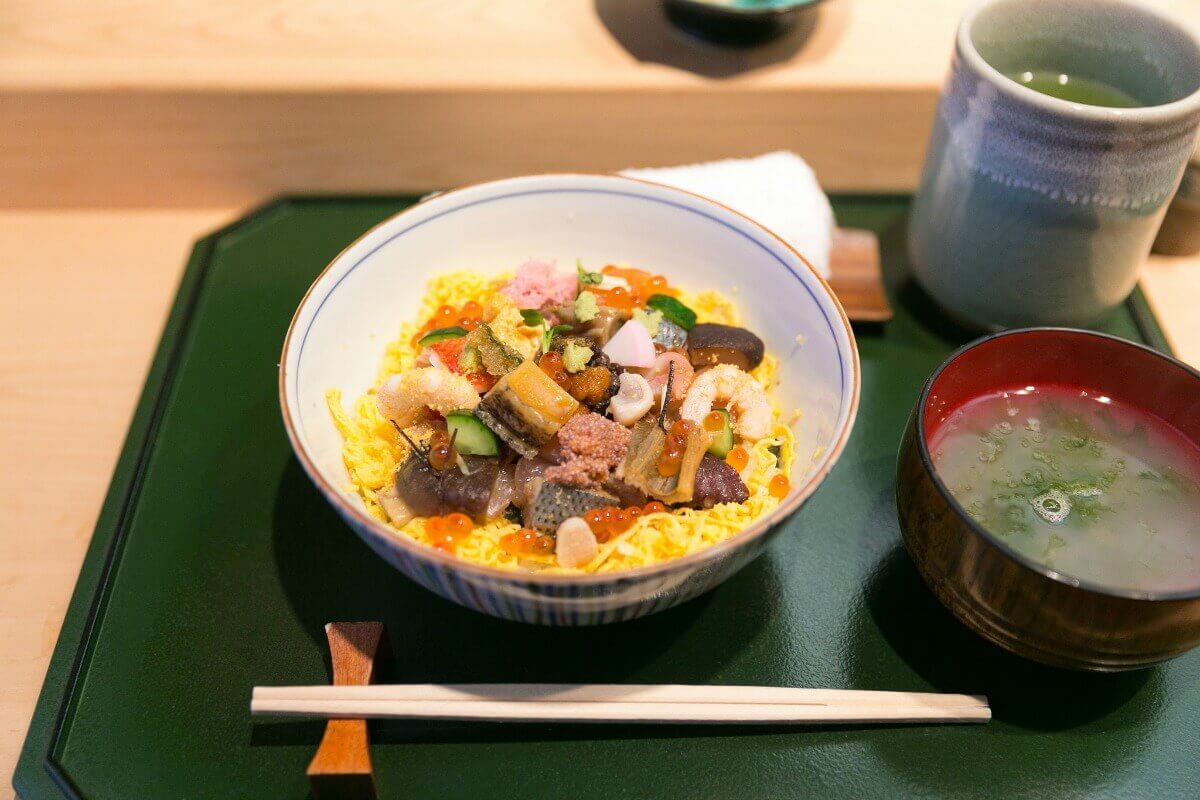 Dive into the sushi world and you'll quickly find that there are many schools of sushi. In Tokyo, you'll probably run into many restaurants practicing the distinctive Sho-style of sushi. What does that mean? For instance, in a Sho-style meal, you'll alternate between otsumami (flavourful side dishes/appetisers) and nigiri, which encourages plenty of sake drinking. A more common structure in sushi restaurants is to start with the appetisers before moving on to the nigiri.
Another unusual trait: Unlike many shops that use a single shari for all the neta, Sho-style sushi varies the rice according to the topping. As you can imagine, it's quite a task keeping all the sushi rice at a consistent temperature throughout the meal—especially when you're eating upwards of 30 pieces over a single meal. Yes, Sushi Sho can and really does serve that many pieces! You'll see some less common nigiri, like chopped chutoro with sesame and blowtorched kinmedai belly with grated daikon.
Some sushi purists don't like the Sho style. Even so, the sushi is overall very well-executed, and this restaurant will probably appeal to diners who enjoy variety in their meal.
12. Sushi Sho Masa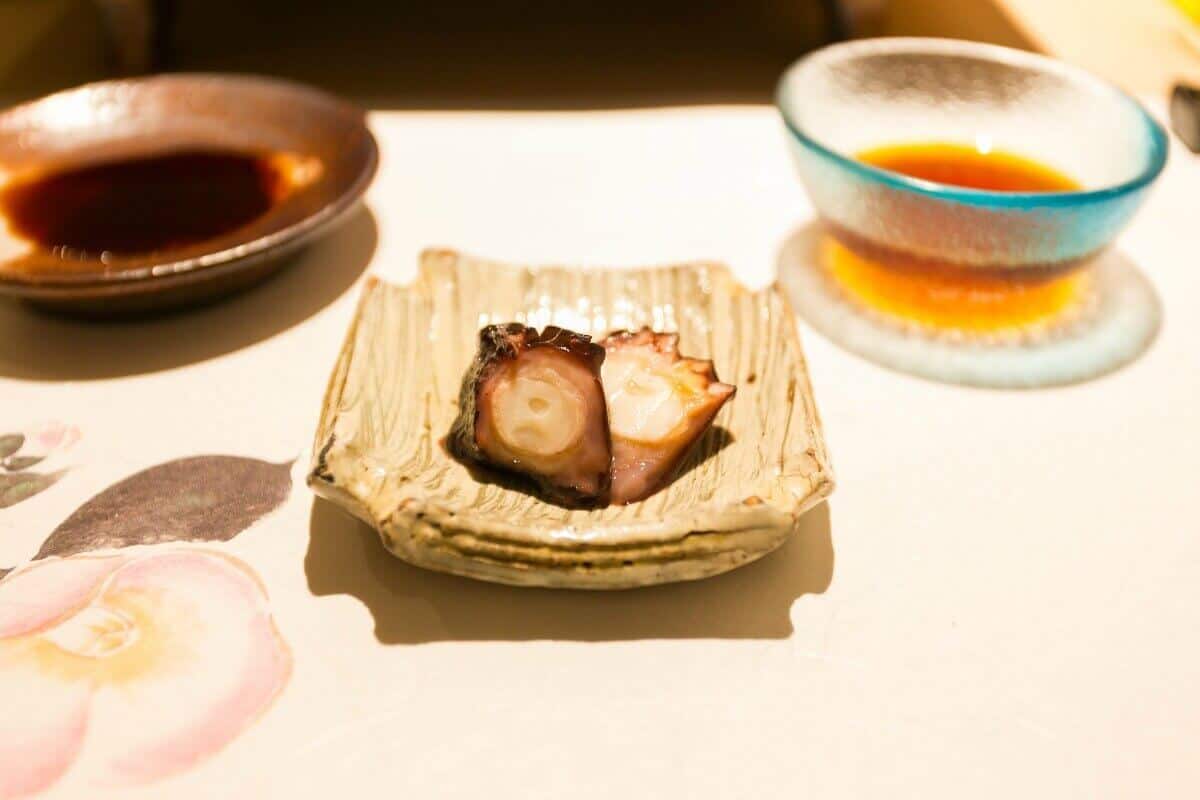 A favourite with travellers to Japan, Sho Masa is one of the most well-known Sho-style restaurants in the city. As with Sushi Sho, this is a place to head to if you like variety in your meal.
You'll eat nearly 40 pieces of sushi and otsumami over three hours. From seared bonito with marinated garlic, to sea grapes, to velvety monkfish liver cubes to buttery otoro, you'll have sampled a very large range of damn good seafood by the end of your meal—along with plenty of sake, if you drink. It is, at the very least, fantastic value considering the volume of food you'll eat.
Check out our guide to Japanese Whisky.
13. Sushi Ryusuke
You don't need to head to the most Insta-famous sushi places for a great meal, and this place is proof of that. Run by the friendly and funny Chef Ryusuke Yamane, this tiny sushi restaurant in Ginza serves some rather unorthodox but delicious sushi.
His training at Kyubey belies the Sho-style influences on the meal—a few otsumami served between the nigiri, and two different types of shari used depending on the topping. Go for lunch; it's great value for the money.
14. Sushi Tokami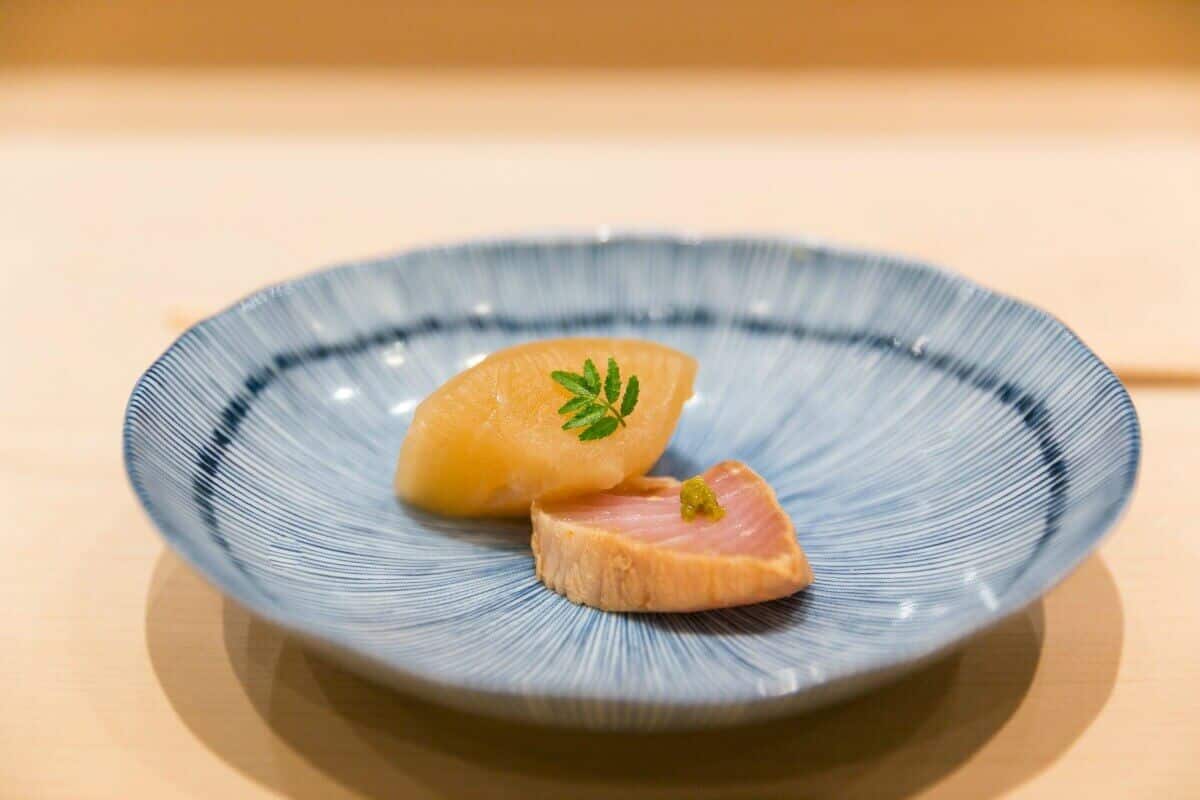 Chef Sato at Tokami has a dedicated following in Tokyo, and for good reason: His sushi is just superb. His rice is assertively seasoned with two different kinds of red vinegar, and is on the saltier side for shari. This works for most of the strongly flavoured toppings, like tuna, shellfish, and silver fish, but can overpower the white fish at times.
There are some unique and delicious touches at his restaurant—think hot and cold sea urchin combined in a single gunkanmaki; an ultra-custardy piece of bruleed tamago to finish—very unlike typical sushi restaurants.
With his insider connections to some of the best tuna on the market, it's no surprise that the maguro at Tokami is utterly outstanding. In addition to the usual cuts of tuna, they sometimes serve a tuna bone soup that'll have you selling your soul to the devil for just one more bowl. Tokami is probably best visited in late fall or winter when the fish is at its fattiest.
Secure your reservations way in advance. Chef Sato is super friendly and speaks English, so you'll see more non-Japanese customers at his shop at times.
15. Shinbashi Shimizu
Chef Shimizu serves top-notch Edomae-style sushi—the rice is seasoned with red vinegar and just enough salt, while the neta are superb, often including a wide range of shellfish. It's a firm favorite with locals. The reasonably priced lunches, around JPY8,000, don't hurt either. Unfortunately, he doesn't accept bookings from hotel concierges or non-Japanese speakers, and a local phone number is also imperative if you want to eat here.
On the bright side, this isn't a restaurant you'll have to book one year in advance. Shimizu only takes reservations around a week ahead of time, which is great for people who aren't good at planning and keeps it flexible. If you don't speak Japanese, your best bet is to go with a Japanese-speaking friend or local eater. (So make sure you treat them!)
16. Sushi Take
How many female sushi chefs can you think of? Probably none—sushi is a highly male-dominated profession. But now you can add Chef Fumie Takeuchi to this list. Having trained at Shimizu for years, her own restaurant in Ginza is highly regarded by Tokyoites and continues to draw a loyal clientele.
If you love hikarimono (silver fish) and shellfish, you'll enjoy the meals here. Hers are superb, and her knife skills are faultless. Some might find the shari not as well-calibrated compared to Shimizu, but this is likely something that will improve with time. A meal overall here is reasonably priced, delicious, and worth your time. Plus, the relative ease of booking makes it a better choice than many others on this list.
17. Kyubey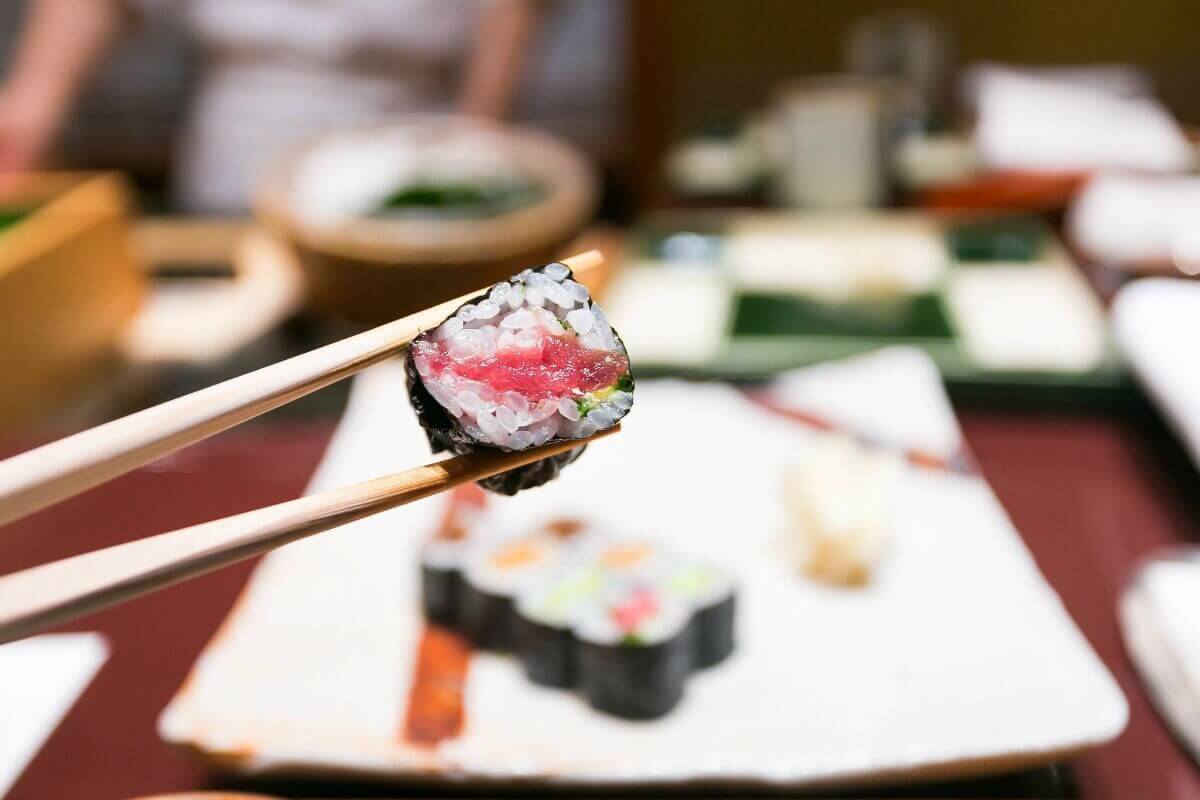 As you can probably tell, high-end sushi restaurants are plentiful in Tokyo. But Kyubey is a popular choice for first-time sushi diners in Japan. Fine dining can be pretty stressful when you don't speak the local language, and Kyubey is very accommodating toward non-Japanese visitors. Walk-ins are often possible, unlike the majority of high-end sushi-ya. Don't expect hyper-personalised attention—the first floor alone seats 17 customers.
And what of the sushi? It's very good—not Saito or Sawada good, but quality fish and well-done rice for the price point. The sushi isn't the absolute best in the city, but if you're looking for a restaurant where you can relax with friends over great sushi and not feel like you have to eat in monk-like reverence, this is the place to head to.
18. Sushi Takahashi
Opened by Chef Takahashi, a former apprentice at Sushi Saito, this eight-seat restaurant is still reasonably new, but feted by Tokyo's sushi lovers. Excellent sushi aside, the appetizers are veritable flavor bombs that linger in your memory long after you've eaten them. Crab meat mixed with sea urchin and ikura, charred milt, smoked surf clam confit—all brilliant.
Rather unusually for a sushi restaurant, Takahashi has a corkage option—so you can, if you like, bring in that bottle of champagne. Chef Takahashi's sushi has only improved since opening a few years ago. Go before his place becomes an invitation-only spot.
19. Sushi Suzuki, Ginza
Chef Suzuki trained at Sushi Aoki for 12 years before opening up his own restaurant in Ginza. What you get here: a friendly chef, good, balanced shari, and high-quality fish. This sounds like many other high-end sushi restaurants in Tokyo, and that's precisely the point. A meal here won't be super innovative, but it will be good.
Most visitors to Japan are likely to enjoy their meal here—plus it will be much less stressful than eating somewhere like Jiro.
20. Hakkoku
Run by Chef Hiroyuki Sato, Hakkoku is one of Tokyo's newest and most feted sushi restaurants. Impeccable technique and excellent ingredients aside, consistency is key to a great sushi restaurant. Hakkoku manages to hit the high notes pretty much all the time with Sato's nigiri-only omakase.
You'll most likely begin with his signature piece, the tossaki temaki made from tuna head meat—ultra-flavorful and unctuous. The other cuts of maguro are just as gorgeous; watch out for the various hikarimono.
You might end up eating around 30 pieces of nigiri, but every piece will be so good that you'll wish you had a bottomless stomach.
It's correspondingly difficult to secure seats here, so you'll want to plan a trip well in advance. Some sacrifices must be made for a meal like this.
21. Sushi Iwa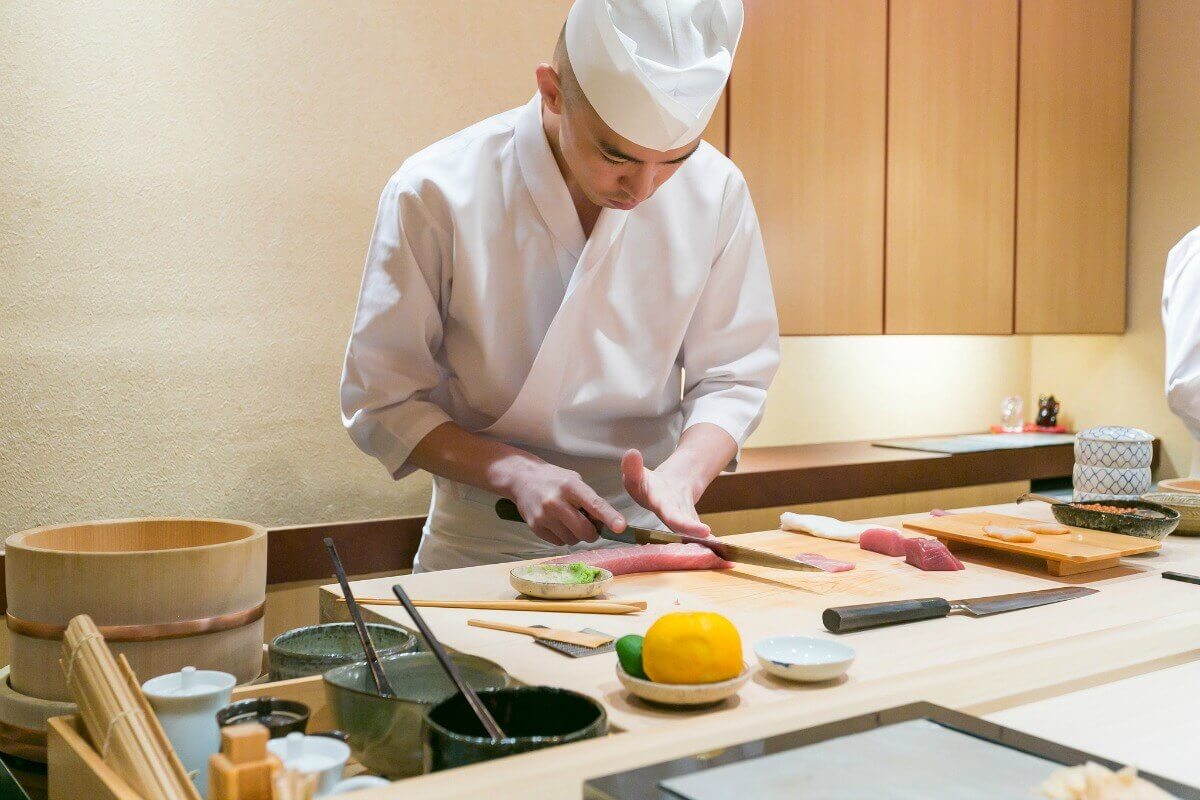 Sushi Iwa is another perfectly decent Edomae-style sushi restaurant in Ginza. The shari here will appeal to diners who prefer less assertive, vinegary flavours—a more approachable style of sushi for the average non-Japanese diner. Expect to encounter a wide variety of fish you might not have eaten before: shirauo, suzuki, and karei are just some examples.
Though it's a small six-seat restaurant, reservations here aren't too difficult to make. Chef Iwa also speaks some English, and it's a significantly less intimidating place to eat at than some other sushi restaurants in town.
22. Sushi Takeuchi
Located in a quiet, nondescript backstreet in Daikanyama, Chef Takeuchi serves a lunch omakase that's ridiculously good value for money. The JPY8,000 course nets you 12 pieces and five otsumami; the quality of each piece is a testament to his years of training at both Sushi Saito (two years) and Sushi Kanesaka (10 years).
It is highly approachable, and not the most idiosyncratic sushi you'll eat, which makes this restaurant a good crowd-pleaser. Takeuchi is great for diners looking for a taste of high-end sushi without the intimidating atmosphere of more exclusive restaurants.
23. Sushi Satake
Satake doesn't shy away from unorthodox techniques. The convention for virtually all sushi restaurants is to serve sushi at body or room temperature, but the chef bucks this tradition by using hot shari in his nigiri.
His sushi might not necessarily be pitch-perfect every single time, but the contrast between the cooler topping and hot rice works for most pieces, and the flavourful tuna pieces are particularly suited to pairing with hot rice. Tokyoites have certainly warmed up—pun unintended—to his sushi, though it's possible that there's some hype involved there due to the unusual shari.
The main downside is that tourists now have to make bookings via Pocket Concierge at a significantly inflated price point. It's worth visiting if you have a lot of spare cash lying around.
24. Sushi Keita
A relatively new sushi restaurant opened in late 2017, Sushi Keita is a tiny seven-seater that's rapidly becoming a favourite with many diners ready to embark on an evening of Tokyo nightlife. The chef's sushi reflects his extensive training at top restaurants like Sushi Wakichi in Hokkaido and Sushi Mizutani in Ginza.
What do you get here? Think assertively sharp and salty but remarkably balanced and al dente shari paired with expertly prepared fish—the red vinegar adds just the right touch of sweetness. It's a great meal all around. Don't expect many of the same neta year-round. The emphasis is on extremely seasonal fish, which is how he manages to keep prices reasonable.
25. Sushi Yoshitake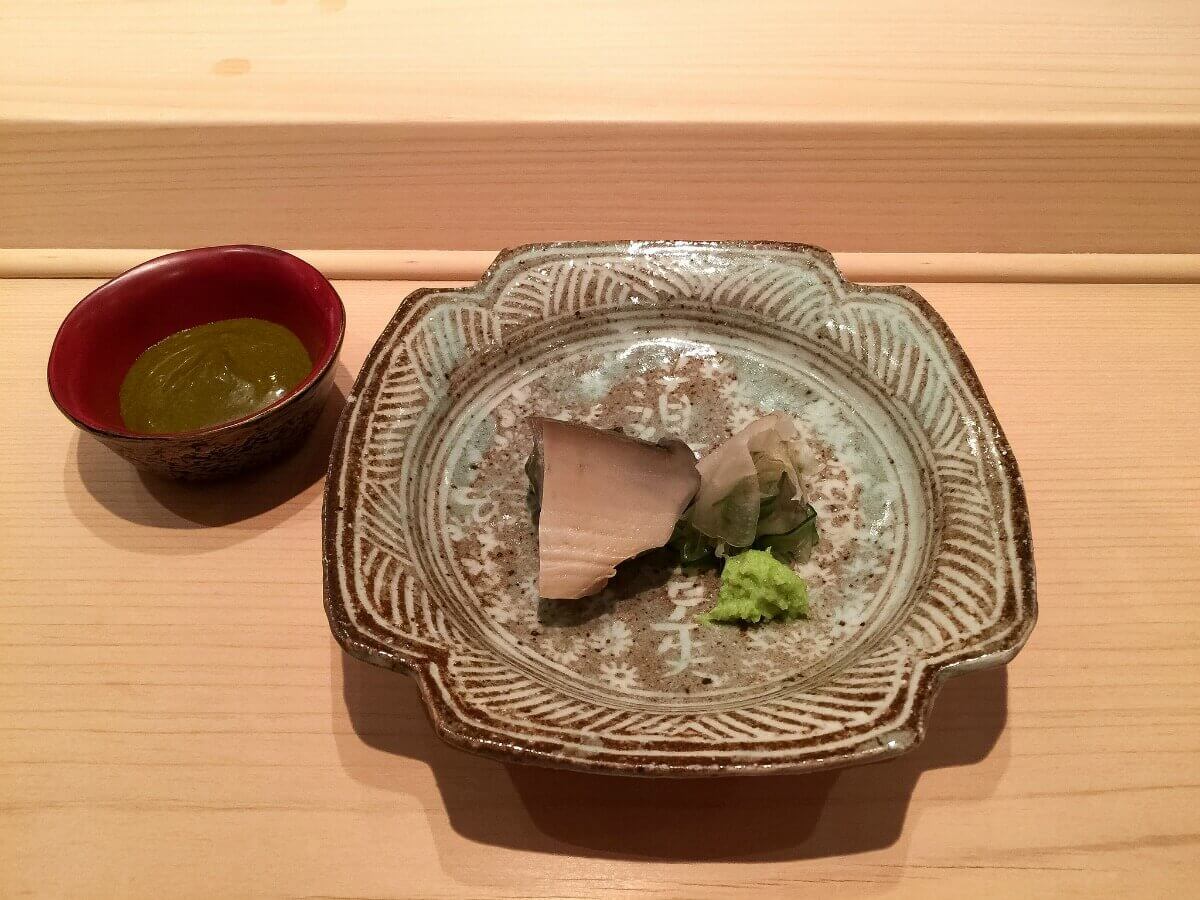 If you think you know sushi, think again. A meal at Yoshitake has enough in the way of beautifully executed Edomae sushi to please the traditionalists, but Chef Yoshitake isn't afraid to take a few creative liberties and incorporate techniques more reminiscent of modern fine dining.
So you might have fairly classic pieces such as a jewel-like marinated bonito or boiled tiger prawn. But you might also encounter a slow-cooked oyster topped with an ultra-flavourful gel, or a triple-layered construction of sushi rice, kombu powder, and sea urchin—both fresh and aged. Then there's his signature steamed abalone in a seductively creamy abalone liver sauce, which usually has the diners shuddering in pure pleasure.
Any of this could fall flat or come off as gimmicky in different hands, but Chef Yoshitake's mastery of the classic sushi technique is solid.
As a bonus, he speaks great English and is very friendly toward foreigners—this is not something that can be said of all high-end restaurants in Japan. (I suspect this contributed in no small part to the 3-star Michelin rating.)
What Tokyo Sushi Restaurant Will You Try First?
Hopefully, this article gives you an idea of the different styles of sushi out there, and what you can expect at some of the city's many great sushi restaurants.
There's much more to sushi than just Jiro or Saito. We hope you have the chance to try one of these restaurants on your next visit to Tokyo!
Now that you have our recommendations of where to go, read our article on the best time to visit Japan!