Japanese whisky (it's spelled whisky, not whiskey, in Japan) no longer needs an introduction for beverage lovers.
While Japan was traditionally best known for its sake and shochu, in the present day it also has an impressive whisky industry that's lauded by spirit connoisseurs.
Commercial whisky production in Japan began in October 1923, just a month after the massive Great Kanto Earthquake. With a parcel of land between Osaka and Kyoto, Shinjiro Torii built the now well-known Yamazaki Distillery, just outside the ancient capital.
Anyone who's seen Lost in Translation will fondly remember the scene in which actor Bob Harris (Bill Murray) is filming a commercial for Suntory whisky. This cameo launched the then relatively obscure whisky into pop culture.
Originally written in 2015, this post was updated and republished on October 22, 2018.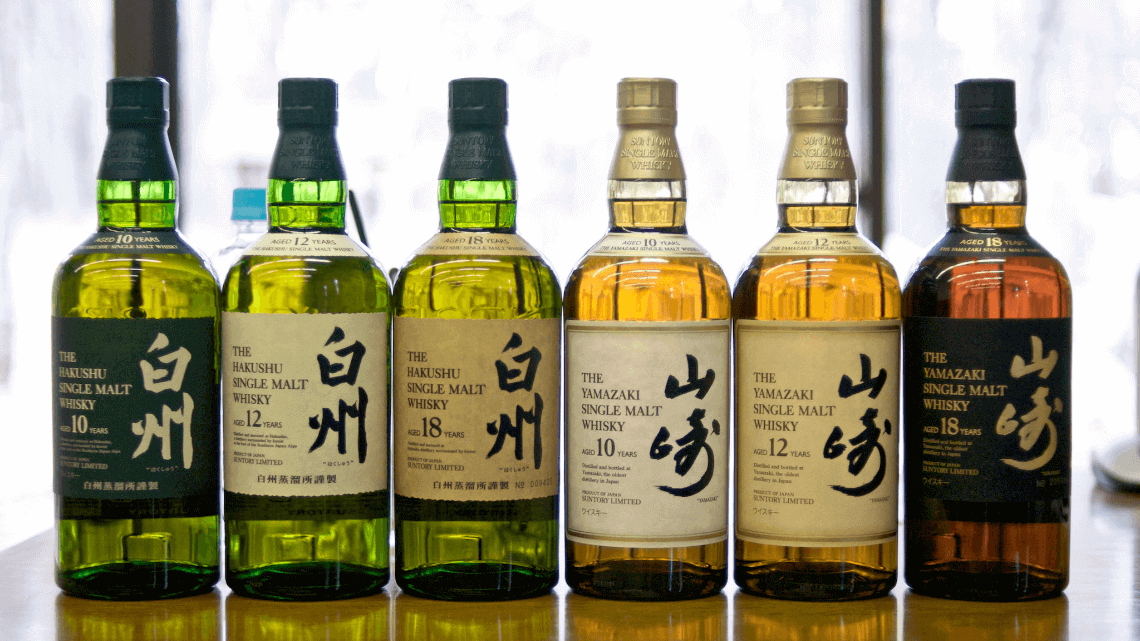 Japanese Whisky Basics
To help you enjoy a glass or two of these exclusive Japanese spirits on your trip to Japan, we've written this primer on Japanese whisky.
Special thanks are due to Stefan Van Eycken for taking time away from writing his book, Whisky Rising, to speak with us about Japanese whisky.
Japanese Whisky vs. Scotch
Before we dug into the best places to enjoy Japanese whisky, we needed to know: what sets it apart from Scotch?
Van Eycken filled us in: "In terms of producing the actual liquid, Japanese whisky follows the Scottish tradition and practice, but there are a few interesting twists. Suntory, for example, uses casks that previously contained umeshu [a Japanese liqueur made of ume fruits steeped in alcohol and sugar] to mature a certain amount of malt whisky that goes into making some of their high-profile single malts and blends.
"Some producers in Japan also use Japanese oak (mizunara) to mature malt whisky, which imparts a very distinct taste and aroma (akin to Japanese temples, sandalwood, etc.). Unfortunately, mizunara is in very short supply, because it not only grows very slowly and in very limited geographical areas of Japan, but is also hard to work. That, combined with the mesmerizing aroma and taste, accounts for the very high price associated with mizunara releases."
Van Eycken added that, "Unlike in Scotland, producers [in Japan] do not swap stock, so every producer has to produce in-house the various types of malt (and grain) whisky needed for their products. In terms of blends, Japanese whisky producers generally aim to create products that work well, [such as] mizuwari (i.e. drunk long with water) and highball (i.e. with soda) style, since that is the way most whisky is drunk [in Japan]."
Visiting Japanese Whisky Distilleries
One of the best ways to immerse yourself in the world of Japanese whisky is to visit a distillery.
For a detailed overview, see our dedicated Guide to Japan's Best Whisky Distilleries.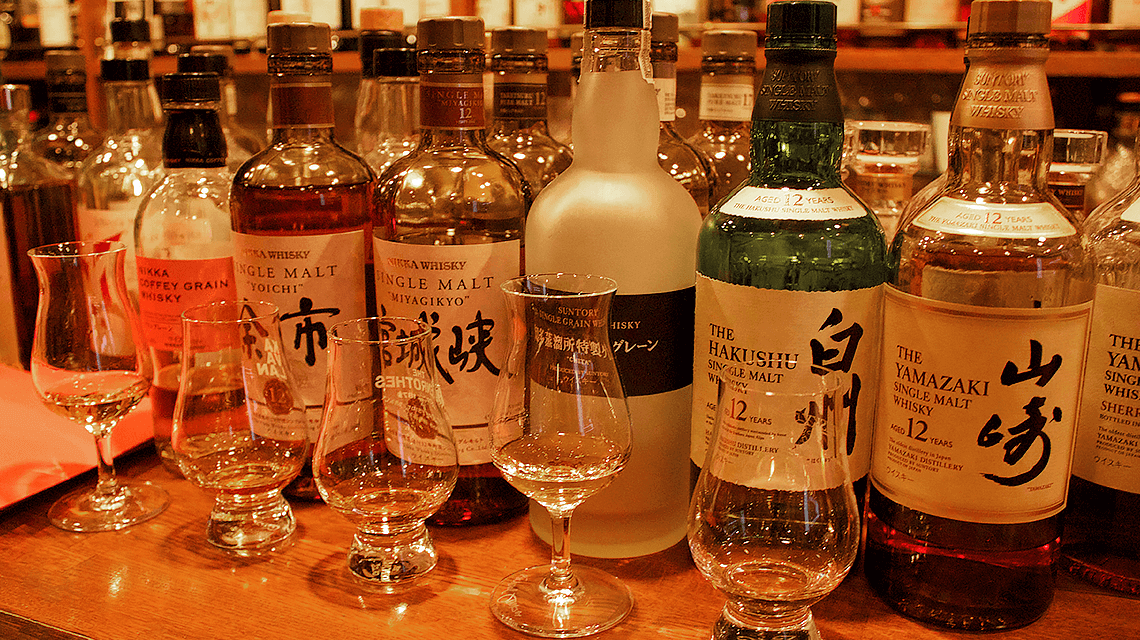 Whisky Bars in Tokyo, Kyoto & Osaka
Even if you can't make it to a distillery, Japan is a whisky lover's paradise.
Apart from the fact that you can easily find wonderful Japanese whiskies on store shelves (which also make great gifts), Japanese cities are full of one-of-a-kind establishments specializing in whisky. We'll start by taking a look at the selection you'll find within Tokyo nightlife.
Tokyo Whisky Bars
We asked Van Eycken for a few of his favorite whisky bars in Tokyo. These are his suggestions:
"For Japanese whisky, there is no place better than Zoetrope in Shinjuku. The selection is second to none, and the owner, Atsushi Horigami, knows the field better than anyone, so it's not only fun to work your way through recent whiskies as well as stuff from yesteryear, but it also provides a great learning experience!"
"Two other bars (which are sister bars) I love to go to are Cask Strength and Wodka Tonic, in the Roppongi/Azabu area. They have a plethora of really old bottlings that you would have a hard time finding anywhere else in the world, and the best thing is: you can try them without having to take out another mortgage. They're within walking distance, and the fresh air helps to reset the mind and palate, so what's not to love?"
Kyoto Whisky Bars
Bar K6
Above a members-only whisky spot called Bar Keller, and right next to The Ritz-Carlton, is Bar K6, an ultra popular neighborhood watering hole. It has an excellent selection of single malt whisky, a cocktail menu (if you need a break from whisky, try a sake cocktail), and, if you're really craving a taste of home, even craft beers like Brooklyn-based Sixpoint. There's a small selection of bar bites here, including toast topped with mascarpone and honey.
Bar Cordon Noir
If you only have time for one whisky bar while visiting Kyoto, make it Bar Cordon Noir. There are 30-odd seats at this low-lit bar, so it's intimate without feeling cramped, and service is fantastic. Several hundred whiskies are available here, including a number that won't be found in the States.
Osaka Whisky Bars
Suntory whisky House
This is a great place to sit down and try several whiskies while tucking into an excellent meal. That they're open for lunch doesn't hurt – after all, you're on vacation. Vegetarians will likely want to come here only for drinks, as the menu is heavy on meat. Go for the tasting board; you can choose from all Japanese whiskies or opt for a tasting of several from around the world.
Bar Augusta Tarlogie
What sets this 16-seat bar apart from other popular whisky bars is that it's non-smoking, which is a nice change from the smokey izakaya you've likely been visiting. The bar is so well stocked with Japanese whisky that it doubles as the Osaka branch of the Japan chapter of the Scotch Malt Whisky Society.
Bar K
That it's a little hard to find makes it even more fun once you're there (look for the big letter K out front). The low-lit 20-seat Bar K is a smoking bar, and there's a cover charge of ¥600, but the service is impeccable and some of the staffers speak English, which is helpful if you want to order a complicated drink. Beyond Japanese (and foreign) whiskies, You'll find 20-odd cocktails, like the Nightcap in Osaka, made with cream, matcha, red bean, and cognac.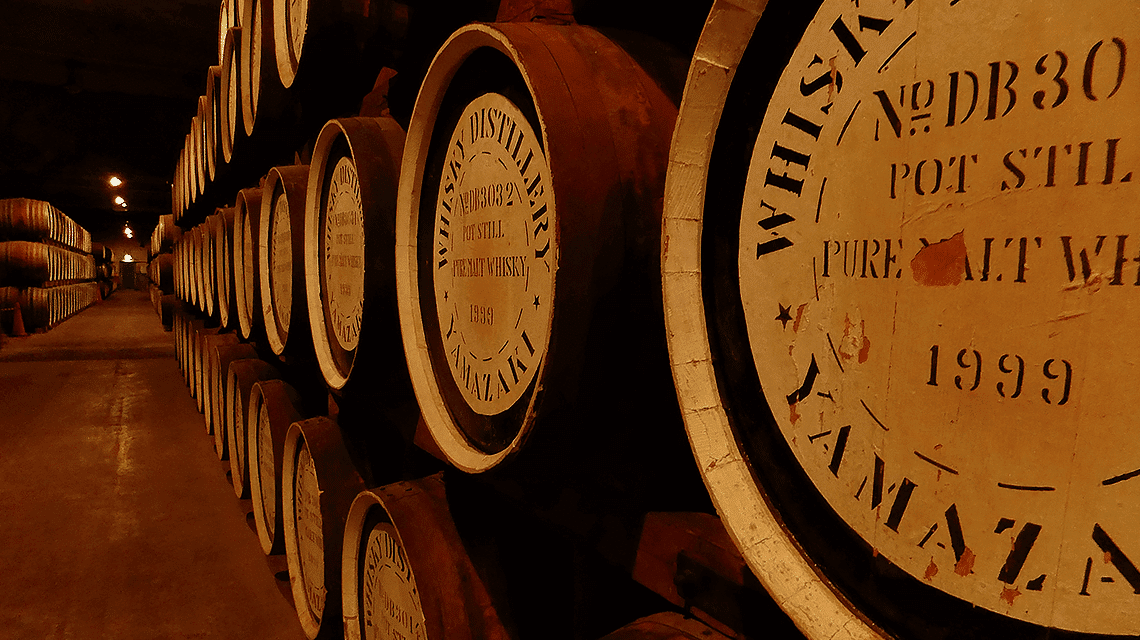 We hope this helps you as you plan to sample whisky in Japan! Japanese whisky tasting and distillery tours can be a perfect addition to any Japan travel itinerary.