One day in Tokyo is not really enough, but even if your time is limited you can have a profound experience in what is without a doubt one of the world's largest and most exciting cities.
From perhaps the best food in the world – to neighborhoods as diverse as Shibuya, Yanaka, Daikanyama, and Kagurazaka – you could easily spend your whole Japan trip just exploring Tokyo.
In a city with so much to offer, there is no way you will have time to see, do, eat and drink everything on your wish list. But don't lose hope! Because with even just one day in Tokyo, you can get beneath the surface and experience Tokyo like few travelers ever will.
So to help you get the most out of your visit, we have designed what we think is the perfect day in this fascinating megalopolis.
Originally written in 2015, this post was updated and republished on December 5, 2019.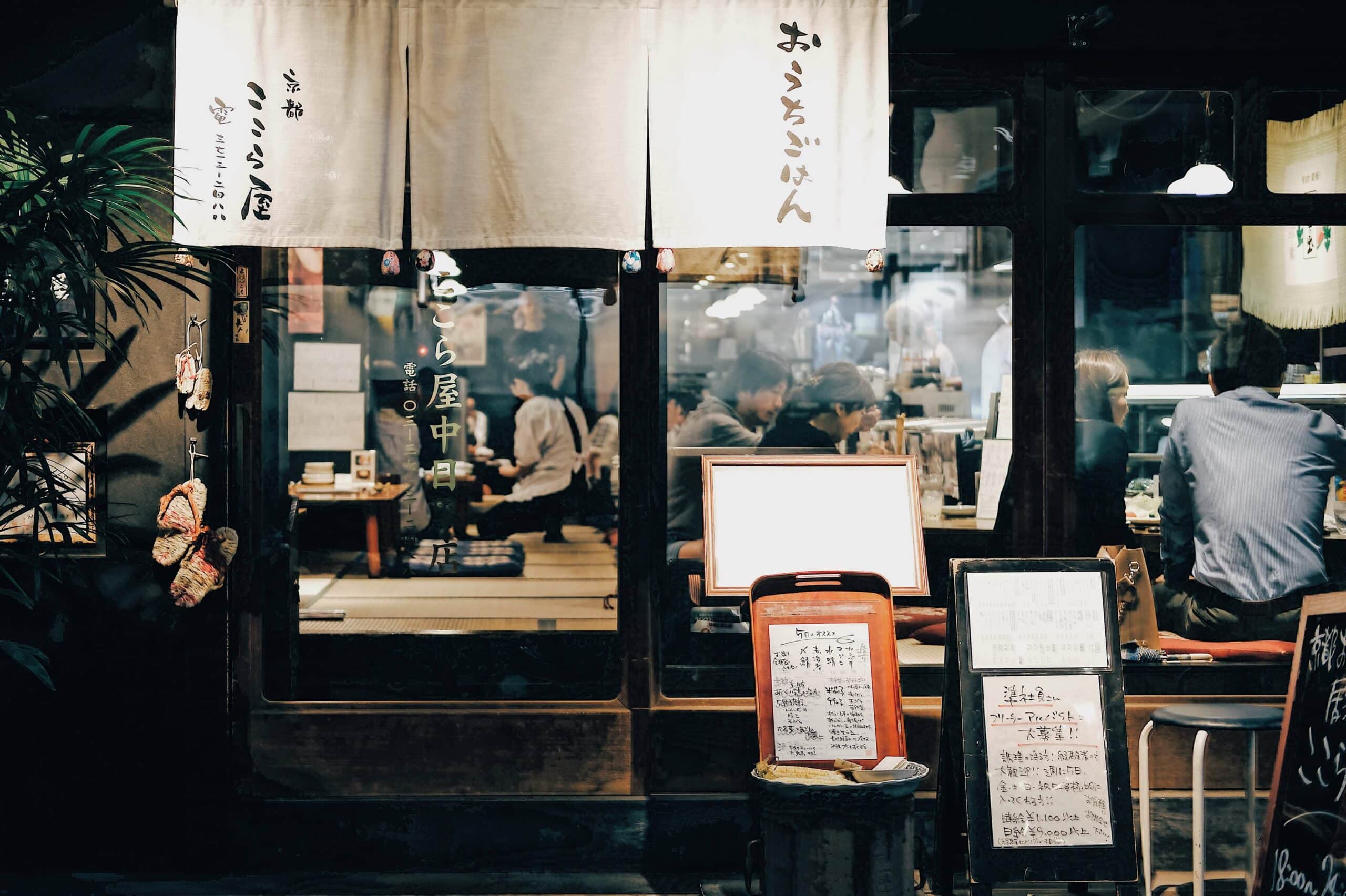 One Day in Tokyo: Your Guide
Hello! My name is Andres. As founder of Boutique Japan, I've walked, run, and cycled throughout Tokyo. As part of my job, one of my main responsibilities is exploring Tokyo extensively, to continually expand my knowledge and understanding of it.
I can assure you that seeing everything is not an option. But having the chance to walk around the eclectic Tokyo neighborhoods we have chosen — which include Tsukiji, Ginza, Omotesando, Harajuku, Naka-Meguro, and Daikanyama — will give you a unique, well-rounded, and non-touristy experience of this incredible city.
And all without rushing around.
None of the areas we feature are "hidden," per se, but we hope our unique and painstakingly designed route through Tokyo gives you a taste of the true fabric of this wonderfully dynamic city.
This itinerary is just a suggestion, of course, and sadly we could not fit all of our favorites into one day. We can almost guarantee that you'll want to come back and see more, because Tokyo offers far more than you'll ever be able to see in a day, week, or even years.
For more on the modern capital, see our post on unique Tokyo neighborhoods.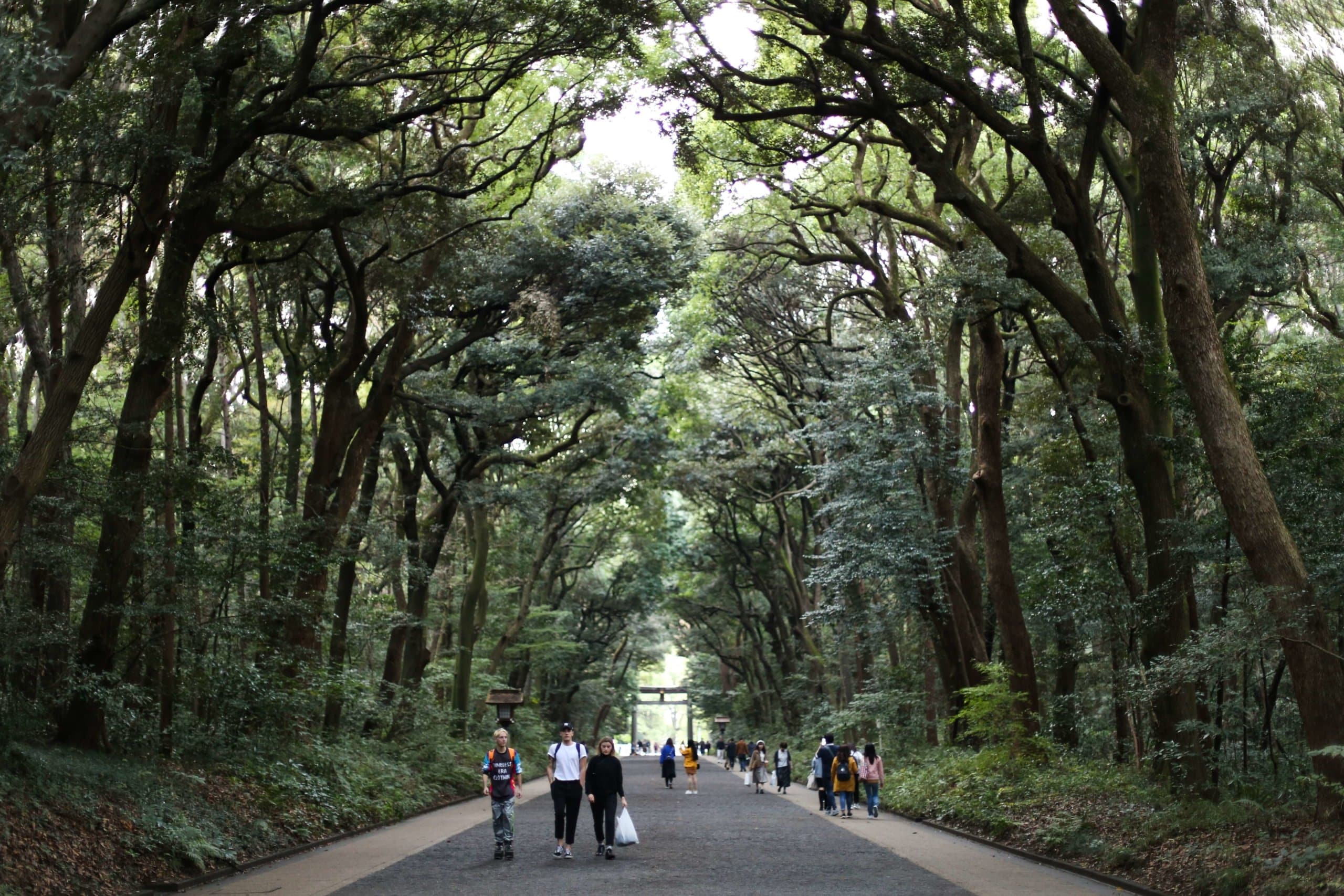 Who This is For (and Not For)
Our perfect day in Tokyo is designed for travelers who want to get beneath the city's surface.
But before you get too far along, we have to make one thing clear: our perfect day in Tokyo is definitely not for everyone. What we think of as a perfect day in our favorite city may be completely different from what you have in mind.
This May Not Be For You If…
For example, if your main priority is to run around the city checking famous sights off a list, our perfect day is probably not the best way to spend your day. On the other hand, if you love great cities, interesting neighborhoods, urban exploration – and food – then we have an amazing day in store for you.
About the Route: Approximate Times and Distances
We think you'll find it much easier to make your way around Tokyo if you have reliable service. For more on this, make sure to see our post on Wi-Fi and mobile in Japan.
Suggested Times
We have included suggested times throughout, but for the most part they are very approximate. Aside from the very few places where we specifically recommend exact times, the timelines we have indicated are simply general guidelines.
This route is designed for deep exploration, and as such is not meant to be rushed through. Everyone is different, so you may find yourself going through the route more quickly – or slowly – than suggested.
In many cases there are more direct ways to get from each Point A to Point B, but our route takes you through some of our favorite and most pleasant side streets.
We hope as you wander that you are inspired to go "off route," venture into shops we did not mention, stroll down side streets and discover your own hidden gems.
Distances
In many places we have included approximate distances. They are approximations only and may not always be accurate.
We have used meters, rather than feet or yards, in case you are using Google Maps, since Google Maps in Japan automatically shows distances using the metric system (1 meter is equivalent to about 3 feet).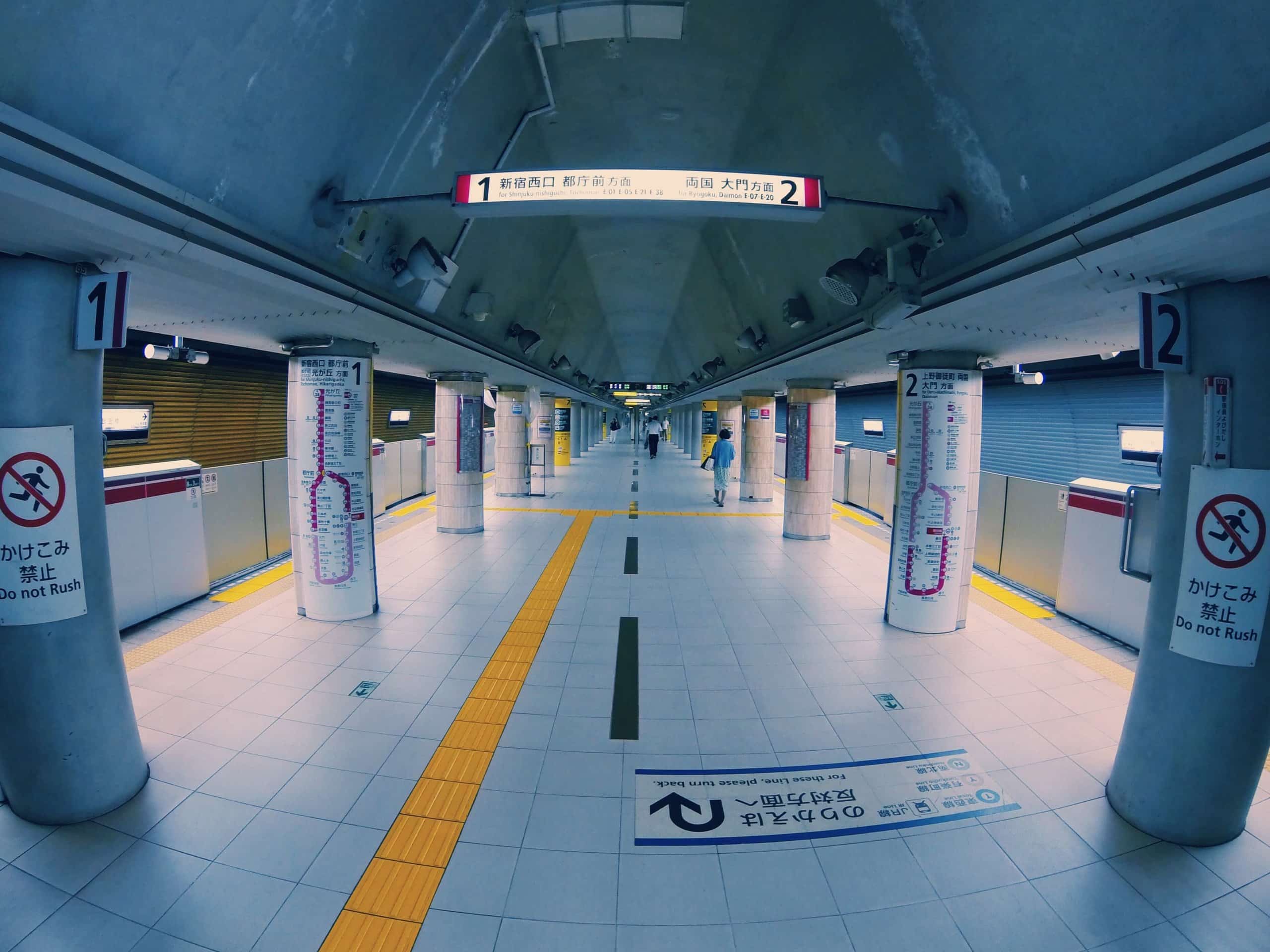 Getting Around Tokyo
Despite its massive scale, Tokyo is a great walking city and the suggested route includes some great walks through charming backstreets as well as along renowned boulevards.
Even non-walkers can experience many parts of it, and for non-walkers Tokyo is also quite easy to navigate, with arguably the world's best public transit system and clean, reliable taxis.
We have included many details to help you navigate the route as easily as possible, but we can't guarantee their complete accuracy. At some point, pretty much everyone gets lost in maze-like Tokyo. Use your best judgment as you explore.
Also, even though Tokyo is one of the world's safest cities, things can happen here like anywhere else. Be smart, careful and responsible.
IC Transport Cards
For ease of getting around, if you're going to be in Tokyo for a few days you should consider getting a Suica or Pasmo card. Suica and Pasmo are two types of IC cards (pre-paid transport cards) that let you swipe in and out of stations with extreme ease.
Aside from transport, you can also use them at many vending machines and conbini (convenience stores)! You can pick one up at most train and subway stations.
One Day in Tokyo: The Route
Ready to begin exploring? Here is a quick look at the highlights of our perfect day in Tokyo:
Part 1: Central Tokyo: Tsukiji, Ginza & Sushi
Tsukiji Market
Depachika Food Hall
Sushi Lunch at Ginza Kyubey
Part 2: West Tokyo: Omotesando & Harajuku
Omotesando Backstreets
Harajuku & Takeshita Dori
Meiji Jingu & Yoyogi Park
Part 3: Trendy Tokyo: Naka-Meguro & Daikanyama
Stroll Along Naka-Meguro's Canal
Shibuya Scramble Crossing
Fashionable Daikanyama & Daikanyama T-Site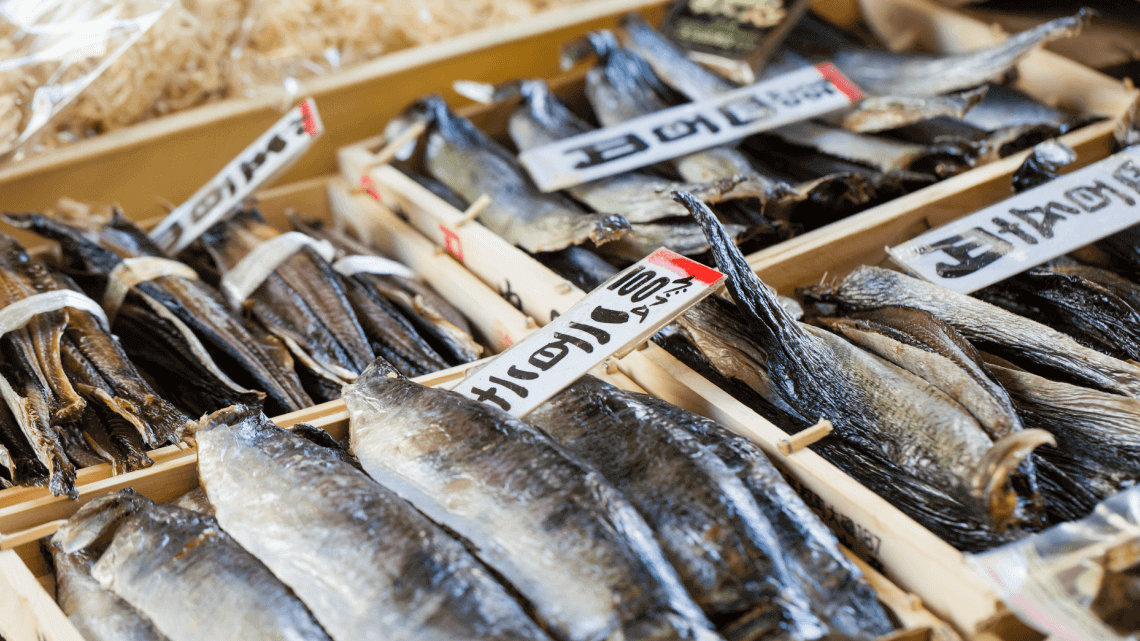 Part 1: Central Tokyo: Tsukiji, Ginza & Sushi
Our day in Tokyo gets off to a great start at Tsukiji Market!
8:30 a.m.: Tokyo's Tsukiji Market
We recommend getting a fairly early start today to visit the colorful and historic Tsukiji Market. (Is Tsukiji worth visiting? See our guide to Tokyo's Tsukiji Market.)
If you love coffee, begin at Turret Coffee, a charming little shop selling the best coffee in the Tsukiji area.
As you wander through the atmospheric lanes of the Tsukiji Outer Market, you'll find everything from tea and seaweed to knife shops.
Make sure to bring cash, as many of these shops do not accept credit cards – for more about money in Japan see our article Cash, Credit Cards & ATMs in Japan.
While at the market you may be tempted to go for a sushi (or ramen) breakfast. The sushi shops and stalls at Tsukiji are a fun experience, but at the best of them you may find yourself waiting for a while unless you arrive very early.
Tsukiji is a fun place for a sushi breakfast, but we typically recommend saving your sushi for an early lunch at a nearby restaurant (more on this below), unless you're up for two sushi meals in one day, in which case go for it!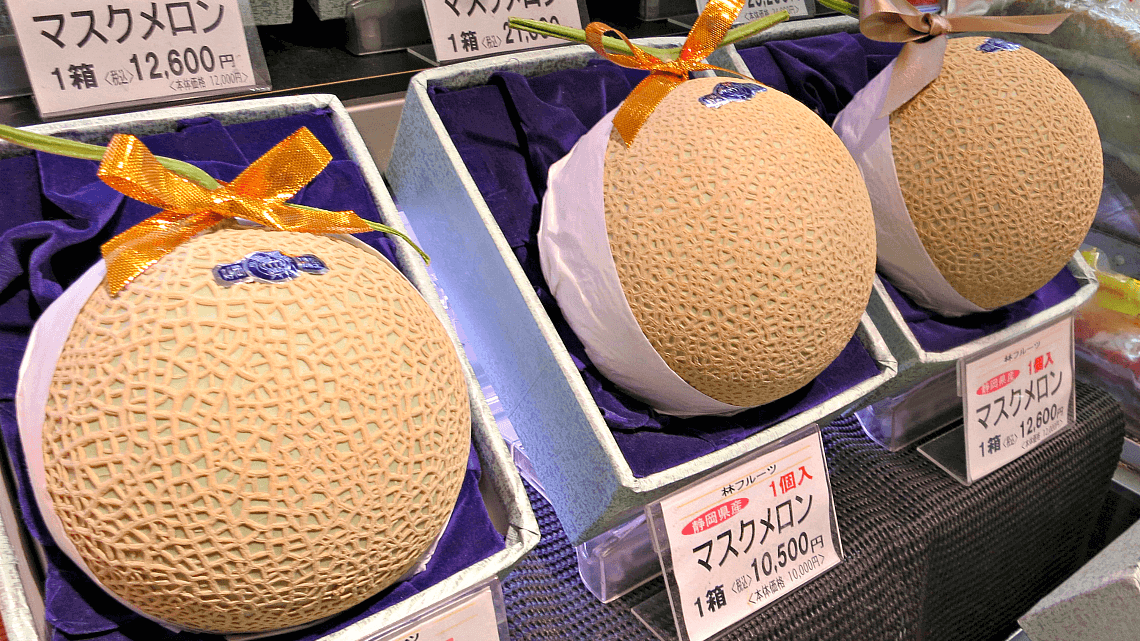 10:30 a.m.: Depachika Food Hall at Ginza Mitsukoshi
Google Map of Ginza Mitsukoshi
After exploring Tsukiji Fish Market, we're going to transition to a more "refined" culinary and aesthetic experience: visiting one of Japan's legendary depachika.
Please don't get here before 10:30 a.m., because the Ginza Mitsukoshi department store and its depachika food hall don't open until this time!
Depachika translates literally as "department store basement," but unlike department stores in most of the world, Japan's department store basements are a foodie paradise.
Located a short walk from Tsukiji, the Ginza district is one of Tokyo's most elegant neighborhoods, home to countless department stores, restaurants, boutiques, galleries and cocktail bars. At 10:30, the neighborhood is just beginning to wake up.
Getting from Tsukiji to Ginza Mitsukoshi
We recommend walking from Tsukiji to Ginza, but you can also take a taxi (or even the subway, though slightly less convenient). It's about 10-15 minutes on foot or 5 minutes by taxi, or about the same by subway via the Tokyo Metro Hibiya Line.
Leaving Tsukiji, find your way to the area's largest intersection, where Harumi Dori and Shin-Ohashi Dori meet. You're going to walk along Harumi Dori all the way to our destination, Ginza Mitsukoshi.
After about 4 minutes you should pass the Kyobashi Post Office on your left, and then as you continue walking you'll cross a bridge (Mannenbashi Bridge) over a major thoroughfare.
Up ahead on your right you'll see the beautiful and recently rebuilt Kabukiza Theater.
Just past Kabukiza you'll come Showa Dori, a major avenue. Cross over Showa Dori and then you should see Mitsukoshi up ahead on your right.
When you reach Ginza Mitsukoshi (remember, not before 10:30!) head straight for the depachika on basement floor B2.
Here is a sampling of the foods you will find here, as in any good Japanese depachika:
Prepared foods you can take away
Bento boxes filled with colorful seasonal specialties
Yakitori (grilled skewers of chicken)
Gyoza (Japanese dumplings)
Fancy Japanese fruit
Pastries and freshly-baked bread
Countless varieties of wagashi (Japanese sweets) and cakes
Seafood delicacies
Tsukemono (Japanese pickles)
Sake and shochu, wine and beer from around the world
A depachika is the perfect place to pick up food and drink for a picnic in the park, or a ride on the shinkansen (bullet train).
Feel free to grab some snacks for later, but save some room for lunch.
Also, while it's fine to nibble a bit, it is considered slightly uncouth to eat while walking around the depachika itself. If you really can't resist, be discreet.
After a morning of looking at food you probably can't resist much longer, which means it's the perfect time for lunch!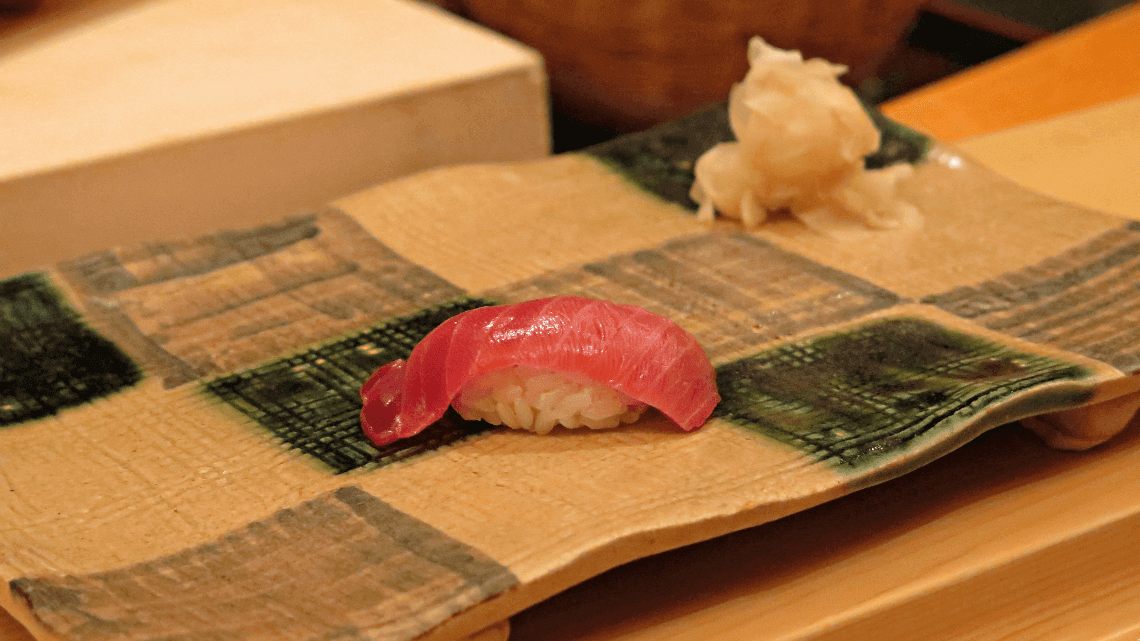 11:30 a.m.: Sushi Lunch at Ginza Kyubey
With so many amazing sushi shops in Tokyo, we make no claim that Ginza Kyubey offers the best sushi lunch in Tokyo.
But Ginza Kyubey offers a great combination of high-quality sushi, friendly service (and some English-speaking sushi chefs), a nice atmosphere, great lunch prices, and a relatively easy reservation to obtain.
At lunch you will find multiple course options beginning from around 4,000 yen (about US $40) per person. If you're wondering about prices, in general, make sure to check out our article: "Is Japan expensive?"
If you're planning on lunch at Ginza Kyubey, we recommend making reservations as far in advance as possible. Lunch reservations are typically only accepted for the 11:30 a.m. time slot (after that it is first come, first served).
Getting from Ginza Mitsukoshi to Ginza Kyubey
We recommend walking from Ginza Mitsukoshi to Ginza Kyubey. It's about an 8- to 10-minute walk, or just a couple of minutes by taxi.
Leaving Ginza Mitsukoshi, exit back onto Harumi Dori, the avenue along which you walked from Tsukiji Market.
Make a right back onto Harumi Dori, and almost immediately you will come to Ginza's most famous crossing (Ginza 4-chome), where Chuo Dori and Harumi Dori meet.
Directly in front of you you'll see the Ginza Wako Building – look for the Seiko clock tower. Across the intersection, catty corner from where you are standing, you'll see Le Cafe Dotour Ginza, another famous Ginza landmark (even though it's an iconic local shop, we don't particularly recommend the coffee).
We're going to cross over to the Le Cafe Dotour Ginza side of the intersection, and then continue along Harumi Dori for less than one minute. Make a left onto the narrow side street (called Suzuran Dori) just one very short block past Le Cafe Dotour Ginza.
Ginza Kyubey is just three and a half blocks down Suzuran Dori. At this time of day, Ginza's side streets are still quite quiet, but at night they become a center of activity. The buildings that line the street are packed with tiny bars, which remain almost completely hidden from the street.
After passing the third small intersection, walk about another 50 meters and you will come upon Ginza Kyubey on your right. As there is no English-language signage, look for this entrance (or you can try and make out the kanji characters, 久兵衛 for Kyubey):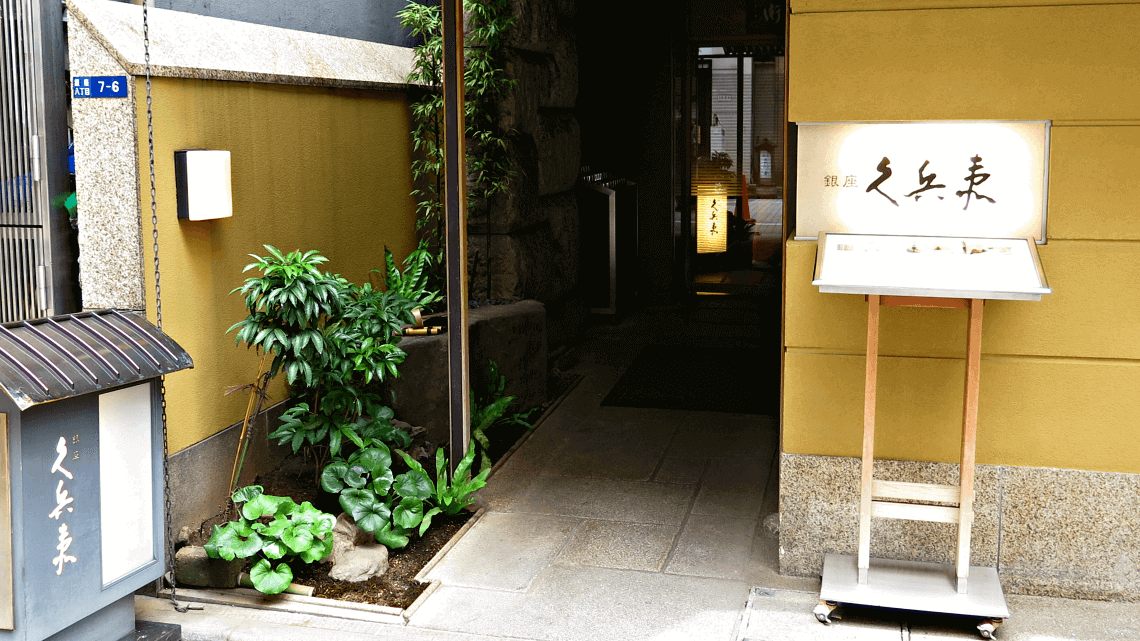 Assuming you have an 11:30 am reservation, lunch here lasts about an hour. If you have reservations, make sure to arrive on time – and don't forget to look at our guide on sushi etiquette. Without reservations you may still get in, but expect to wait.
Part 2: West Tokyo: Omotesando & Harajuku
After a morning in Tsukiji and Ginza, it's time to head to a completely different part of Tokyo, beginning in Omotesando.
1:00 p.m.: Welcome to Omotesando
Google Map of our starting point in Omotesando
Here, in upscale Omotesando and trendy Harajuku, we'll stroll the backstreets and walk off the sushi lunch.
Omotesando is often called Tokyo's Champs-Élysées. At its center is an elegant tree-lined avenue, full of contemporary architecture (including Tadao Ando's Omotesando Hills), fashionable boutiques, brand shops, exclusive restaurants and charming cafes.
Adjacent to Omotesando is Harajuku, Tokyo's world-famous youth fashion district, an area full of alternative fashions, vintage stores, haute couture boutiques and maze-like backstreets.
As part of our postprandial stroll we will begin in Omotesando and gradually make our way through colorful Harajuku, along with an optional side stroll to Yoyogi Park – one of Tokyo's largest green spaces – and the adjacent Meiji Jingu Shrine, surrounded by forest in the very heart of the metropolis.
Getting from Ginza Kyubey to Omotesando
The easiest ways to get from Ginza Kyubey to Omotesando are by taxi or subway. It's about 20 minutes by taxi, depending on traffic.
By subway it's about 5 minutes on foot to Shimbashi Station, followed by about 11 minutes on the Tokyo Metro Ginza Line to Omotesando Station.
If Traveling by Taxi
If traveling by taxi, let the driver know you'd like to go to Omotesando eki (Omotesando Station in Japanese). If possible, let him or her know in advance that you'd like to be dropped off at the Apple Store, the perfect starting point for our afternoon stroll.
If Traveling by Tokyo Metro
If traveling by subway, we're going to first walk from Ginza Kyubey to nearby Shimbashi Station, a short and easy walk. From the restaurant exit back onto Suzuran Dori, the narrow street along which we had been walking, and keep walking in the same direction (not back toward the depachika).
After about 100 meters (about 1 minute) the street ends at a T-shaped intersection. Right in front of you you'll see the Ginza 9 building (a shopping complex).
Make a right here then walk about another hundred meters (about a minute) until you reach the first intersection where you can turn left.
Make a left at this intersection and pass under the elevated highway.
You'll pass one relatively small intersection, and then just ahead of you you'll see a major thoroughfare called Sotobori Dori.
But don't walk all the way to Sotobori Dori, because right before you reach it, if you look to your right, you will see the small (almost hidden) entrance to the Tokyo Metro Ginza Line Shimbashi Station.
We're going to enter the station and take the Ginza-sen (Ginza Line in Japanese) from Shimbashi directly to Omotesando Station, a trip of just six quick stops (about 11 minutes).
On arrival at Omotesando Station, the easiest way to reach the starting point of our walk is by navigating underground to station exit A2. When you come out of exit A2, the Apple Store will be directly on your right.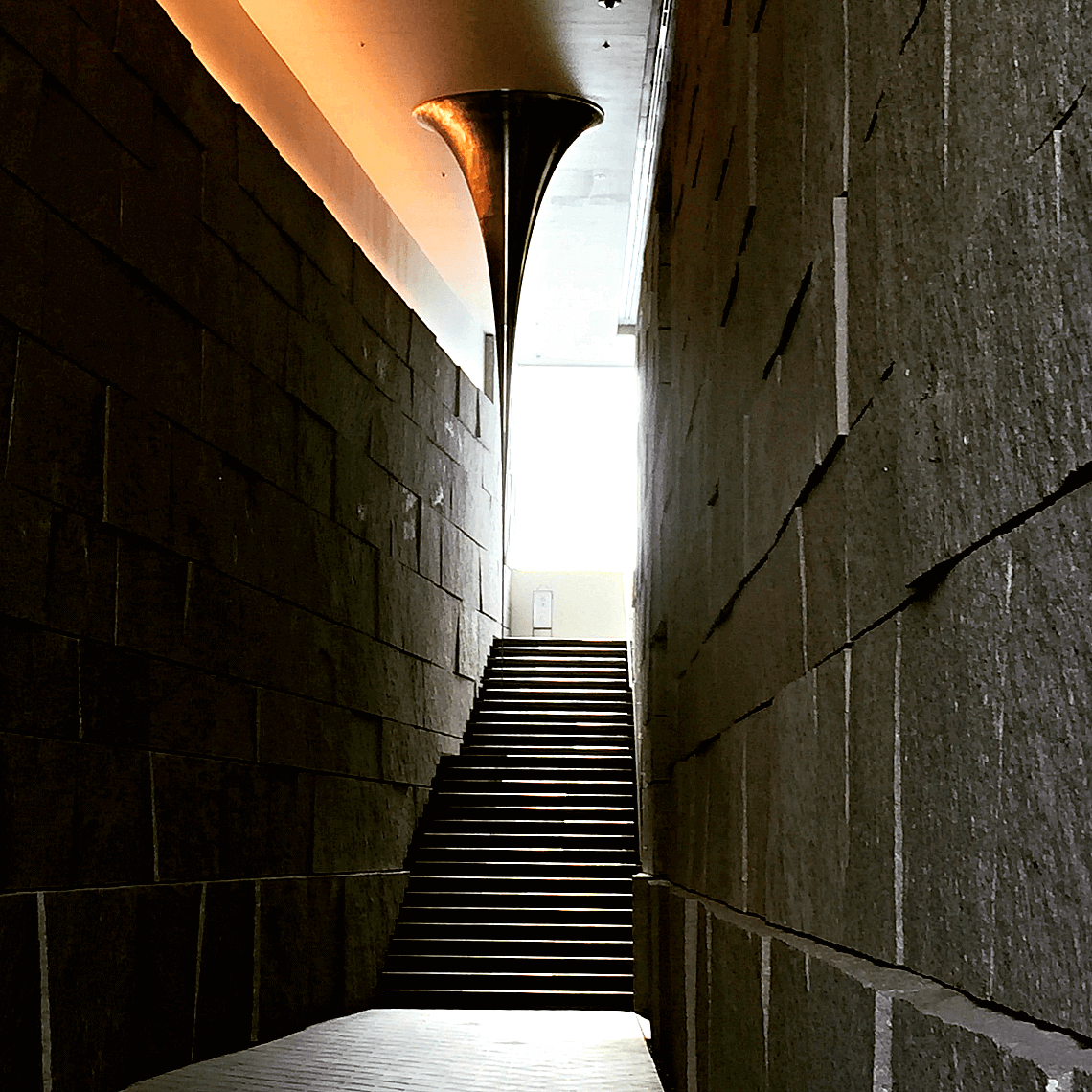 1:30 p.m.: Omotesando Backstreets
Google Map of Koffee Mameya (formerly Omotesando Koffee)
Our walk through Omotesando and Harajuku begins just outside of Omotesando Station's exit A2, in front of the Apple Store.
But first, a small tea/coffee break and detour option for architecture and design lovers.
Optional Detour: Oak Omotesando
If you look directly across the boulevard, you'll see the Oak Omotesando building, a shopping complex designed by Obayashi and Tange Associates, which also features design by photographer and artist Hiroshi Sugimoto.
To take this small and worthwhile detour, cross the street and make a left. Walk past the main entrance and instead enter via the Kukkyocho entrance, which was designed by Sugimoto.
If you walk up the staircase you will come upon Cafe Sahsya Kanetanaka, a peaceful cafe looking out onto a garden where you can enjoy matcha green tea, coffee, or one of the many impeccable Japanese sweets sets offered.
Back to the Route: Koffee Mameya
Most tourists in this area spend most of their time on Omotesando Dori, but rather than walk along the elegant, zelkova-lined boulevard, we're going to venture into the backstreets of Omotesando and Harajuku.
From exit A2, with the Apple Store to your right, keep walking straight ahead for a few seconds and you will see a small side street to your right. Make a right into this side street.
To help guide you, you should see small signs pointing you towards Maisen, a famous restaurant located in Omotesando's backstreets.
You'll begin to pass small shops and cafes and the street soon comes to a dead end. Make a left here, and almost immediately after turning left you'll zig-zag and make your first right.
Now we are getting deeper into Omotesando's backstreets. After about a minute (about 100 meters) you will come to a very small intersection where we are going to make a left.
But before we turn left, you may want to pop into Maisen for a look. Maisen is a Tokyo institution and one of the city's most renowned tonkatsu restaurants. Tonkatsu is breaded pork cutlet typically served with shredded cabbage, tsukemono (Japanese pickles), rice and miso soup – and many believe nobody does it better than Maisen. The line is usually quite long, but if you have a chance to come back it's worth sitting at the counter for a classic Tokyo dining experience.
Having turned left at the small intersection before Maisen, we're going to walk for one block en route to our next destination, Koffee Mameya.
As you walk along this quiet backstreet, you may wonder for a moment if you're going the right away. Don't worry: it's supposed to be this quiet.
We'll make our first right, and then walk about halfway down the residential-feeling block. Look closely and on your left you will see the subdued entrance, which is almost hidden in plain sight.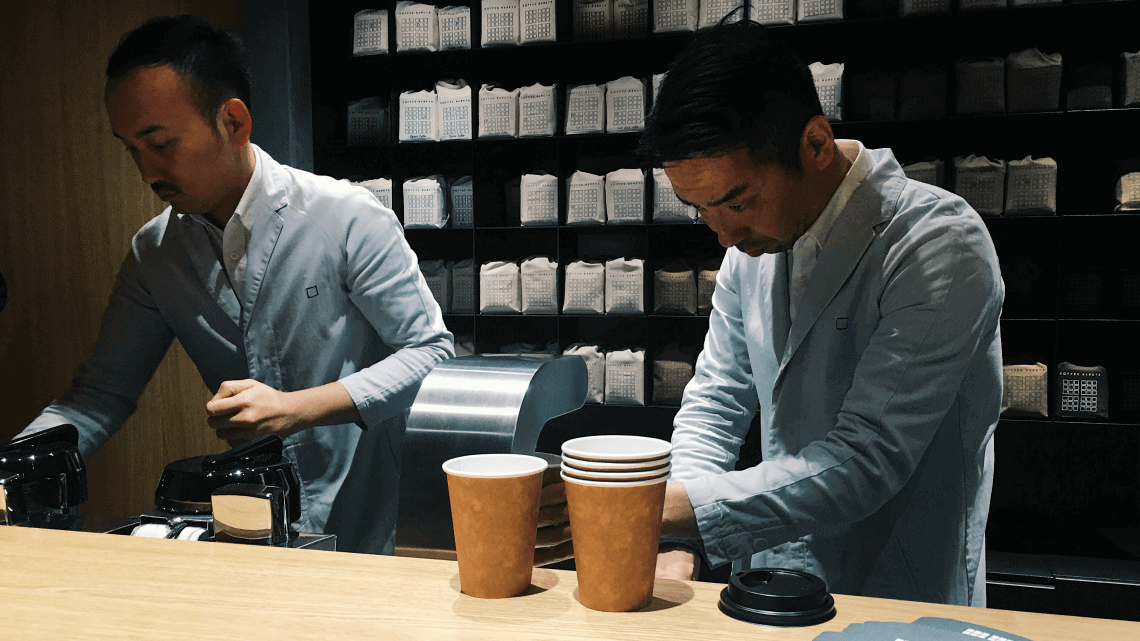 Koffee Mameya
In its original incarnation, Koffee Mameya (formerly Omotesando Koffee) began as a pop-up shop by Osakan barista Eiichi Kunitomo.
The stylish yet unassuming shop became a neighborhood fixture and gained worldwide renown among specialty coffee lovers, thanks to its great coffee and charming atmosphere (it also spawned outposts in Toranomon Hills, Kyoto, and Hong Kong).
Sadly, the shop closed at the end of 2015, but fortunately in early 2017 it was reborn as Koffee Mameya, a coffee bean specialist.
If you're not familiar with Japan's incredible coffee scene, you may wonder why you'd want to consider buying specialty coffee beans in Japan, the country of tea.
Kunitomo-san brings the same level of passion and obsession with quality to the specialty beans offered – and you can get a simple coffee or espresso to go, if you need a fix!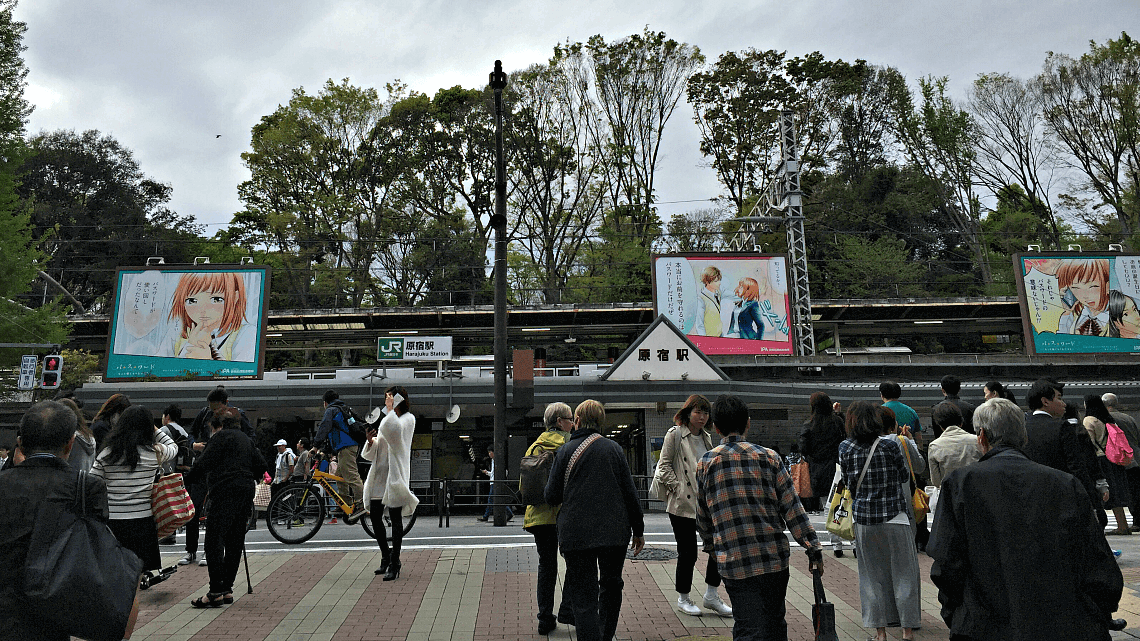 2:00 p.m.: Central Harajuku & Takeshita Dori
Google Map of entrance to Takeshita Dori
After a moment of peace in bustling Tokyo – and a delicious coffee – it's time to continue strolling.
Leaving Omotesando Koffee, we're going to make a left and continue walking along the little street in the same direction as before.
At the corner, make a left. We are now deep in the area's backstreets, in a primarily residential area. We're headed toward the funky Harajuku neighborhood, which we're going to approach via quiet backstreets, giving you a first impression of Harajuku quite unlike the typical tourist experience.
Having turned left at the corner you will walk about 250 meters (about 3 or 4 minutes) passing one, two, and finally a third little side street before the road comes to a small dead end. As you approach the dead end the street slopes downhill.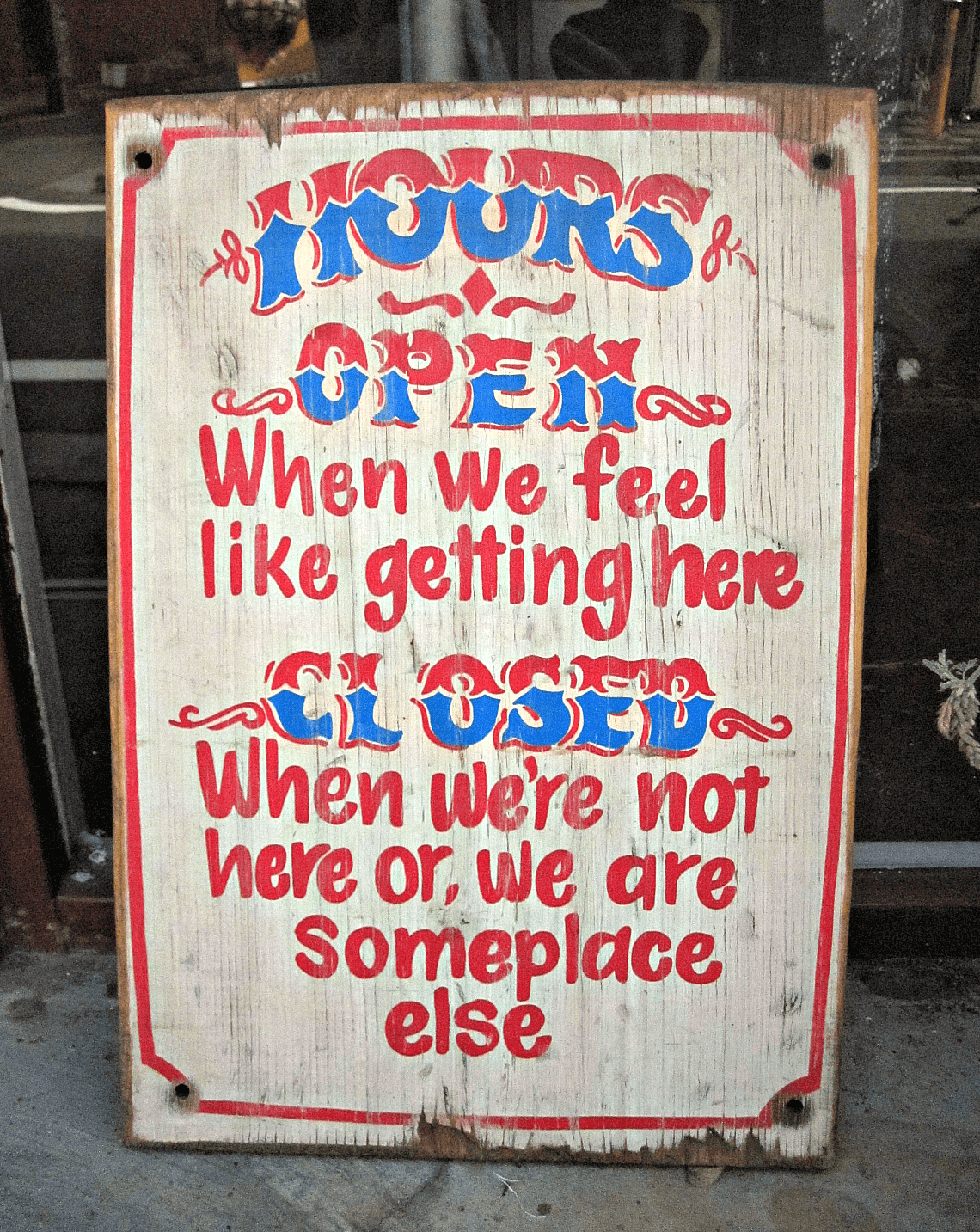 At the little dead end make a left, and then almost immediately you'll veer sharply to the right. We are now entering central Harajuku, though we're still not quite at its bustling center.
To reach central Harajuku, we'll walk about another 200 meters, passing colorful shops and little side streets that may be difficult to resist exploring.
Finally you will come to a large avenue called Meiji Dori. Meiji Dori runs right through the middle of Harajuku – perpendicular to Omotesando Avenue – and is one of Tokyo's main thoroughfares.
If you look to your right, you'll see a little diagonal side street called Harajuku Street.
If you look directly in front of you, across the street, you will see the entrance to Takeshita Dori, Tokyo's most famous street for alternative youth fashion.
Harajuku's Takeshita Dori
We're right in the heart of Harajuku now, and our next stop – before heading to Shibuya and onward – is JR Harajuku Station.
From where we stand, the most direct path is via the only-in-Tokyo Takeshita Dori, which cuts straight through to Harajuku Station's Takeshita Entrance.
Let's be clear: Takeshita Dori is not for everyone, and if it is not for you we have a detour below.
While frenetic and crowded – and extremely touristy – most people feel Takeshita Dori is worth seeing and experiencing, so even if you're hesitant it's worth a try.
With no pedestrian traffic, the walk from here to Harajuku Station (about 400 meters) would take around 5 minutes, but in afternoons – and especially on weekends – it is so crowded that it can almost feel like trying to walk in Times Square on New Year's Eve.
Nevertheless, if seeing Tokyo's teens (and tourists) decked out in outlandish gothic and Lolita fashions is a priority for you, then this is a must.
Once you make it through the crowds, walking along Takeshita Dori will take you directly to JR Harajuku Station's Takeshita Entrance.
Optional Detour: Bypass Takeshita Dori
If you'd rather not face the crowds of Takeshita, it's still worth taking a look, but you can instead take this slightly longer route via Meiji Dori and Omotesando Avenue.
Cross the street and then walk to the left, though make sure to take a peek at Takeshita Dori for a glimpse of the madness.
Having crossed the street and turned left onto Meiji Dori, walk for about 4 minutes. You'll see a major intersection ahead, where Meiji Dori meets Omotesando Dori.
Just before reaching the intersection, fashion lovers may want to make a small detour into one of Harajuku's fashion meccas, Laforet HARAJUKU, which will be on your right (to your left on the corner you will see the Tokyu Plaza shopping center).
When you reach the corner of Meiji Dori and Omotesando Avenue, make a right onto Omotesando Avenue. Now you will be walking up Omotesando Avenue towards Yoyogi Park, Meiji Jingu Shrine and JR Harajuku Station.
You'll pass the Tokyo Metro Meiji-Jingumae (Harajuku) Station, and as you walk up the tree-lined avenue, you will pass a traffic light. As you near the top of the hill, on your right you will pass the locally-famous Kyushu Jangara Ramen shop, which features rich and delicious Hakata-style tonkotsu (pork bone broth) ramen amid decor and a color scheme befitting the zaniness of the neighborhood. During peak hours and on weekends there will be a wait.
Just past the Kyushu Jangara Ramen shop, the sidewalk begins to curve to the right. Follow the sidewalk as it curves and in less than a minute you will come to a crosswalk. Directly across the street you will see JR Harajuku Station.
JR Harajuku Station
The next part of our explorations will take us through Shibuya and to the trendy Naka-Meguro and Daikanyama neighborhoods.
Meiji Jingu Shrine & Yoyogi Park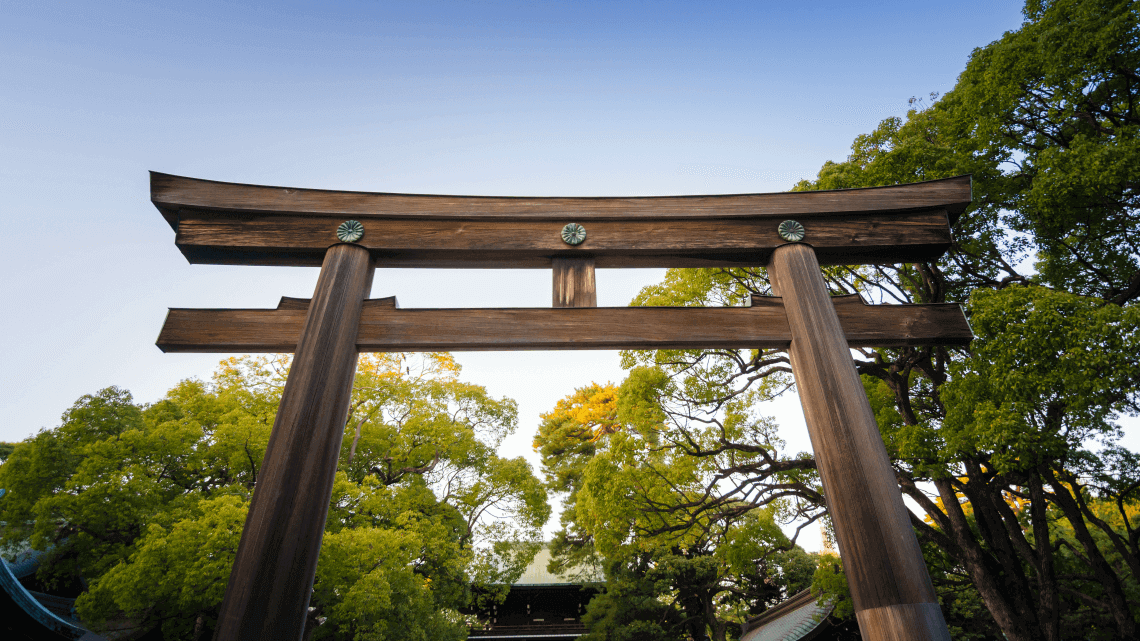 But if you want a "green" break before you continue along your urban hike through Tokyo, there are two fantastic green spaces for you to explore directly behind Harajuku Station. After being immersed in the youthful and colorful crowds of Harajuku, it's nice to stroll among the trees and relative calm of Meiji Jingu Shrine and Yoyogi Park.
If you prefer a more subdued and refined experience, it's worth strolling deep into the precincts of Meiji Jingu Shrine. You can't miss the entrance, with its towering torii gate surrounded by trees. The walk from the entrance to the main shrine complex takes about 10 minutes, and is truly one of the Tokyo metropolis' most peaceful oases.
If you are after a more lively urban park experience, walk past Meiji Jingu's entrance and around the corner to the entrance of Yoyogi Park. On weekend afternoons and evenings, when the weather is nice, Yoyogi Park is filled with revelers, including families having picnics, friends playing Frisbee and Hacky Sack, bands and DJs performing, leather-clad middle-aged rockabillies dancing to Japanese garage and punk music, and more.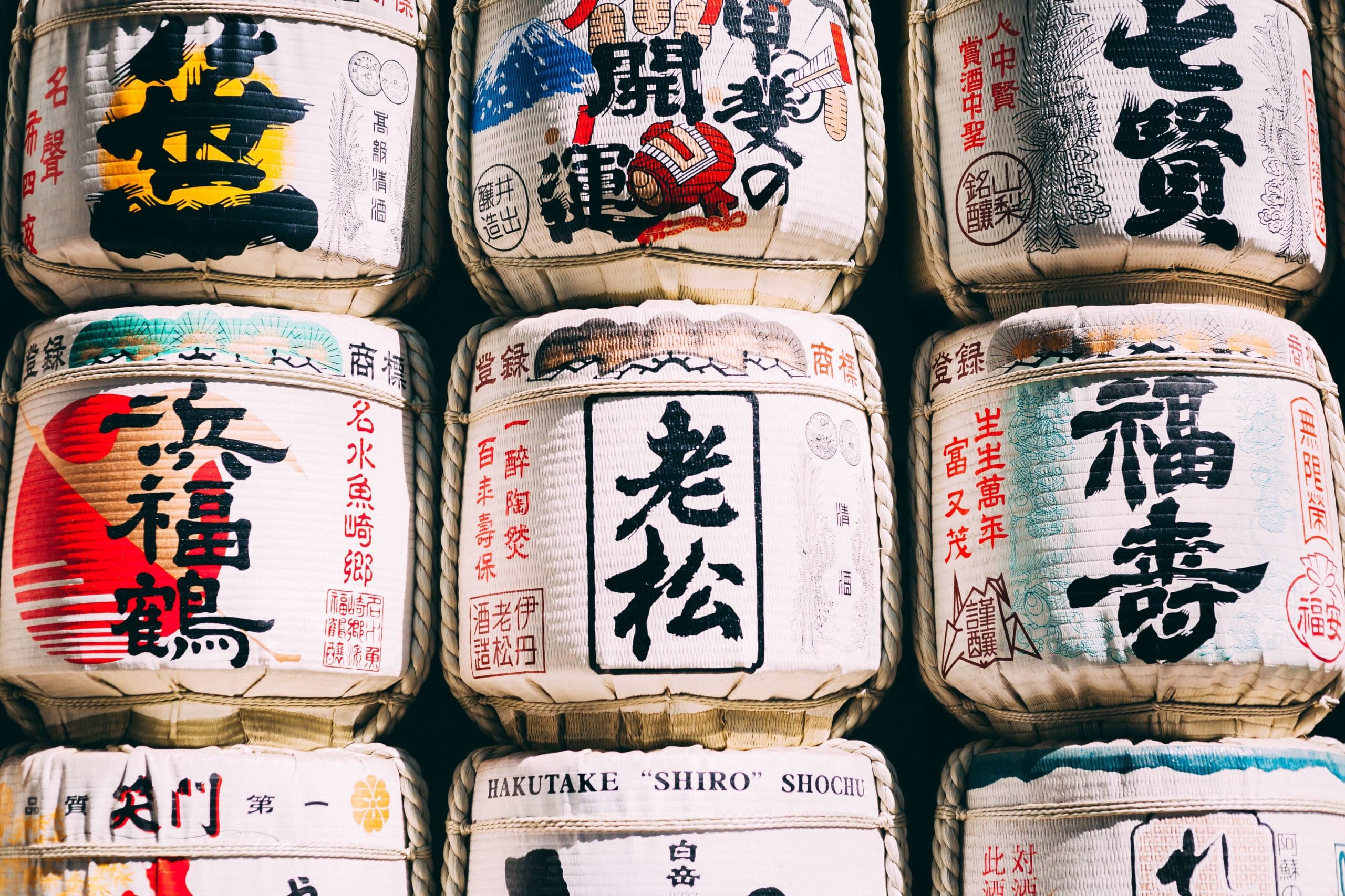 Part 3: Trendy Tokyo: Naka-Meguro & Daikanyama
Our next and final stops of the day are the hip Naka-Meguro and Daikanyama neighborhoods.
Getting from Harajuku to Naka-Meguro via Shibuya
To get here we're going to hop on the JR Yamanote Line (Tokyo's loop line) and take it just one stop to Shibuya. Make sure to take the train bound for Shibuya, not Shinjuku.
If you feel like walking, it's about a 1-mile walk and takes approximately 20 minutes. The most direct way is by more or less tracing the JR Yamanote Line tracks, which connect the two stations. There is also a more roundabout but pleasant route cutting through a part of Yoyogi Park. A third option is to walk along Cat Street, a pedestrian-friendly street lined with shops and cafes. You can also simply walk along Meiji Dori, which goes all the way to Shibuya Station.
Shibuya is the epicenter of Tokyo's modern culture.
It's one of the city's most dynamic areas, full of dining and nightlife, shopping, art and culture. But it is best known for its neon-filled streets, eclectic fashions, and the Shibuya scramble crossing, which has become an iconic symbol of modern Tokyo.
At Shibuya Station we're simply going to change trains, as we head to the smaller neighborhoods of Naka-Meguro and Daikanyama, located just south of Shibuya.
But if you have not yet experienced the overwhelming Shibuya scramble crossing, this is the perfect time to do so.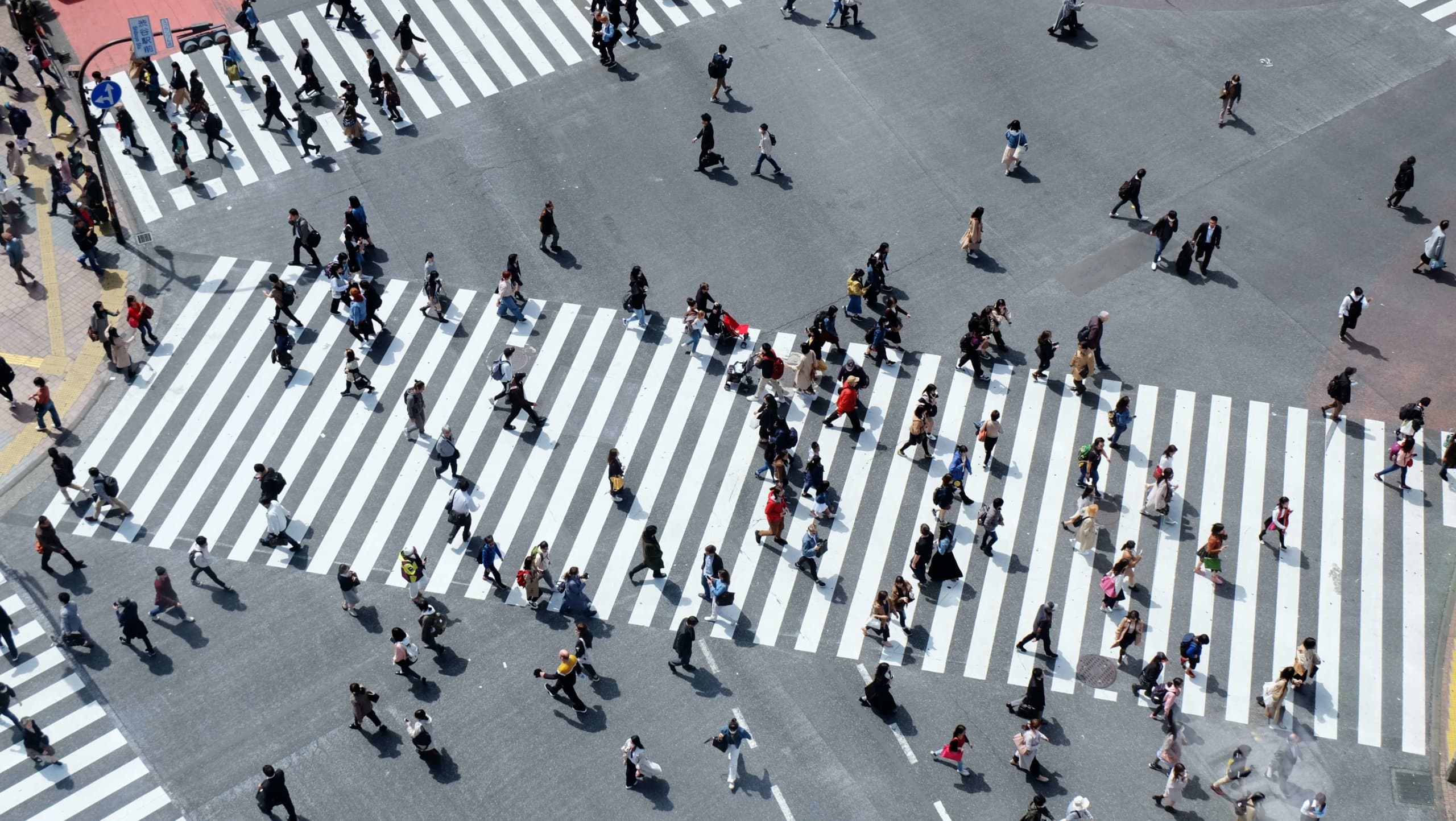 Optional Detour: Shibuya Scramble Crossing
To experience the Shibuya scramble intersection in all its glory, disembark at Shibuya and follow signs for the Hachiko Exit.
Hachiko is the name of one of Shibuya Station's main entrances, and will lead you to Shibuya crossing. It's named after Hachiko, a dog whose legendary loyalty culminated in a statue being erected in his honor in 1934.
When exiting the station, the massive video screens and neon-laden advertisements of the Shibuya scramble crossing will be right in front of you. If you're a dog lover, pay your respects at the Hachiko statue, one of Tokyo metropolis' most popular meeting spots, and a very popular selfie spot for both Japanese and foreign tourists.
To really experience the Shibuya scramble you have to cross it, so go ahead and join the sea of pedestrians when the lights change. If you haven't yet explored Shibura, take your time and feel free to wander – Shibuya has many temptations, from bright lights to great food and shopping.
Back to the Route: Shibuya to Naka-Meguro
To get from Shibuya to nearby Naka-Meguro you can take the train, a taxi, or simply walk. While the walk can be quite pleasant in parts, the train is probably best – and definitely the easiest – option. A taxi can be nice, but the traffic around Shibuya Station can be a pain, and the train will almost always be quicker.
In the station look for signs pointing you toward the Tokyu Toyoko Line. The Toyoko line connects the city of Tokyo with the city of Yokohama (Toyoko is a play on words combining Tokyo and Yokohama), but we're not going nearly that far. Our next stop, Naka-Meguro, is a very short trip of just 2-4 minutes.
Even if you didn't take the Shibuya scramble crossing detour, since the Tokyu Toyoko Line is owned by the Tokyu Corporation (not Japan Railways), you'll have to exit the JR turnstiles and then enter the Tokyu turnstiles. For times like this, it's especially handy to have a Suica, Pasmo or other IC transport card (see above).
When you reach the Tokyu Toyoko Line, check the signboards showing departure times and departing platform numbers. Fortunately for us, all trains stop at Naka-Meguro. The express trains get there in just one stop (about 2 minutes), but even the local trains get there in just two stops (about 4 minutes).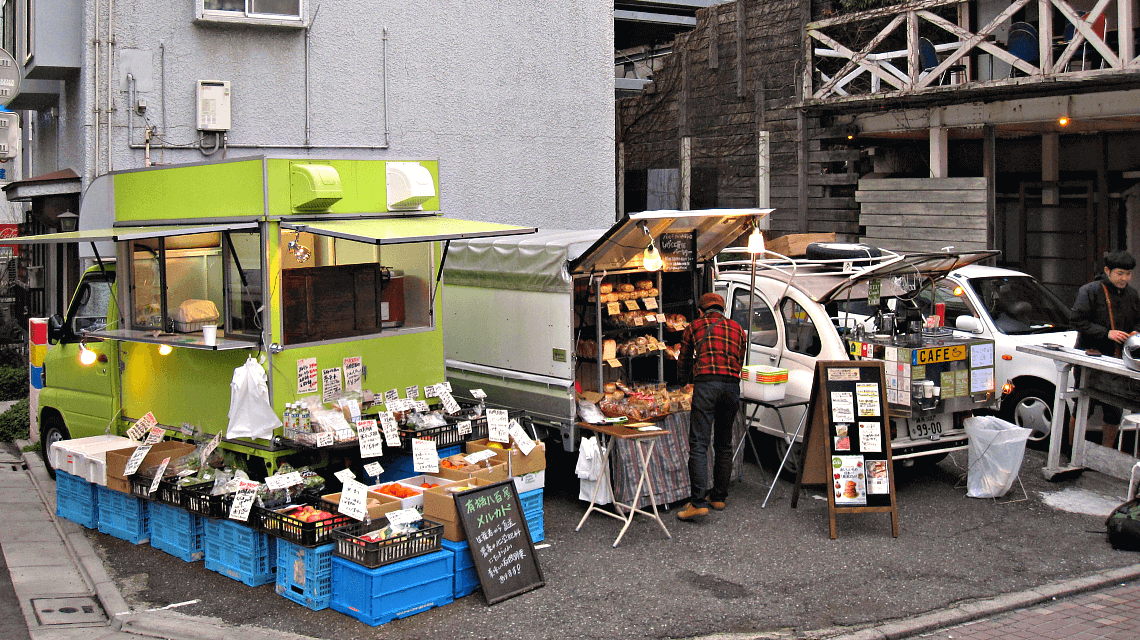 3:00 p.m.: Stroll Along Naka-Meguro's Canal
Google Map of Naka-Meguro canal district
Arriving at Naka-Meguro Station, disembark and look for the main exit, which exits directly onto Yamate Dori, a major avenue passing through Naka-Meguro. If in doubt, ask a station attendant, "Yamate Dori?"
Naka-Meguro is little known by most casual tourists, yet extremely well known among Tokyoites as one of Tokyo's most pleasant and fashionable districts. It's one of the best urban areas in which to take a breather from Tokyo's fast pace.
On one side of the station (behind you, i.e., heading in the direction of the train from which you just disembarked) you will find narrow streets packed with bars and restaurants, both trendy and local (read: humble) in nature. But we're going to head in the opposite direction, towards Naka-Meguro's laid-back canal district.
So upon exiting the station, you're going to cross the street (Yamate Dori) via the crosswalk directly in front of the station. Having crossed, go to the right ever so slightly and take the narrow lane going in the same direction (you'll have walked to the right for approximately one second before making a left onto this street), and in one block you will hit the canal.
About halfway down the block, on your right you will see the well-known Afuri ramen shop. With a few locations around Tokyo, Afuri is most famous for its yuzu (citrus) broth.
At the end of the block you'll come upon a small bridge, which crosses over the Megurogawa River. Walk onto the bridge and to your left you will catch your first glimpse of Naka-Meguro's cherry trees, which during cherry blossom season paint the canal area pink with sakura. As cherry blossom season wanes, the surface of the canal below you is covered with fallen pink cherry blossom petals.
We're going to walk along the canal to get a taste of Naka-Meguro's stylish, laid-back lifestyle, so walk a few steps further to the far side of the bridge. On the corner you'll see a traditional-looking izakaya with lanterns (warning: this place is cheap and cheerful, but the food is not the greatest).
We're going to return to this spot after a stroll along the canal, en route to Daikanyama. But you have not experienced Naka-Meguro yet, so we definitely recommend following our instructions below, or your impression of Naka-Meguro will be very skewed and incomplete.
Walk toward the left and begin walking along the canal, with the canal to your left. First you'll cross under the Tokyu Toyoko Line tracks, and then you'll begin to see the charm of this district.
For locals (and visitors), this is the perfect area for a stroll, and also popular for running and casual urban cycling.
As you slowly stroll (to really get a feel for this laid-back area, you must stroll at a relaxed pace… so slow down!) you will pass quiet cafes, stylish boutiques and attractive restaurants on both sides of the canal.
Your only mission for this part of our Tokyo exploration is to chill out, people watch, grab a coffee, and partake of the local shopping if interested.
After about 500 meters from the bridge (about a 7-minute walk with no stops), you will come to a very small bookstore called Cow Books on your right. It's very easy to miss and inadvertently pass, so be on the lookout for it.
Cow Books makes for a perfect stop before we depart the Naka-Meguro neighborhood en route to the uber-hip Daikanyama. The shop was once featured in a New York Times piece on Naka-Meguro.
After perusing their small but impressive collection of unique and out-of-print books (as they put it on their website, "Have a look at our singular collection of selected books and you may run into something exceptional"), we are going to turn back.
It is worth noting that it is possible to walk from Naka-Meguro to Daikanyama via residential back streets without looping back along the canal as we are going to do, however as appealing as this may sound, our route takes you past a more varied urban landscape. If you feel comfortable navigating on your own you can begin walking to Daikanyama directly from Cow Books, although we would probably recommend following our route as outlined below.
For the walk back along the canal, cross over to the opposite side of the canal, where – depending on the time of day – you may pass a pop-up vegetable stand, a Volkswagen Beetle-turned-espresso stand, and other interesting shops.
After about 500 meters, you will once more pass under the Tokyu Toyoko Line tracks and come to the small bridge where we began.
Looking to your left, across the small bridge, you will once more see Otaru, the traditional-looking izakaya with lanterns we pointed out earlier.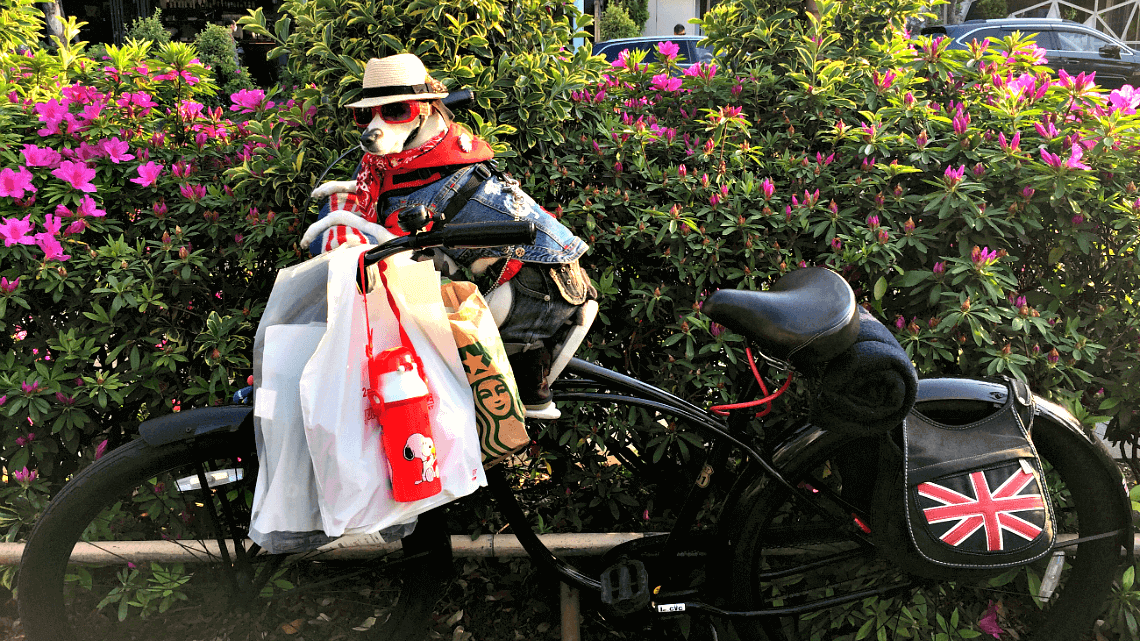 4:00 p.m.: Explore Fashionable Daikanyama
We are now going to bid farewell to Naka-Meguro as we continue our walk to the ultra-fashionable Daikanyama neighborhood.
Arguably Tokyo's hippest neighborhood, Daikanyama is a quiet and pleasant district full of high-end boutiques, stylish restaurants and cafes, bookstores, record shops and more.
Getting from Naka-Meguro to Daikanyama
Our walk from Naka-Meguro to Daikanyama begins as we once more cross the small bridge. This time, instead of making a left we are going to keep walking straight.
Enter the narrow street, and over the next 100 meters (about 1 minute walking with no stops), on your right and left you will pass restaurants, boutiques and vintage shops.
You'll also pass a 7-11 convenience store, the perfect place to use the international-friendly ATM machine to get some cash.
You'll come to an opening where you'll once more see the Tokyu Toyoko Line tracks above on your left. Keep walking straight, we're going to walk up the hill alongside/next to the tracks.
As you reach the top of the hill (after about 200 meters, or a couple of minutes or so), on your left you should see a small antiques shop, Hokodo. It's worth stopping in if it's open.
Just past Hokodo, you'll have reached the very top of the hill. We're going to make a left here, onto the major thoroughfare called Komazawa Dori. We're only going to walk along Komazawa Dori for a few seconds, until we reach the large three-way intersection just ahead, where Komazawa Dori intersects with Kyu Yamate Dori. (If you were to stay on Komazawa Dori you would begin to enter the lively Ebisu neighborhood.)
When you reach the intersection, go straight and cross over Kyu Yamate Dori, and when you reach the opposite side of the street make a left onto Kyu Yamate Dori heading up the hill. We are now going to begin entering the very heart of Daikanyama.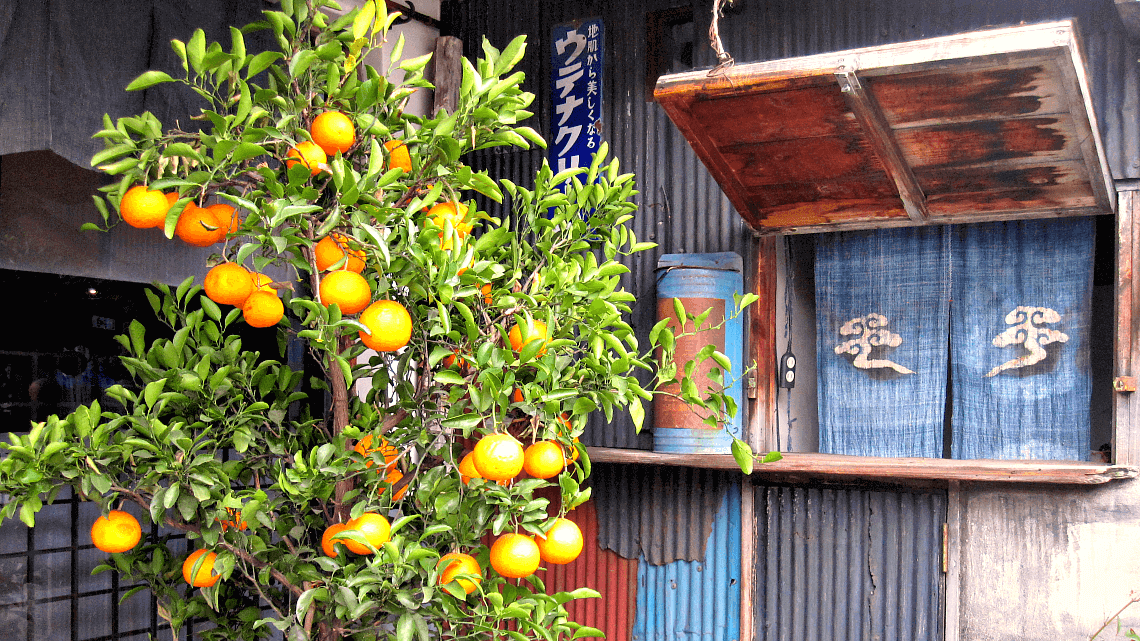 After a few seconds (about 30 meters) of walking up Kyu Yamate Dori, on your right you will see the entrance of one of Tokyo's most well-known music and club venues, Daikanyama Unit, which at this hour will probably be closed.
Right after you pass Unit, you'll see a little diagonal street heading slightly uphill. Turn right, and then immediately turn right again, sharply.
You're going to be on this little street for just about 60 meters. Up ahead you'll see Unico, a design and furniture shop, and here the road turns left.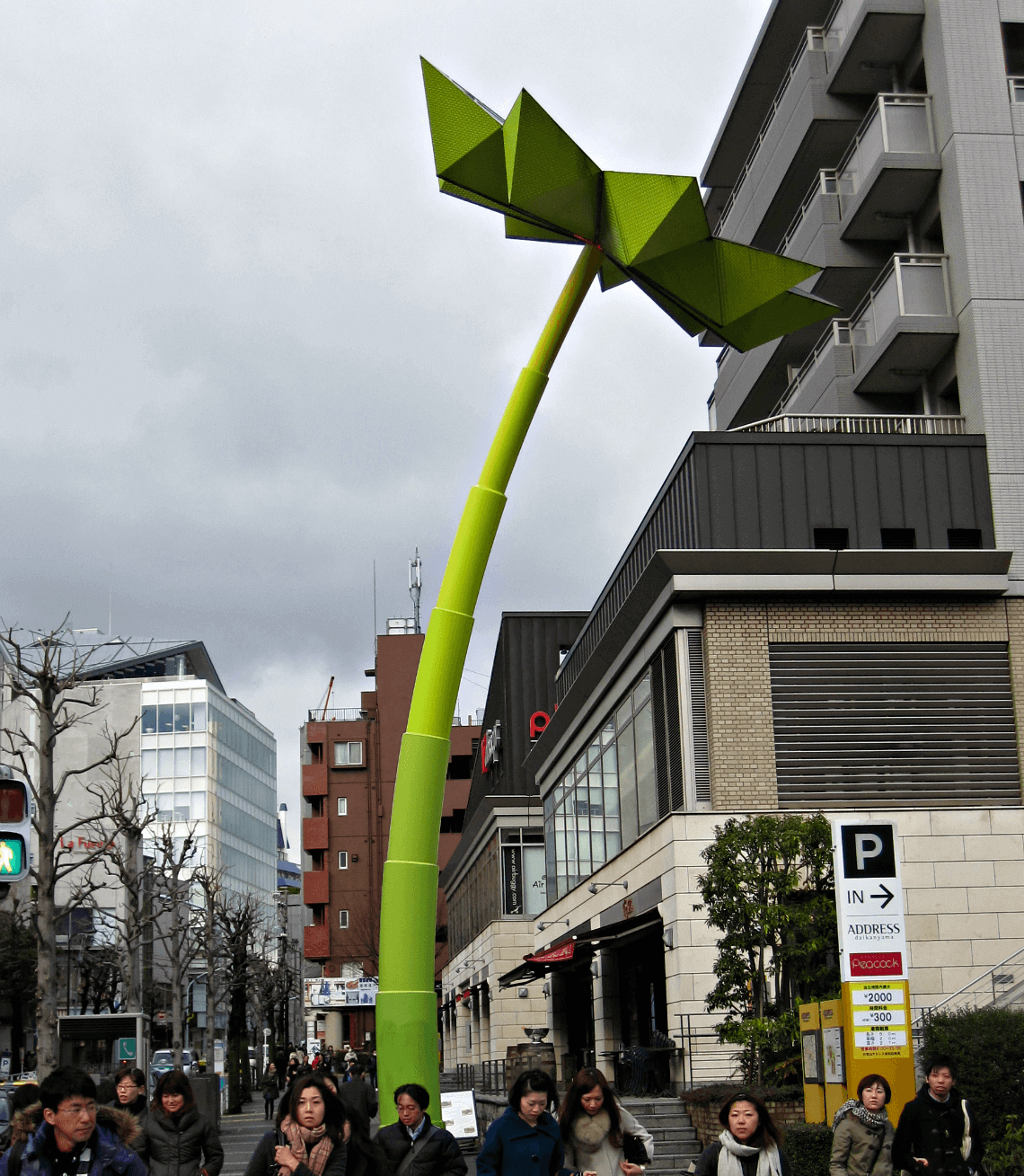 Continue following this little street for about a minute (about 70 meters) and you'll come to a small T-shaped intersection. In front of you if you look a little toward the right is the Lawson convenience store.
We'll turn left here. After about just 20 meters or so, you'll see a small sloping street on your right, which goes to Daikanyama Station (located just one stop south of Shibuya on the Tokyu Toyoko Line).
But even though many of the streets we are passing lead to interesting parts of Daikanyama and nearby Ebisu, our route continues straight ahead. Up ahead about another 20 meters, on your left you'll pass Mermaid Cafe Daikanyama.
Now keep walking for about another minute, perhaps a little less (about 50 meters) and you will run straight into Hachiman Dori. Hachiman Dori is the main street that runs right through the heart of Daikanayama, and we're going to walk along it for just under 100 meters.
So make a right onto Hachiman Dori and soon up ahead you'll see one of Daikanyama's landmarks, a large green flower sculpture. But before we quite reach the flower, we come to an intersection where we are going to turn left off of Hachiman Dori.
As you turn left, you enter a pleasant winding street, packed with small shops and boutiques. After turning left onto this street, just a few shops in on your left you should see Bonjour Records, an uber-trendy record shop worth popping into. Along with CDs and some records, the shop is known for its magazines and fashion goods.
Follow the street as it curves to the right, and just up ahead you'll pass one small side street on your left. Pass this little side street and keep walking.
You'll soon come to a tiny intersection, and directly on your left you will see the entrance to the Daikanyama T-Site complex. You should see a little sign that says Daikanyama T-Site Garden.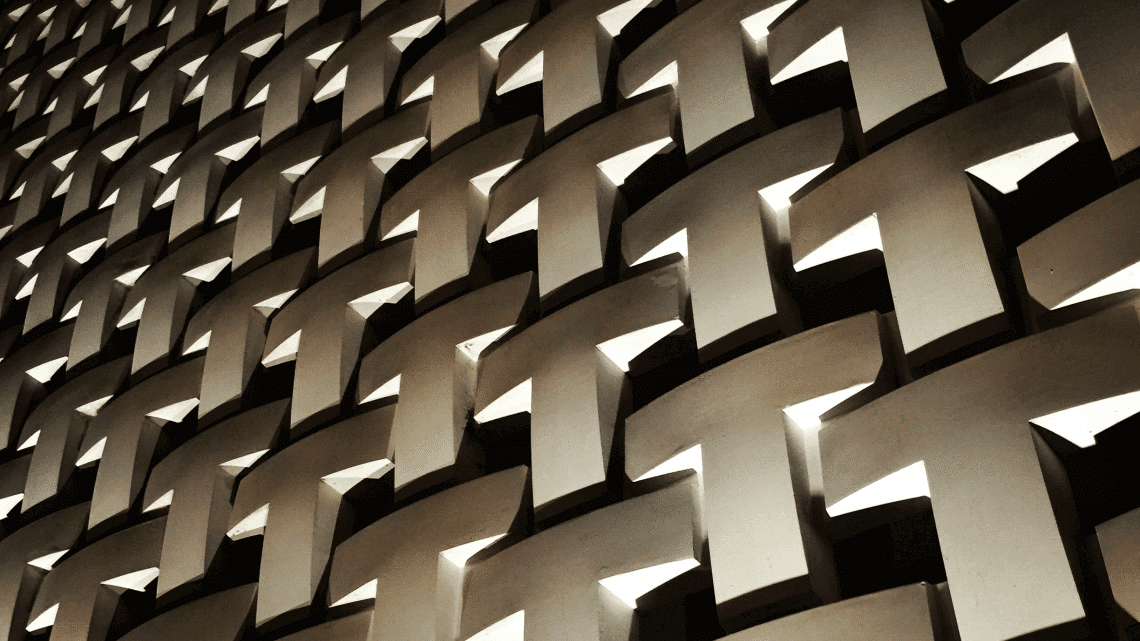 5:00 p.m.: Relax at Daikanyama T-Site
Google Map of Daikanyama T-Site
Every day architecture, design, book and magazine lovers flock to Daikanyama T-Site.
Designed by Tokyo's Klein Dytham, at the heart of T-Site is Tsutaya, a bookstore with a lovely collection of books, music, stationery and (irresistible) Japanese periodicals that keeps where you can easily spend hours of engaged browsing.
As you enter the T-Site complex, ahead on the right you'll see a large dog sculpture and a small but charming dog run. Follow the path as it veers a little to the left, and you will pass a handful of shops and restaurants as you approach the main Daikanyama Tsutaya Books building up ahead.
Tsutaya's collection of books, music and magazines is divided into two buildings, connected by a small elevated walkway on the second floor.
In the building on your left you'll see a Starbucks, which we would recommend skipping in favor of Anjin cafe and bar, which is on the second floor of the building to your right.
But before you settle in for a cappuccino or a cocktail at Anjin, it's time to browse. Even if you don't read Japanese, book and magazine lovers will find plenty to enjoy perusing.
After you've had your fill, take your reading materials up to Anjin, where you can enjoy coffee and other soft drinks, beer, wine and cocktails, appetizers and even lunch or dinner.
It's a great place to kick back with a book or magazine, and relax over a beverage after a long day of exploring the city.
So great, in fact, that we're going to grab a seat here and relax, too.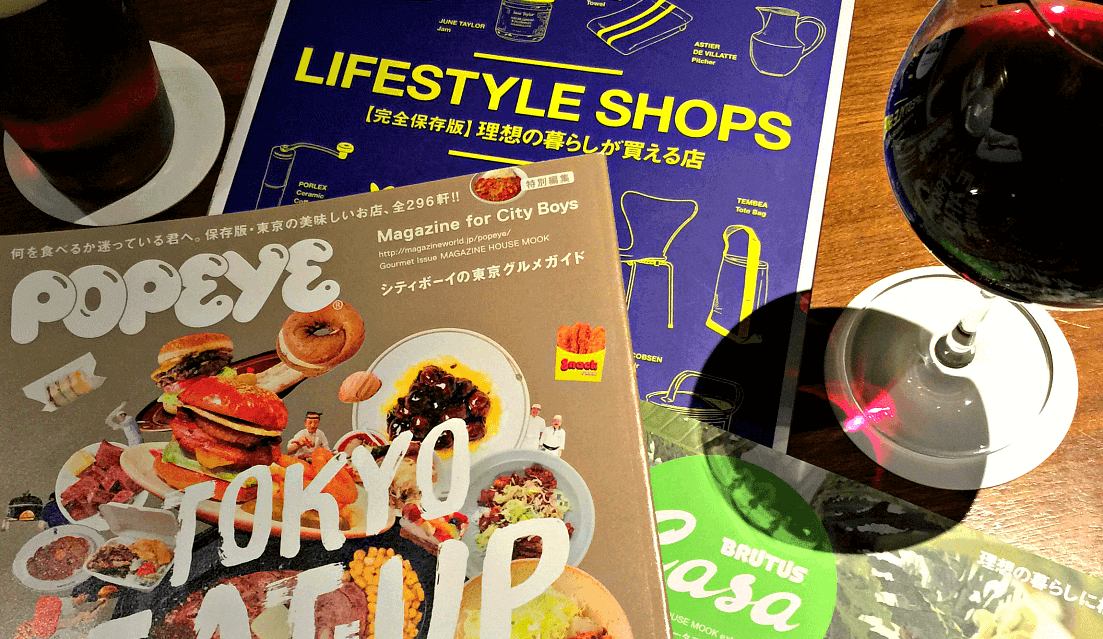 So Concludes a Day in Tokyo
We hope you've had a wonderful day in Tokyo and enjoyed the neighborhoods we've explored together.
From here you can keep exploring Daikanyama (you're near Fumihiko Maki's Hillside Terrace and the historic Kyu Asakura House), walk or take a very short taxi to nearby Ebisu (one of Tokyo's best neighborhoods for restaurants, izakayas and bars), or venture off to discover another of Tokyo's dynamic neighborhoods.
Happy exploring!