While travelers to Japan typically dream of green tea and sake, coffee lovers from around the world are also starting to take note of Japan's booming specialty coffee scene.
To take us deeper into the world of third wave coffee in Japan, we spoke with Tokyo-based American Eric Tessier. Tessier runs Tokyo Coffee, and is a great resource on the history and current trends of specialty coffee culture in Japan – not to mention great recommendations on where to go for a cup of coffee in Tokyo, Kyoto and Nagoya.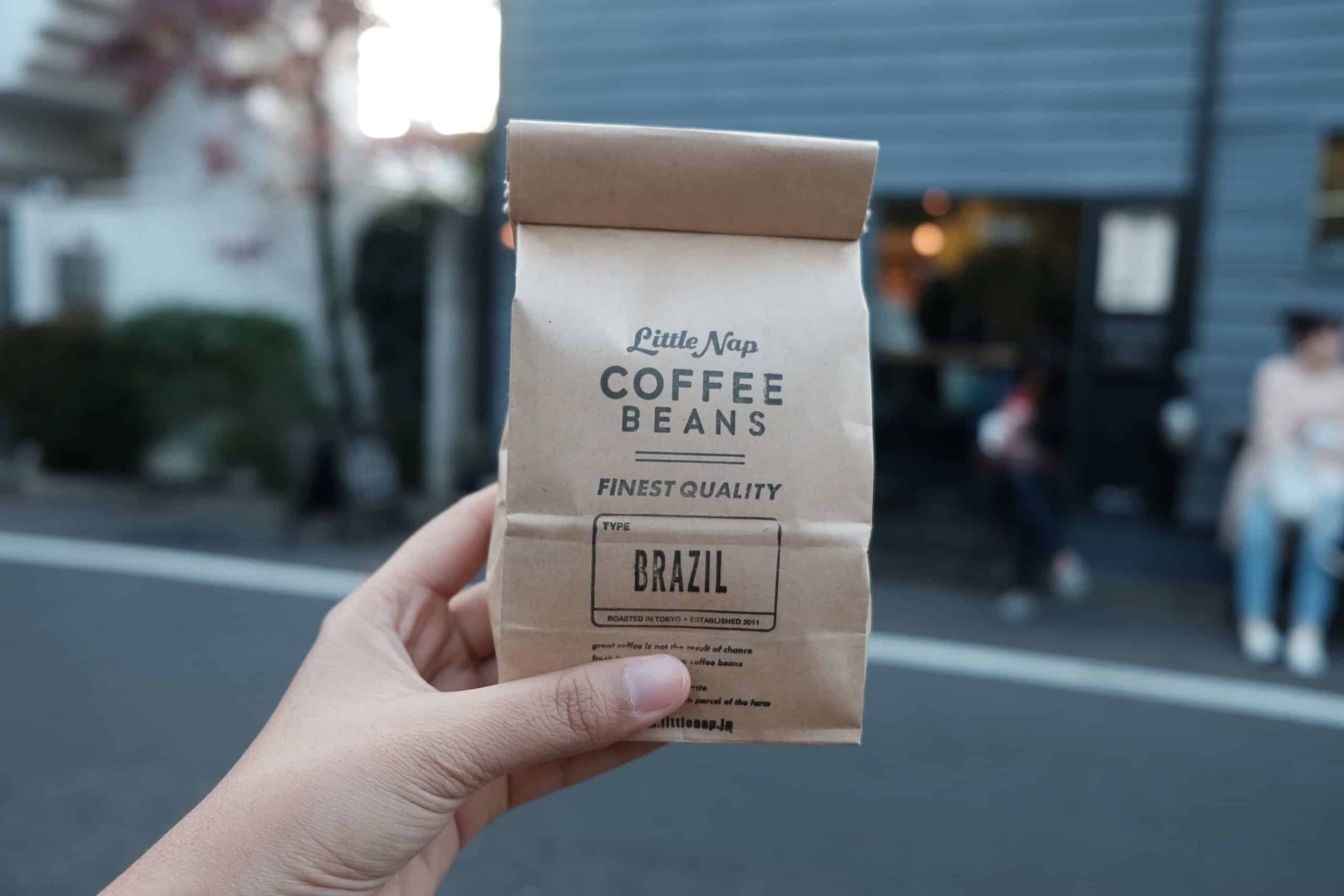 Coffee in Japan: A Brief History
The history of coffee in Japan goes back further than you'd think. When Japan isolated itself from 1638-1858 (a period called sakoku), foreign merchants' access to Japan was strictly regulated. On the tiny island of Dejima, in Nagasaki, European merchants drank coffee, though it did not yet catch on among Japanese people. When sakoku ended and gave way to the Meiji restoration, coffee gradually began to be imported, with Tokyo's first coffee shop apparently opening in 1888.
World Wars I and II slowed coffee imports down, but in the 1960s it became fashionable, and today Japan is among the world's largest importers of coffee, bringing in US$1.4 billion worth in 2014 alone.
You can get coffee almost anywhere in Japan, from big chains like Doutor (not particularly recommended!) and Starbucks (a good place for Wi-Fi in Japan), to the millions of vending machines across the country, which dispense it in both hot and cold cans.
Specialty Coffee Shops in Japan
There's no right or wrong way to get your coffee fix in Japan, but our focus here is on specialty coffee shops, where—as Tessier says—"beans are ground to order and coffee is being made by hand with care."
For an interesting contrast, also be sure to visit a kissaten. These are old-school Japanese coffee shops where students and salarymen take their coffee with breakfast or curry rice lunch sets in delightfully vintage surroundings. One of our favorites is the legendary Chatei Hatou in Tokyo.
Japan's best coffee shops import beans from coffee-growing countries around the world, such as Guatemala, Rwanda, Kenya, Indonesia and Thailand. Beans tend to be roasted and ground on site in small batches. Aeropress, French press, and paper drip (pour over) are common preparation methods.
Coffee nerds will geek out when they see the shelves of equipment at many of the shops below, and with enough luggage space, it can all be yours! For more check out Eric's guide on where to buy coffee accessories in Japan.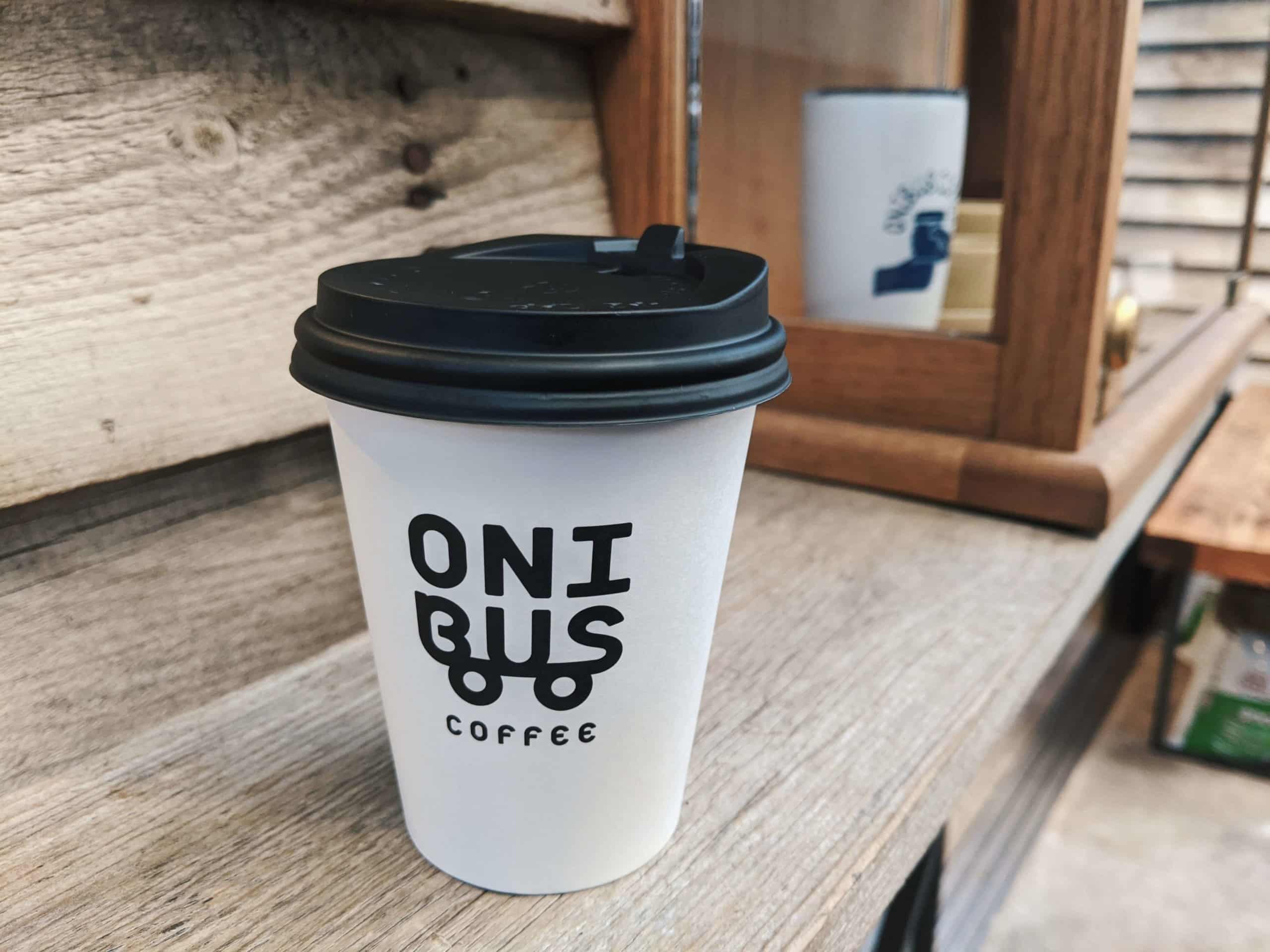 Japan's Best Coffee Shops
Any "best of" list is subjective and potentially controversial, but even though we can't mention every great coffee shop in Japan, the cafes below — in Tokyo, Kyoto, and Nagoya — are a great jumping-off point for coffee lovers.
Tokyo's Best Coffee Shops
One of Eric's favorites, Onibus is a small but bright space in Naka-Meguro that opened in January 2016. The minimalist interior makes for a great place to linger over a cup of coffee. Inside a traditional-style home, Onibus has set up shop with the requisite shiny espresso maker (Italian brand La Marzocco). Visitors wanting to dip their toe into the pool of specialty Japanese coffee will do well at Onibus. Owner Atsushi Sakao trained in Australia, and the chalkboard menu, along with a diagram of how the beans made it into your cup (by local artist Chalk Boy) is in English.
The Roastery by Nozy Coffee is a great place for a coffee pit stop if you're walking from Shibuya to Harajuku along the pedestrian-only Cat Street. The heavenly smell of beans being roasted to order hits you as soon as you walk through the door. Choose your single-origin bean and how you want to drink it (e.g. espresso, Americano, latte) and watch as the nattily-attired baristas work their magic. There are also some nice pastries here, including "N.Y. Rings" (cronuts). The Roastery also offers Wi-Fi, not always the case at cafes in Japan.
In the artsy Kiyosumi Shirakawa area of eastern Tokyo (and within easy reach of Museum of Contemporary Art, Tokyo), you'll find Arise. Arise is featured in one of Eric-san's excellent coffee walks. Located at the southern edge of the lovely Kiyosumi Garden, you can sit inside if it's cold or take your coffee out for a stroll through the garden. Arise uses single-origin beans and usually has five to choose from, offering exclusively hot, pour-over coffee. And while many specialty coffee shops in Japan wouldn't look out of place in Los Angeles' Arts District, owner Taiju Hayashi says he was inspired by cafes in Okinawa.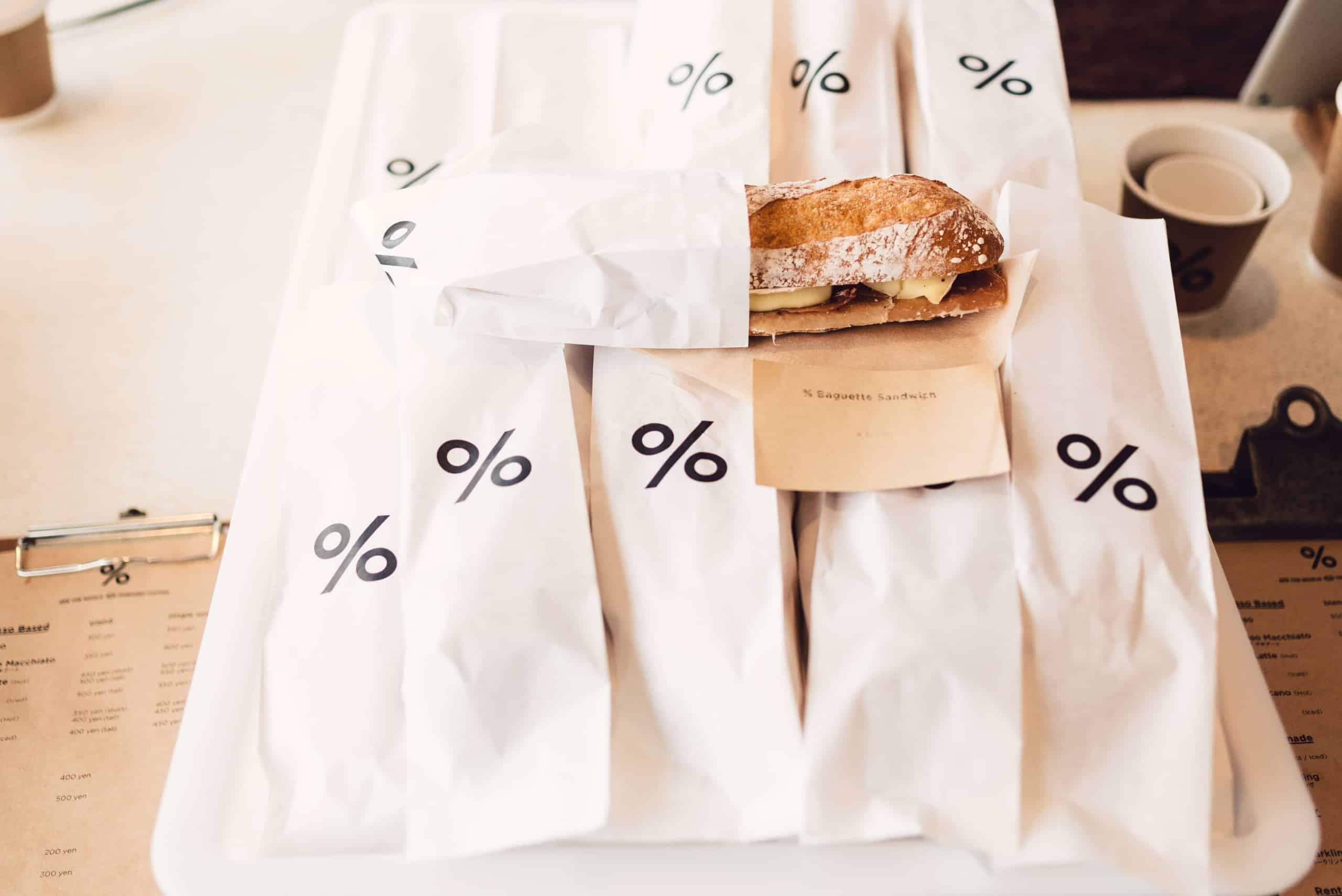 Where to Drink Coffee in Kyoto
% Arabica opened in 2014 near the Yasaka Pagoda (Yasaka-no-to) in Kyoto's gorgeous Higashiyama District. It immediately attracted such a large following that owner Kenneth Shoji opened a second branch in July 2015 in western Kyoto's lovely Arashiyama area. % Arabica has its own coffee farm in Hawaii, and beans from there – along with more than twenty other locations – are roasted on the spot for each order.
At Sentido, great coffee and English-speaking staff mean coffee newbies can have their questions answered before enjoying a cup. Try the Ethiopian single-origin beans, which make a really nice, punchy brew. There is a small selection of baked goods here, including top-notch blueberry muffins.
Where to Drink Coffee in Nagoya
Eric describes the coffee at Trunk as "phenomenal, blew me out of the water, one of the best cups of coffee I've ever had" – high praise from someone who essentially drinks coffee for a living. Although many specialty coffee shops in Japan put a spin on industrial-chic design (concrete floors, reclaimed wood, little color), Trunk has bright pendant lights, a cheery tiled counter, and a rainbow of dishware. Trunk is co-owned by Yasuo Suzuki and Kiyohito Tanaka, who were inspired by Scandinavian coffee culture (Suzuki worked as a barista in Denmark). Go in for a pristine pour-over and get it on ice if you're there any time during the sweltering summer.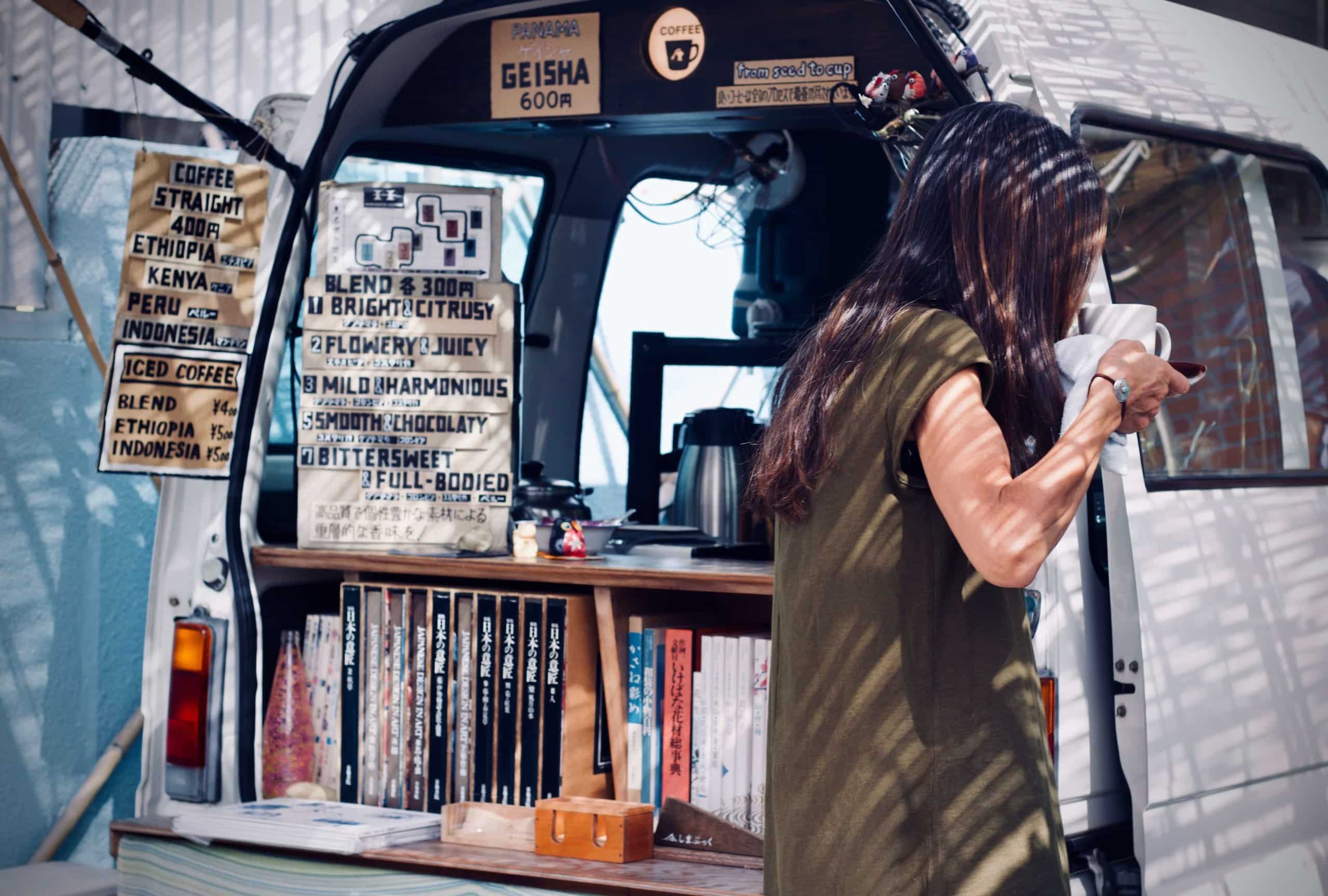 For coffee enthusiasts traveling to Japan, we hope this article has provided a good starting point for your trip!
Be sure to check out Tokyo Coffee for more Japanese coffee tips and resources, as well as Eric's excellent Tokyo coffee walks. Arigatou, Eric-san!