If you've ever thought about visiting Japan, you're probably familiar with the advice that you should "go for cherry blossom season."
The annual blooming of sakura (cherry tree flowers) and accompanying nationwide conviviality of hanami (cherry blossom-viewing) can indeed be a magical time to experience the joy of being in Japan.
Originally written in 2014, this post was updated and republished on November 14, 2018.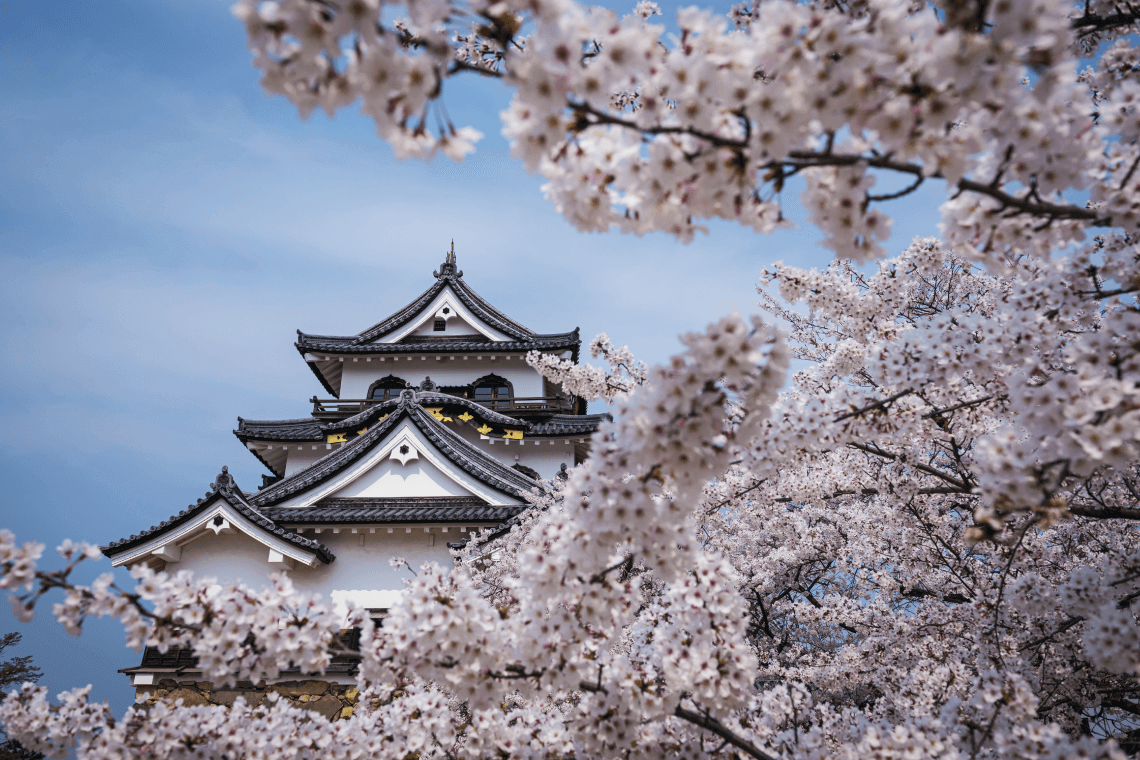 For a brief window each spring, Japan's parks, gardens, and canal-sides blush with fleeting blooms of pink and white, signaling the coming of longer, warmer days and beckoning people outside to shake off the winter doldrums.
Park lawns large and small become a patchwork quilt of picnic blankets and tarps, as families, friends, and coworkers convene with bento boxes and beer, sake, and sweets.
The grounds of temples, shrines, and gardens throughout Japan — aesthetically exquisite to begin with — get an ephemeral grace note. Many stay open, and beautifully illuminated, into the cold and moonlit spring nights.
Japan's cherry blossoms have been celebrated for centuries in such art forms as haiku, ukiyo-e (woodblock prints), and traditional music. In a culture deeply imbued with Buddhism, they are a natural symbol of the notion of impermanence, a yearly reminder of the transience of all life. (According to Japan expert Donald Keene, it was the writer Kenko — author of Essays in Idleness, one of our favorite Japanese books — who most helped ingrain this concept into mainstream Japanese consciousness.)
Because of all this, however, visiting during cherry blossom season has developed a downside: it is easily the most hectic time of year to travel in Japan.
Read more about the seasons and when to visit Japan.
As the country continues to set new records for annual international visitors, cherry blossom season — also referred to as sakura season, or hanami season — has increasingly overtaxed Japan's tourism infrastructure, from accommodation and transportation to major sites and the availability of guides.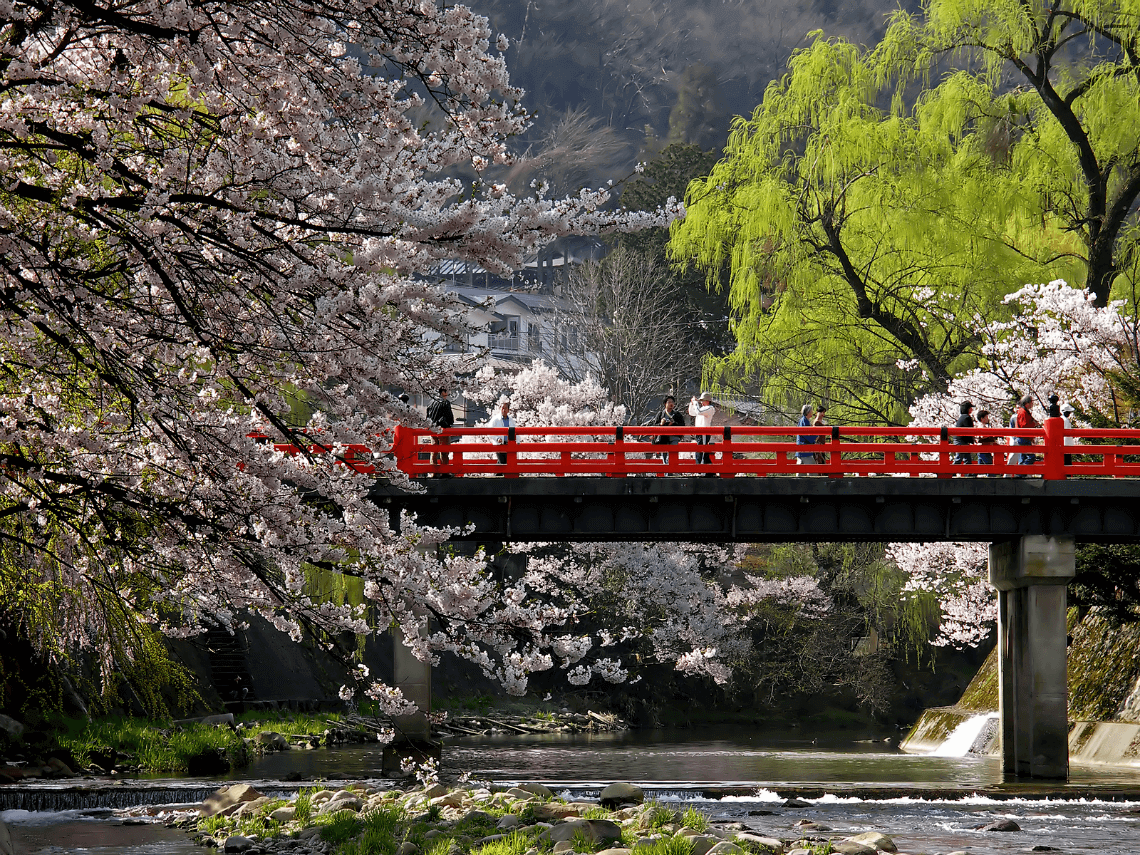 When to Visit Japan for Cherry Blossom Season
With that said, cherry blossom season remains a coveted time to visit Japan. So, if you are set on trying to being here for the blossoms, when should you travel?
With the caveat that it is always a moving target, the sakura season in Honshu's primary cities — including places like Tokyo, Kyoto, and Kanazawa — can generally be pegged to the last week or so of March, into the first week or two of April.
Of course, this time frame often overlaps neatly with schools' spring break in the northern hemisphere, not to mention Passover and Easter holidays. In other words, in addition to the blossoms themselves, it's also an ideal time for many families, and others maximizing limited vacation days.
Usually it is still fairly cold at this time of year, but if you're lucky hanami season will be sprinkled with warm days.
Fewer Clients, Richer Experiences
We live and breathe Japan, and want you to experience the Japan we know and love. If you're as obsessed with the details as we are, chances are we will be a good fit.
While the end of March and beginning of April is a relatively safe rule of thumb, it is definitely not guaranteed! In 2013, for example, Tokyo buds opened quite early (on March 16), with Kyoto following on March 22. Anyone who had booked their trip for the first week of April missed the show almost entirely.
Make sure to take geography into account, too: in southern and western Japan, where the climate is warmer, the sakura bloom earlier than in Honshu. Conversely, in northern and mountainous areas, they bloom later. Pointing your compass to these regions can be a good strategy for trying to experience the cherry blossoms, while avoiding the Honshu crowds.
Read more about our favorite off-the-beaten-path regions of Japan.
Bottom line: while predicting when sakura will bloom may be a favorite pastime in Japan — indeed, the sakura zensen tracks when and where the sakura are expected to open (kaika) and reach full bloom (mankai) throughout Japan — we typically advise against trying to time your trip to overlap with the cherry blossoms.
Instead, take a deep breath, pick the travel dates — and destinations — that work best for you, and hope for the best with the cherries.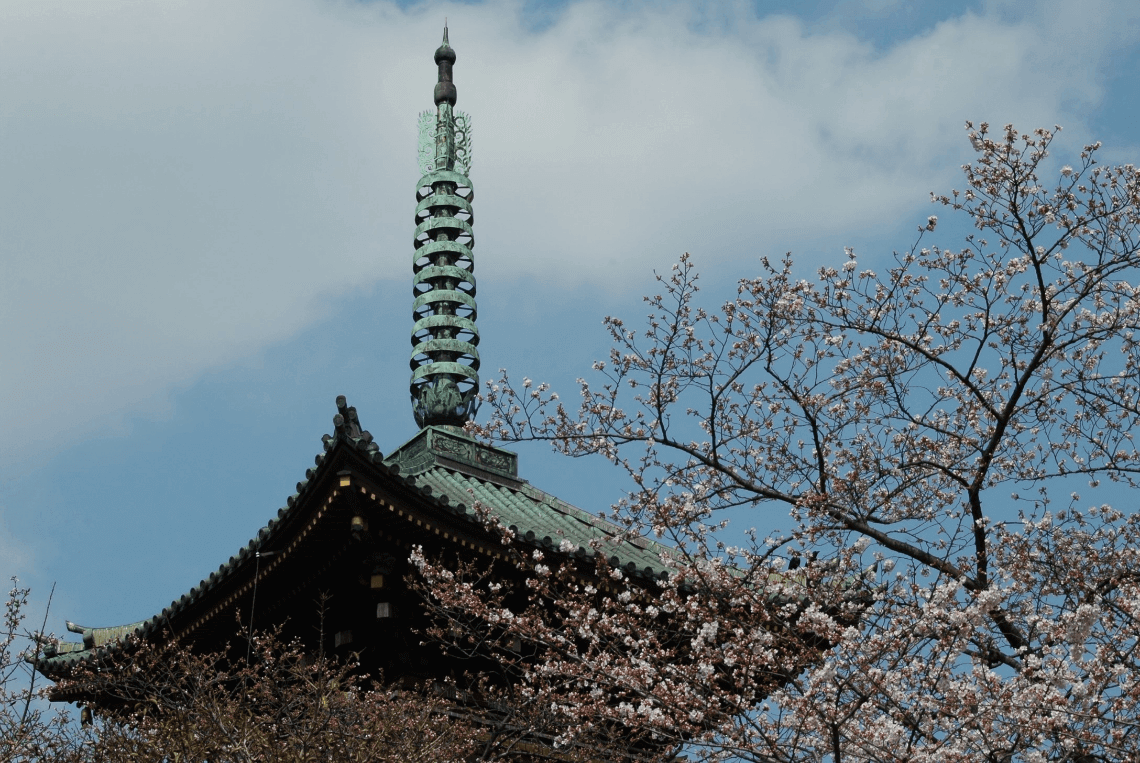 When to Begin Planning for Spring Travel to Japan
If you are dead set on trying to experience cherry blossom season in all its glory (and hecticness), you're also going to have to plan early.
Really early.
Because of how popular this time of year is, and because of the fact that (as mentioned above) Japan's tourism infrastructure hasn't been able to keep up with demand, we usually recommend planning your trip around 9-12 months in advance.
Yes, it may be possible to plan later, but you will likely encounter slim pickings with regard to top-quality accommodations and guides.
We receive more inquiries for travel to Japan around cherry blossom season than for any other time of year, and it is such a popular travel season that every year we're forced to stop considering new inquiries many months in advance.
Myths about Cherry Blossom Season
Despite being the best-known of Japan's seasons, there are a few common misconceptions to be mindful of, too.
One is that cherry blossom "season" is just that, a season-long event synonymous with springtime. Think in terms of weeks – with peak bloom often lasting just a few days – and not months.
Also, while some people refer to sakura season as the cherry blossom "festival," this is a bit of a misnomer.
Rather than an organized civic celebration with, say, a parade route and floats, food vendors and souvenir stands, hanami is all about BYOB picnics with home-cooked (or depachika-bought) food. For the most part, it's a decentralized, bottom-up affair that happens according to Mother Nature's schedule alone.
Speaking of matsuri (festivals), read more about Japans's best festivals!
Lastly, for eager photographers imagining pristine landscape shots: it's best to steel yourself for the reality that, if there is a tree with cherry blossoms on it, there will be people under it; and if there is a temple or shrine with sakura-studded grounds, it will almost without fail be thick with visitors.
Drawbacks to Cherry Blossom Season
Thus, while cherry blossom season is magical in so many ways, it also has its drawbacks – as you have probably realized.
In terms of popularity and crowds, it's comparable to Europe during summer vacation – so if you are averse to crowds, you may want to choose another time of year to visit.
The last week of March and first two weeks of April are typically the busiest, with the first week or so of April being the most congested. Trains are packed to the brim, popular temples and shrines are overflowing (their parking lots at capacity with tour buses), and tickets to famous spots like the Ghibli Museum sell out well in advance.
Apart from selling out in advance, the best hotels and ryokans typically charge some of the highest rates of the year.
Top private guides and local experts fill their calendars months in advance, and there is maximum demand for great restaurants, whose seats often number in the single digits.
In conclusion, unless you have a "non-negotiable" attachment to the idea of experiencing cherry blossom season (or are planning far enough in advance to plan your ideal trip), we usually recommend traveling during less hectic times of year.
After all, Japan is amazing in any season!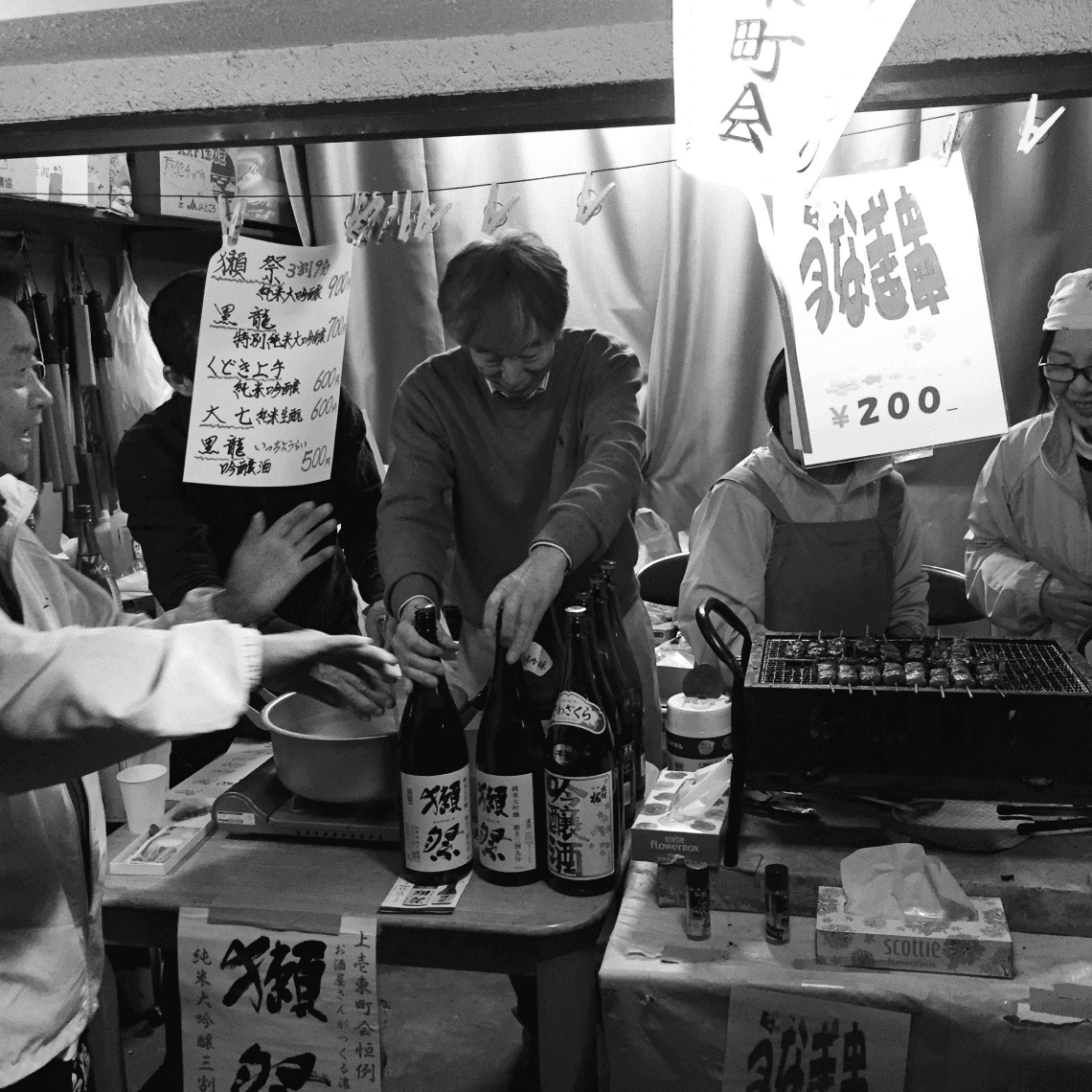 How to Hanami: Cherry Blossom Viewing & Parties
So, you weighed the pros and cons and decided to go for it. You planned well in advance, got your first-choice hotels and top guides, and the cherry blossom forecast calls for peak bloom during your stay. Time for hanami!
The word "hanami" — comprised of "hana" (flower) and "mi" (look) — translates literally as flower viewing, but has come to be synonymous with cherry blossom viewing and parties under the trees.
While it never hurts to know a local, it's not necessary in order to join the party – and you will likely get to know your neighbors anyway!
The first thing you'll need is a picnic blanket or tarp (endearingly called "leisure sheets" in Japanese), often available at konbini (convenience stores) during hanami season.
Park grounds will often still be cold (and maybe damp) and you'll want to have a spread to sit on. To be very proper, follow Japanese etiquette and remove your shoes before stepping onto it.
Unsurprisingly, in a country with such an incredible culinary culture, food and drink is a key part of the hanami experience.
To stock up on the best possible food and beverage — including beautifully-packaged seasonal bentos, delicious snacks, along with sake, craft beer, and even wine — head to the nearest depachika, the remarkable basement food floors of luxury department stores. While visiting a depachika is the best option, you can also grab supplies at a konbini, all of which sell inexpensive bentos, snacks, sake, and beer.
Keep in mind that hanami is a daylong affair, stretching into the chilly spring nights, so be sure to bring plenty of provisions – and layers!
Popular hanami spots in parks often fill up with revelers, so you may need to arrive at your chosen spot early to stake your turf. Even on weekdays, you'll have stiff competition from junior salarymen reserving spots for their superiors, who trickle in throughout the day.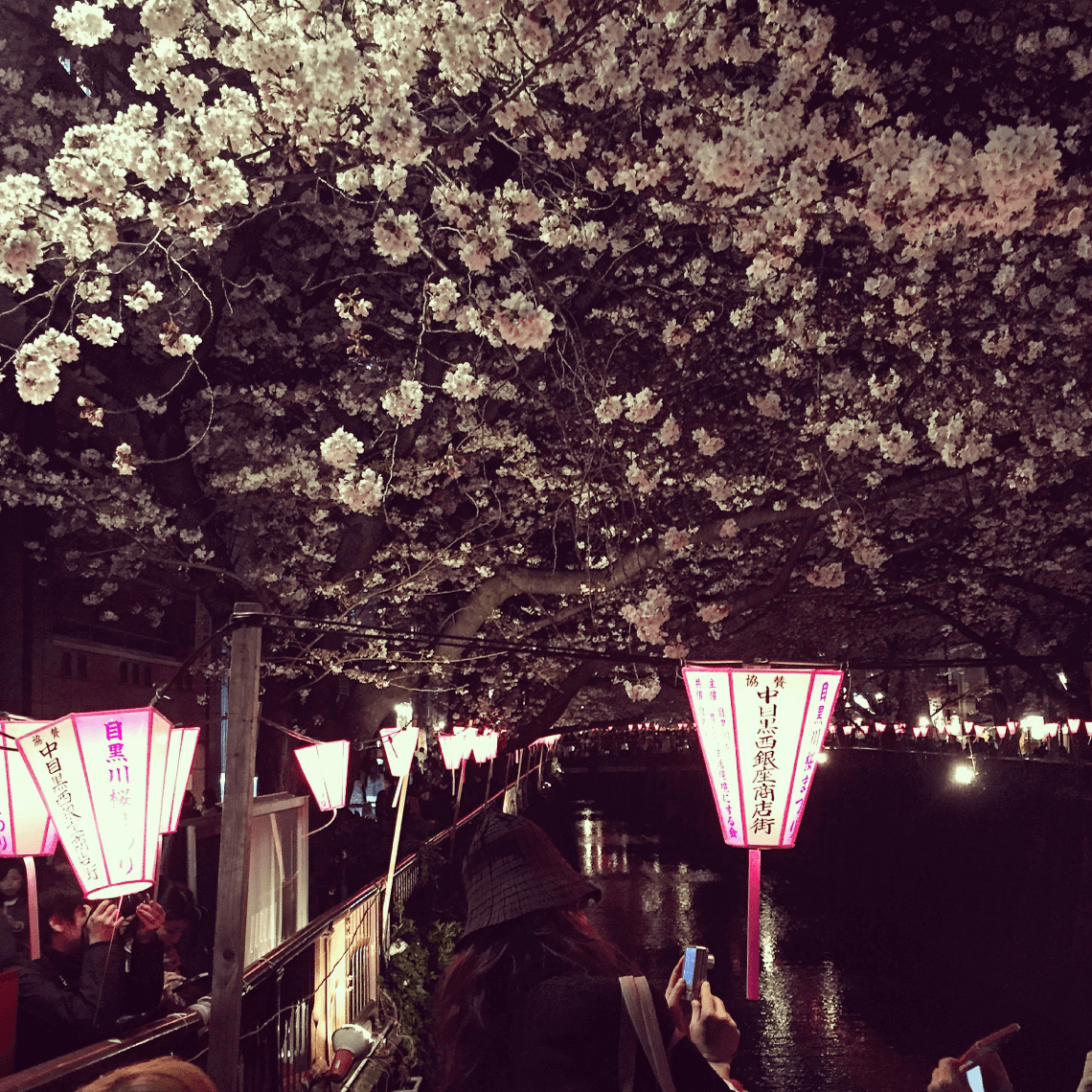 Where to See the Cherry Blossoms in Tokyo & Kyoto
Hanami takes place throughout all of Japan, which means there are countless places to enjoy this cherished pastime – and everyone has their own opinion as to which is "the best."
Tokyo and Kyoto are full of their fair share of great hanami spots, but no matter where you go, you'll find hanami parties anywhere there are cherry blossoms and a place to sit!
To get you started in the modern and ancient capitals, here are a few of our favorite places to drink sake under the falling petals.
Tokyo's Best Hanami Spots
Despite being a massive modern metropolis, Tokyo is full of beautiful hanami spots.
Shinjuku Gyoen
An elegant former imperial garden, Shinjuku Gyoen is a lovely oasis in the heart of the neon- and concrete-filled Shinjuku neighborhood.
Shinjuku Gyoen became a public national garden following World War II, and is the perfect place to see gorgeous sakura in bloom and experience lively hanami parties.
Naka-Meguro
A charming Tokyo neighborhood known for its laid-back vibe, trendy shops, and lively izakayas, Naka-Meguro is also one of Tokyo's most legendary hanami spots.
Majestic cherry trees line both sides of the Meguro river, creating an impossibly picturesque scene of urban beauty. The blossoms are illuminated at night, but the view is magical during the day, as well.
Inokashira Koen
Inokashira Park, located in the slightly suburban area of Kichijoji, is just a 15-minute trip by train from Shinjuku. A much-loved neighborhood, Kichijoji is chock full of shops, restaurants and bars, yet has a more relaxed feel than most of central Tokyo.
Not only is Inokashira Koen a great spot for hanami, the park is also home to Ghibli Museum, which celebrates the films of Hayao Miyazaki's Studio Ghibli.
Yoyogi Koen
Yoyogi Park is adjacent to the peaceful Meiji Jingu Shrine, and surrounded by some of Tokyo's most dynamic neighborhoods, including Shibuya, Harajuku, and Omotesando.
A favorite hangout spot for everyone from young hipsters to families and tourists, Yoyogi Park is popular at any time of year – and especially so during hanami season, where parts of the park feel like a sea of cherry blossoms. Particularly on weekends and in the evening, bands and DJs set up, and the party continues late into the night.
Honorable Mentions
While there are, of course, too many places to name, Aoyama Reien (Aoyama Cemetery) and Chidorigafuchi deserve special mention as two other stunning places to enjoy hanami.
Kyoto's Best Hanami Spots
Kyoto is Japan's most popular hanami destination, and with good reason. No matter where you go in this city, you'll stumble upon a hanami celebration in progress.
Philosopher's Path
The Philosopher's Path (Tetsugaku no michi) is a lovely road that meanders along a canal lined with hundreds of cherry blossom trees.
Located in Kyoto's historic northern Higashiyama district, use a stroll along the Philosopher's Path as a jumping-off point to visit some of the northern Higashiyama's gems, including Nanzen-ji Temple (writer Pico Iyer's favorite), and the beautiful Ginkaku-ji (Silver Pavilion).
Maruyama Koen
Maruyama Park is located in the heart of Kyoto's southern Higashiyama district, within easy reach of the historic Gion geisha district, and famous temples and shrines such as Kiyomizu-dera and Yasaka Jinja.
A hive of activity throughout the day, things really light up at night, and the park is packed with food stalls selling casual street food, along with beer and sake.
Shimbashi Dori
Despite being one of Kyoto's — and thus Japan's — most "touristy" streets, Shimbashi Dori is nevertheless worth a visit.
Located in the heart of the Gion district, this stunning street along the picturesque Shirakawa Canal is lined with cherry blossoms, with a backdrop of historic wooden buildings. Try and time your visit to avoid the crowds, if possible!
Honorable Mentions
Walk or cycle along the Kamogawa (the Kamo River) that runs through the center of the city, and enjoy a stroll through the expansive Kyoto Imperial Palace grounds.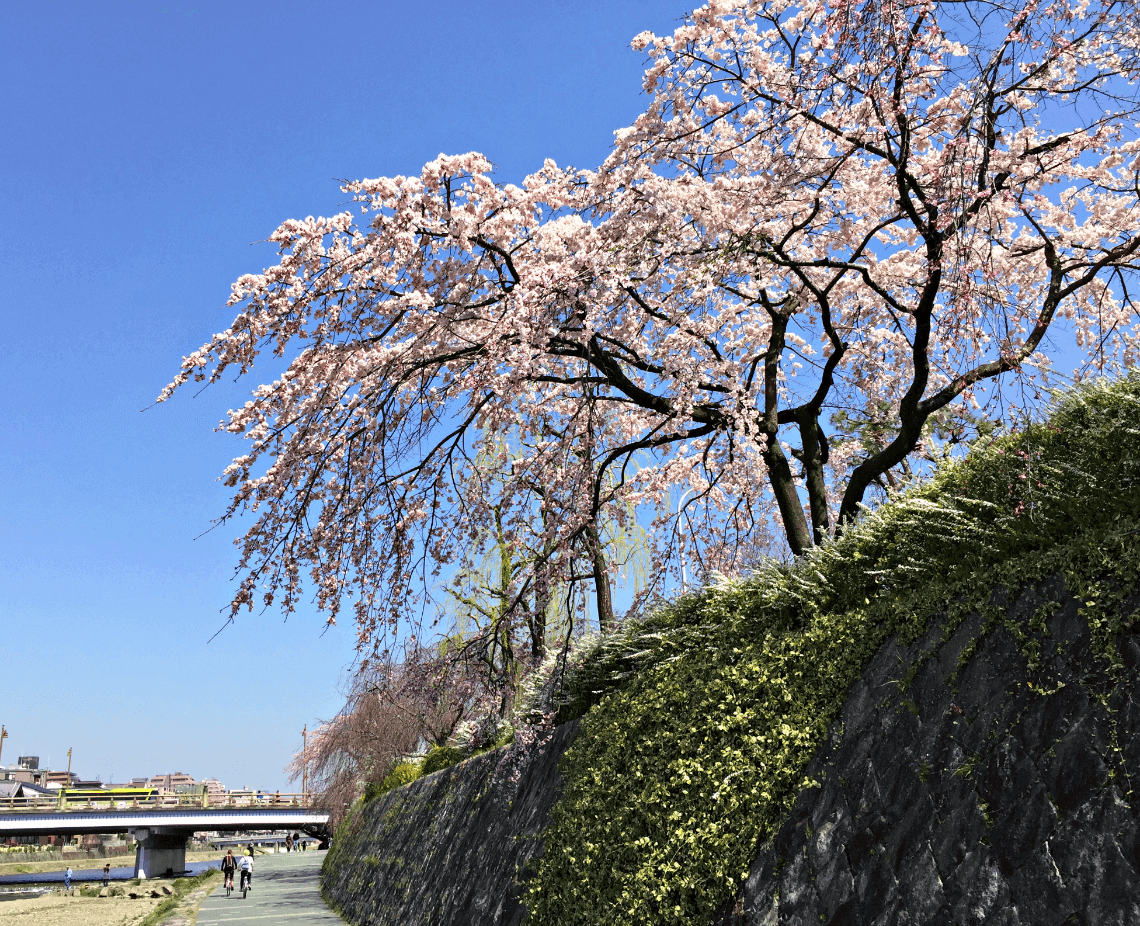 The Impermanence of Cherry Blossom Season
Whether you end up missing the sakura, or arrive in Japan just as they are entering full bloom, part of the cherry blossoms' enduring appeal is their heartbreaking impermanence.
From the first hint of bloom until the ground is a carpet of petals, the hanami season may only last a week or two. In some years the blossoms linger a little longer, and in other years the season can be disappointingly short, as the blossoms are quickly blown from the branch by harsh wind and rain.
It is, of course, this poignant unpredictability that has captivated Japanese poets for centuries.