Kyoto is a city that is synonymous with ancient history, deep culture, tranquil temples, and perfectly preserved pagodas.
The old imperial capital is home to over 1,600 shrines, temples, and gardens that each serve a special purpose, from bringing success in your studies to matchmaking and even avoiding traffic accidents (yes, really).
Of course, some temples are far more famous than others, attracting crowds that number in the thousands, whereas smaller, lesser-known places can offer the opportunity of quiet contemplation whilst admiring sacred architecture as though the very walls were built for your eyes only.
Hailing from the UK, but moving to Kyoto to live and work as a travel and lifestyle writer over two years ago, I've been spoilt with a long list of beautiful places to visit.
No matter how long your trip to Kyoto, you'll never see it all, but here are what I think are Kyoto's most picturesque temples and shrines — including magnificent monuments and off-the-beaten-path gems — to give you a true taste of a Kyoto, and one that lives up to its reputation.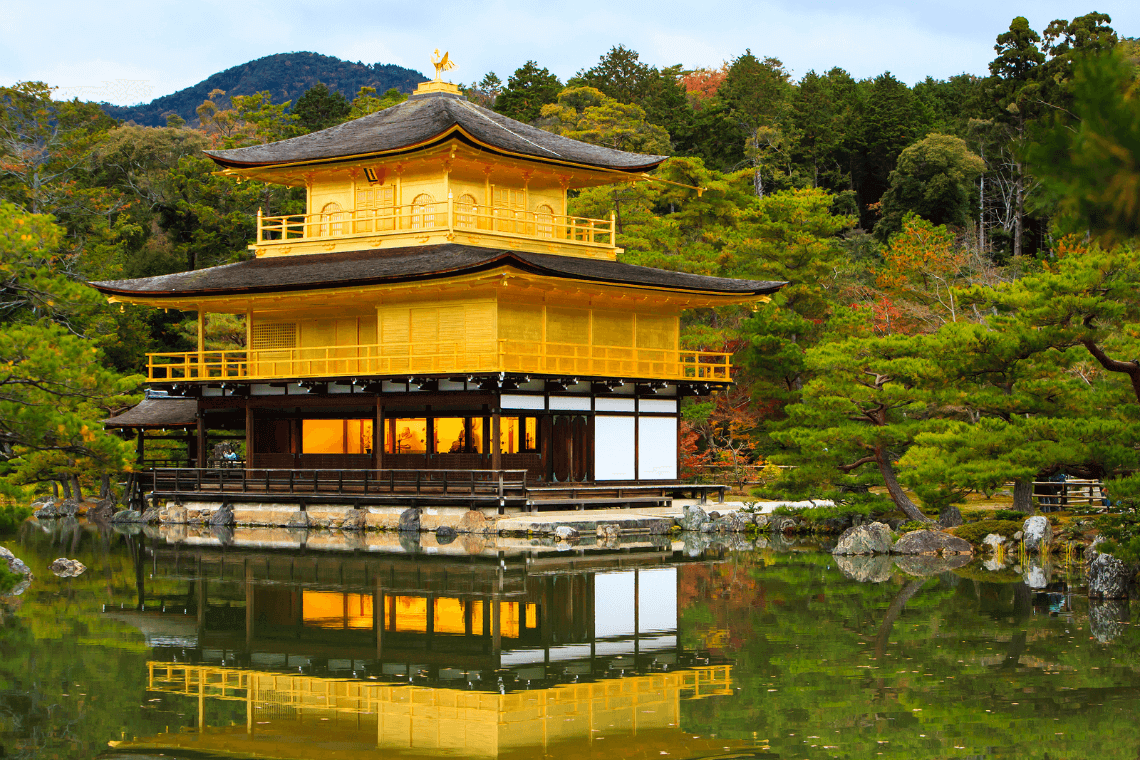 The Famous Ones: Renowned Kyoto Temples & Shrines
Kinkaku-ji: the Golden Pavilion
Popularly known as the Golden Pavilion, Kinkaku-ji is one of Kyoto's most iconic temples. Its beauty is simply incredible and as such, it is always busy, but it's most definitely worth fighting the crowds to catch a glimpse of its golden walls glistening in the sun (alternatively, arrive first thing in the morning to be one of the first in).
Even with the crowds, I think this is one of the most beautiful places I've ever visited. A UNESCO World Heritage Site, a National Special Historic Site, and a National Special Landscape, this Zen temple dates to 1397, when the original villa standing on the site was purchased from the Saionji family by shogun Ashikaga Yoshimitsu and transformed into the Kinkaku-ji complex.
In 1950, the majority of the building was lost to a fire started by a 22-year-old monk apparently trying to commit suicide. The structure was rebuilt to mimic the original; however, some believe that such an extensive gold-leaf coating was not true to the previous structure … even so, it certainly makes for an exceptional view now.
Kennin-ji
Famous for its wonderful garden and dragon ceiling mural, the grounds of Kennin-ji are a tranquil oasis in the heart of the Gion geisha district. The temple itself can get quite busy, but it's nothing compared to some of the more famous spots.
Considered to be one of the so-called Kyoto gozan, or "five most important Zen temples of Kyoto," it was founded in 1202 and claims to be the oldest Zen temple in Kyoto.
Kennin-ji is most famed for its elegant gardens and notable artworks, from the huge Twin Dragons drawing commemorating the 800-year anniversary of its founding, to the pair of gold leaf screens depicting the Japanese gods Raijin (god of lightning, thunder, and storms) and Fujin (god of the wind).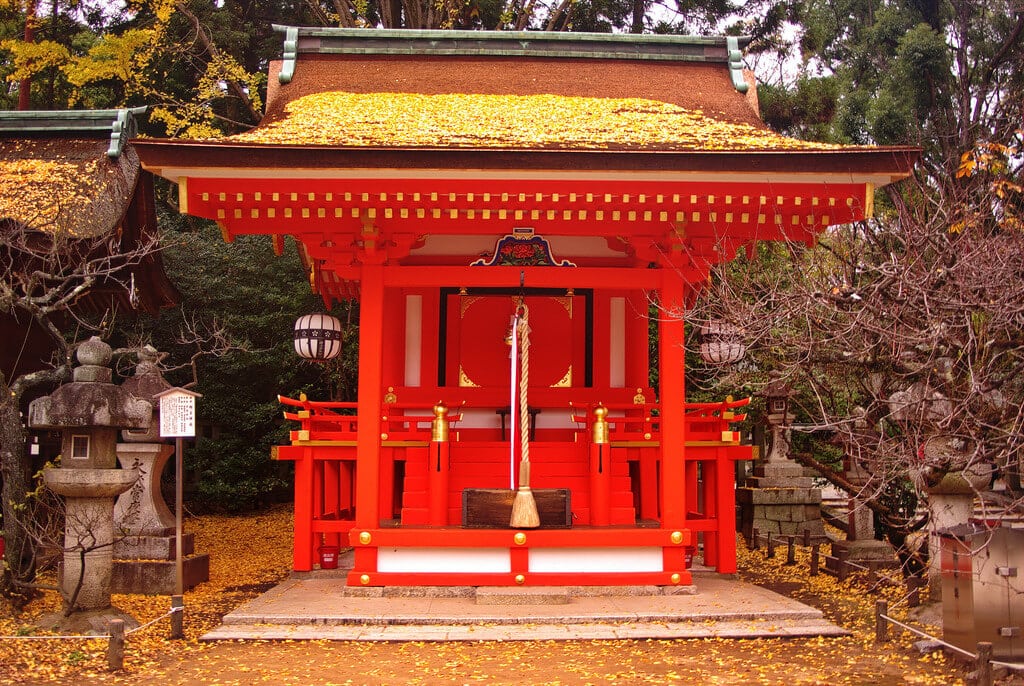 Kitano Tenmangu Shrine
This shrine is dedicated to Sugawara no Michizane, a politician and scholar who is thought to have been unfairly exiled in times gone by. He was closely associated with Tenjin, the Japanese god of education, so crowds of school children and their families will often gather to pray for luck in exams and success in their studies.
Michizane adored plum blossom, so the grounds are awash with 2,000 stunning plum trees that bloom in early spring (read more about spring, and the cherry blossom season). The maples are also particularly beautiful in their fiery autumn colours.
The 25th of every month sees a vast flea market with everything from old scrolls, to bonsai and ceramics, and the temple is a great base to explore Kamishichiken, Kyoto's oldest geiko district and an often overlooked area of the city.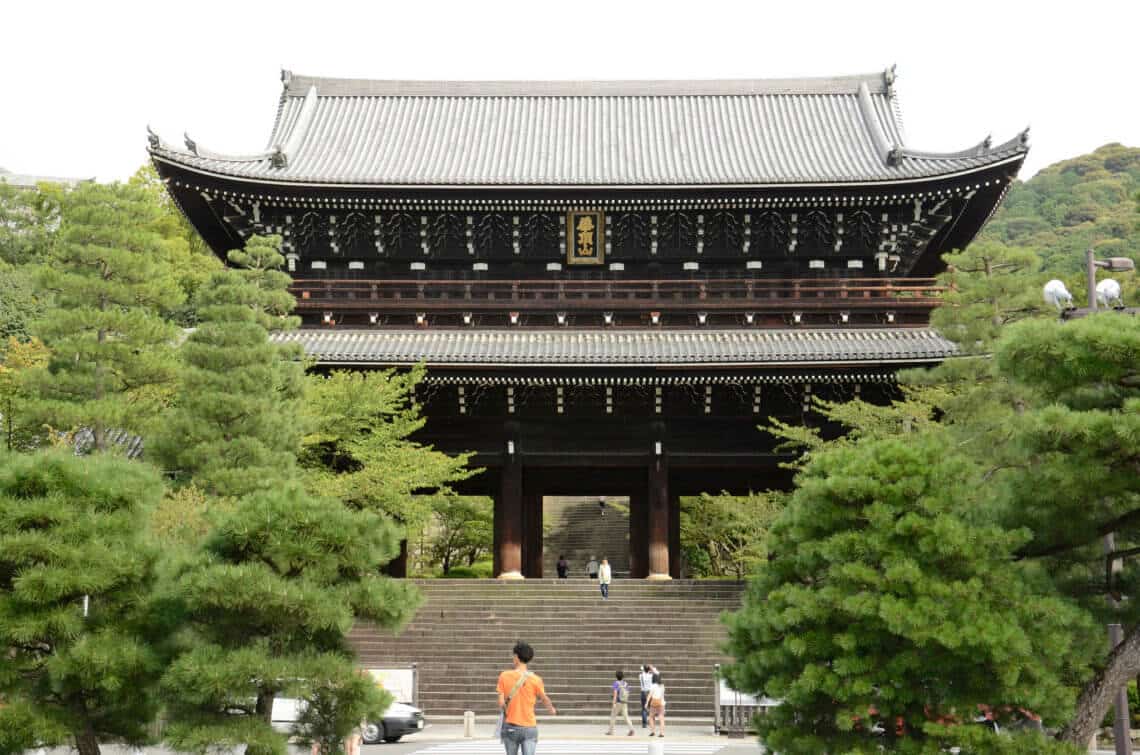 Chion-in
One of the grandest temples in Kyoto, Chion-in is in the Higashiyama district and is one of a number of temples here that are well worth a visit. A couple of the others are Shoren-in (with its stunning temple gardens) and Kiyomizu-dera (with its excellent view over Kyoto city).
Chion-in is by far my favourite of the city's religious sites. From the intricate san-mon gate to the steep steps leading to the eastern mountains, everything about Chion-in gives you a feeling of the vast lengths that people will go in pursuit of their faith.
Upon climbing Chion-in's steps to reach the big bell, there is a gate leading to a mountain path on which you can easily hike to Shogunzuka mound, home to the temple complex Seiryuden and its obutai observation deck, which has a beautiful panoramic view of the city below.
Contained within the main temple hall is the Ao Fudo, a national treasure and one of Japan's three great fudo paintings. The real silk worship image is enshrined deep within Seiryuden; however, people often come to worship the fine replica that is on display to the public.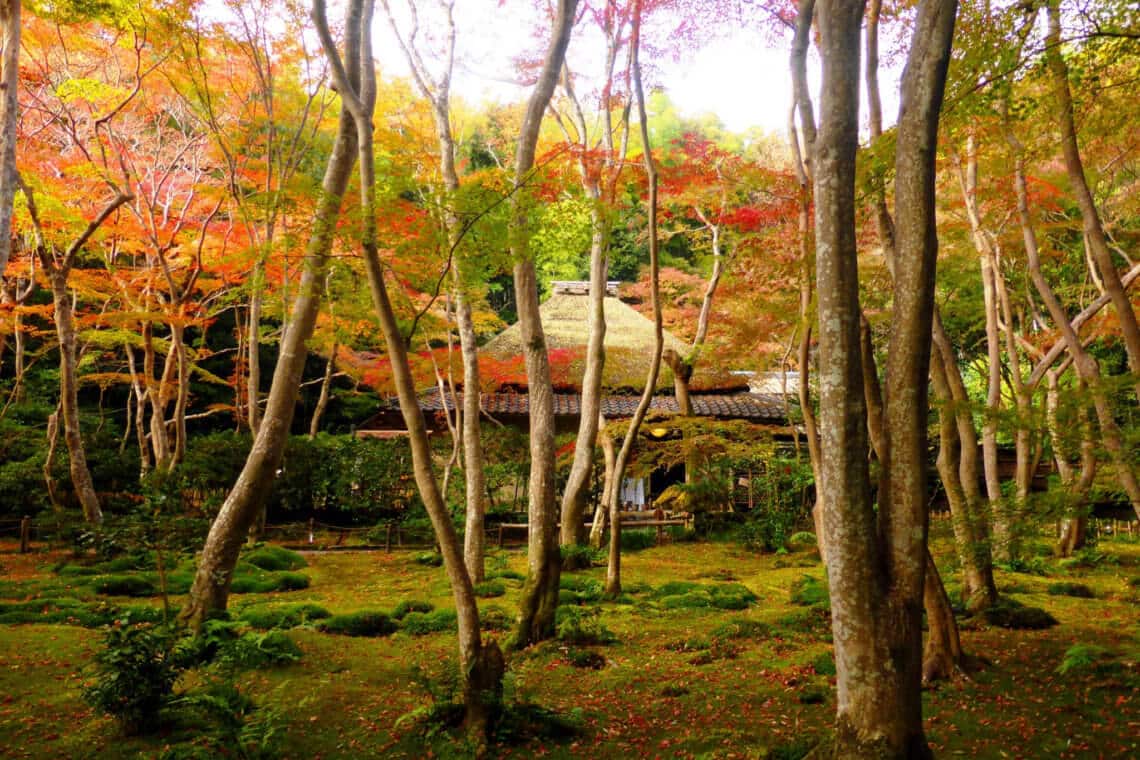 Hidden Gems: Off-the-Beaten-Path Kyoto Temples & Shrines
Gio-ji
Most visitors miss the gate to enter this temple, not knowing of the beauty that lies just beyond the entrance. Very small in size, you could walk the whole grounds in only 10 minutes; but how better to spend some time than enjoying the stunning moss garden akin to something from a fairytale. The temple itself? An ancient wooden structure with a thatched roof, nestled into the mountain.
Legend says that Gio-ji came into being when a young shirabyoshi dancer, Gio, who was loved by a prominent chief in the Heike Clan, was jilted when he was enslaved by the beauty of another shirabyoshi, and so Gio moved to the temple to live out her days as a nun.
Today, Gio-ji's serene garden has an air of magic and mystery that offers the perfect backdrop to while away an hour in quiet contemplation.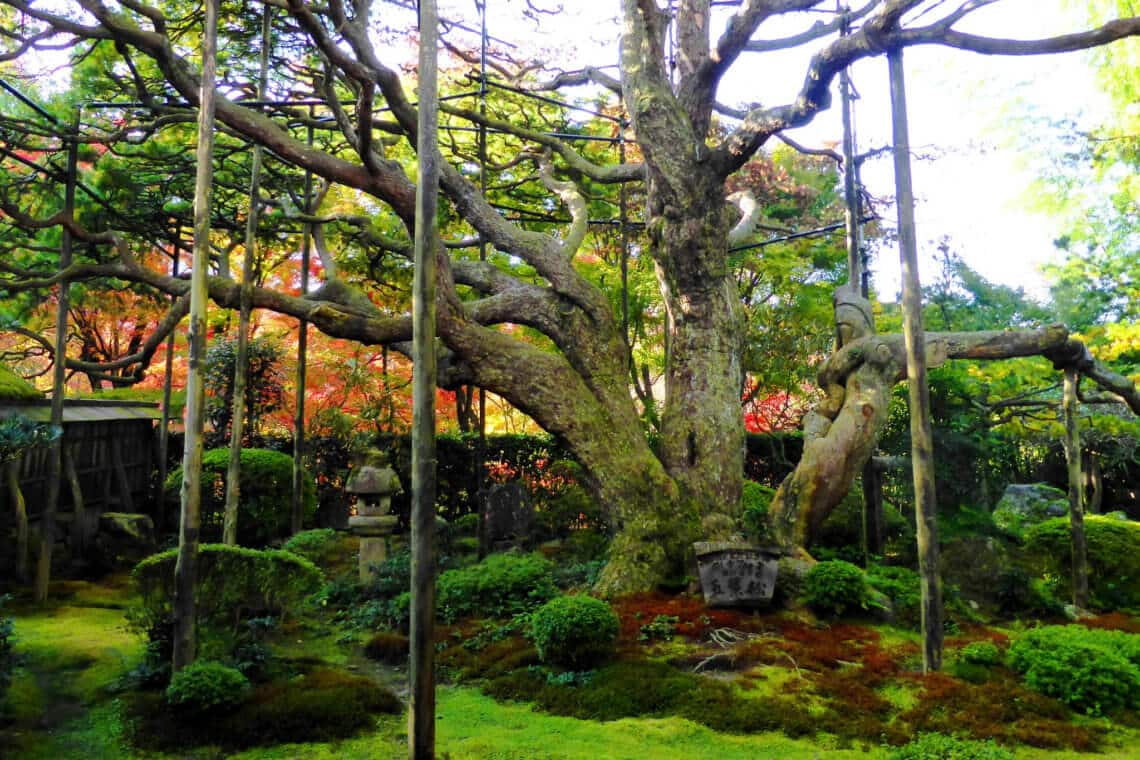 Hosen-in
Established over a thousand years ago, Hosen-in was originally built to house pilgrims visiting the renowned Shoren-in temple complex. Famed for its blissful garden of bamboo, moss, and the remarkable "Goyo-no-Matsu," a 700-year-old pine tree (and highlight of Hosen-in), there's an undisturbed harmony with nature that is so pure it was even immortalised in The Tale of Genji, Murasaki Shikibu's classic Japanese novel.
See more recommended reading for your trip to Japan.
Take a seat on the tatami and soak in the stillness of your surroundings with a cup of matcha and the soothing sounds of the suikinkutsu, a collection of earthen jars and bamboo pipes in the garden filled with small stones and water into which droplets naturally fall, creating meditative reverberations that only add to the restful atmosphere of Hosen-in.
Peel yourself away, if you can, from the view of moss and mountains, toward the "bloody ceiling." In stark contrast to the serenity of the gardens, Hosen-in's ceilings feature blood-stained floorboards, originally from Fushimi Castle, where after a vicious battle at the end of the 16th century, over 100 defeated samurai committed mass suicide after the shame of their defeat. A selection of these ceilings and floorboards was relocated to Hosen-in as a way of memorializing those who gave their lives.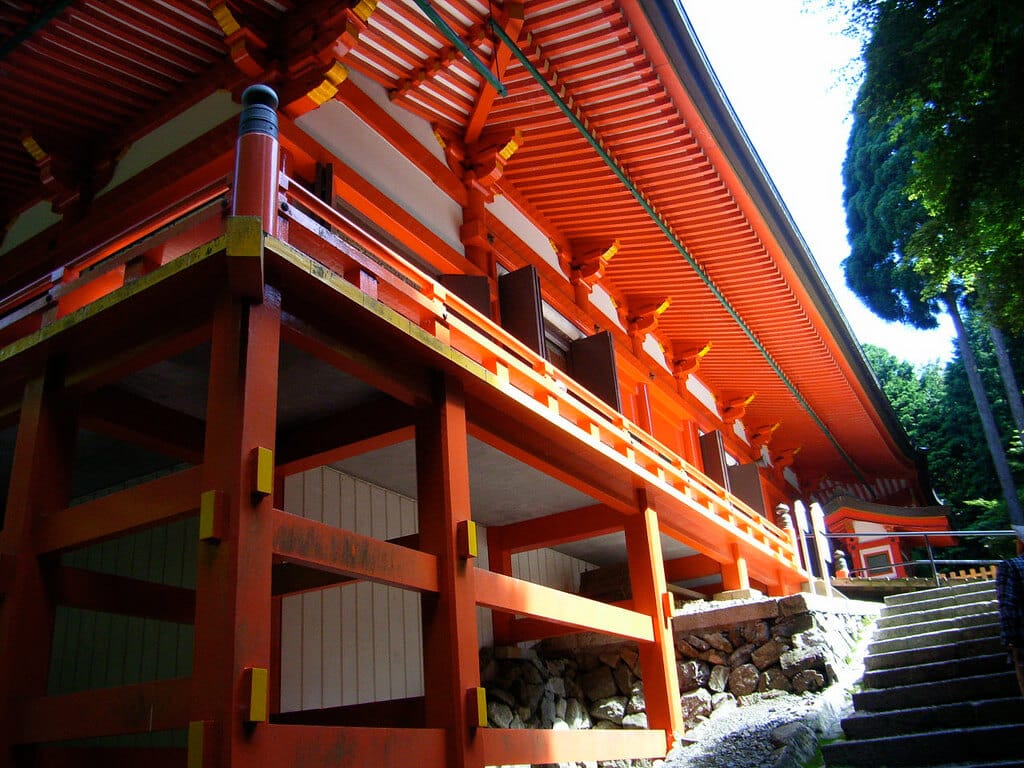 Hieizan Enryaku-ji
Mount Hiei, Kyoto's most famous and second-tallest mountain, has at its summit the stunning complex of Enryaku-ji. Sprawled across the mountain, there are too many shrines and temples along the way to stop at them all.
The walk through the cedars is a truly stimulating hiking experience, and the structures at the top are some of the most architecturally rewarding that I've seen, giving you a humbling sense of the ingenuity of ancient Japan.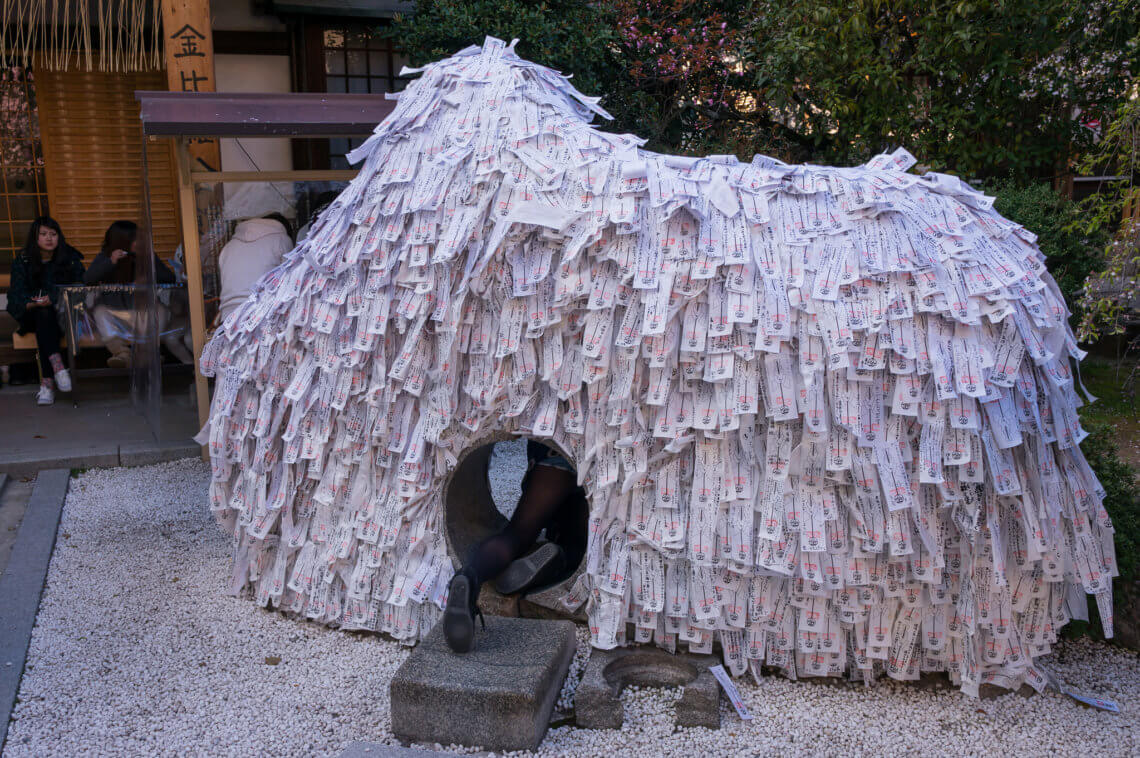 Yasui Konpiragu
This small but lovely shrine is in the heart of Gion, not far from Kennin-ji. Traditionally, Yasui Konpiragu has attracted visitors seeking to begin and end relationships.
The shrine houses a famous stone marked by a large hole. It's said that if you pass through the hole from the rear, holding an ofuda with your love's name written on it, you will be granted true love.
Yasui Konpiragu is also special because of its incredible collection of ema, a type of wooden prayer tablet that is painted and hung outside temples throughout Japan. Traditionally painted on wood and exposed to the elements, not many have survived the ages, but here there is a large and beautiful collection. Yasui Konpiragu's Emakan is the only museum of its kind in Japan.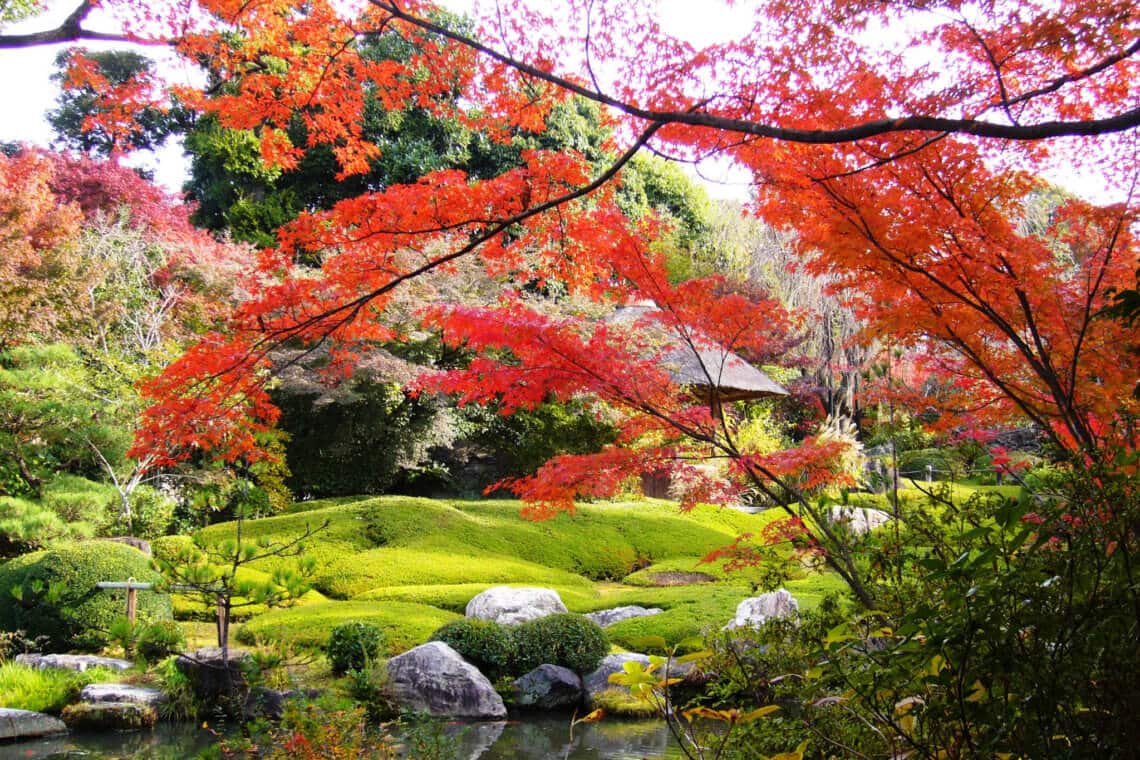 Taizo-in
Part of the huge Myoshin-ji temple complex in the north of the city, Taizo-in is one of almost 50 sub-temples that make up this temple village. Winding pathways lined with ancient buildings offer a wonderful backdrop for an afternoon stroll, and although most temples in the complex are off-limits to visitors, Taizo-in is open and most welcoming to travellers.
Taizo-in's appeal stems from the unique treasures that lie behind its walls: the immaculate and most relaxing dry landscape garden by Kano Motonobu, one of Japan's oldest surviving ink paintings—a masterpiece by Josetsu called Hyonenzu ("Catching a Catfish with a Gourd"), the Yoko-en (a pond-and-stroll-style garden), and a suikinkutsu.
The temple also offers visitors the opportunity to take part in a zazen meditation class, Japanese calligraphy, a tea ceremony, and a day tour with a special shojin ryori (Buddhist cuisine) lunch, catered by the Michelin-starred Zen Buddhist cuisine restaurant, Ajiro.
Explore the Ancient Beauty of Kyoto's Temples and Shrines
There are so many temples to choose from in Kyoto that picking just a few on a short trip can feel like a daunting task.
Luckily, I've never visited one that I didn't enjoy, and sometimes the ones that I've happened to stumble upon on an afternoon stroll have become among my favourites. The beauty of Kyoto is that there's brilliance everywhere; you just need to open your eyes to it.