At their best, Japanese gardens are places of contemplation, and an escape from the frenzy of modern life, but for the short-term visitor to Japan, deciding which gardens to visit can feel a little hectic.
At worst, one ends up attempting to "do" as many as possible within a few days — which usually results in everything blurring into a single garden in your head. Trust me: It's not a fun way to remember your holiday. The antidote to being "gardened out" is to choose your gardens carefully. Spend plenty of time in a few of them quietly observing, letting their qualities sink in.
Where, then, should you go? To help you decide, we've compiled a short list of excellent gardens in Tokyo, Kyoto, and other parts of Japan. Some are quite famous, others are relatively hidden gems.
Here's a short list featuring many of the best gardens in Japan: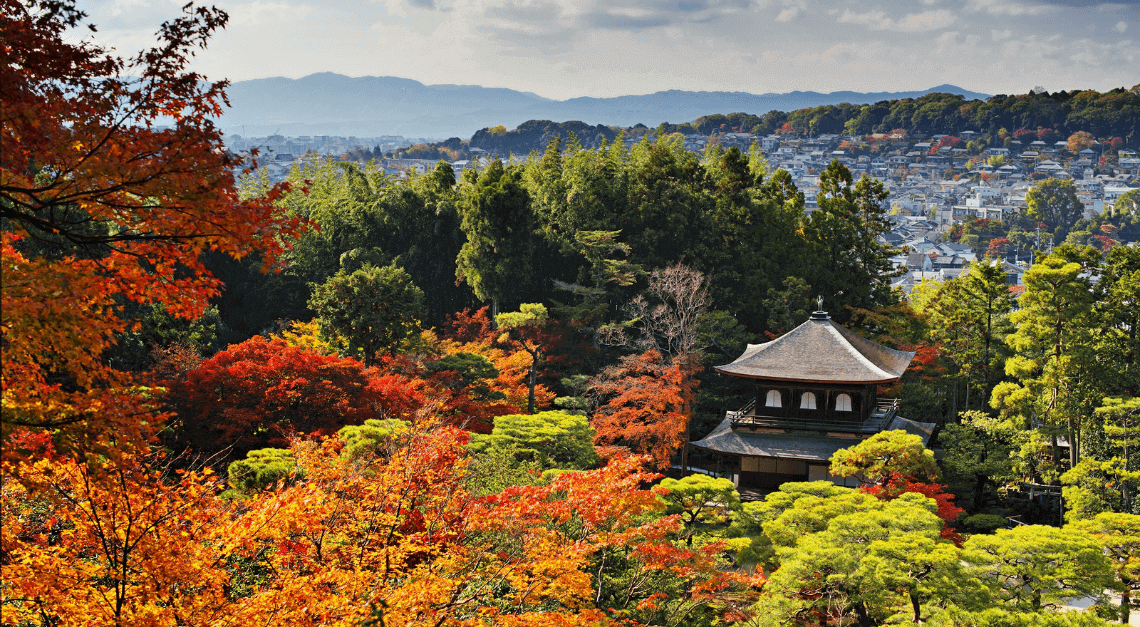 Kyoto Gardens
1. Ginkaku-ji (Silver Pavilion)
Ginkaku-ji, or the Silver Pavilion, was conceived as a private villa in the 15th century. There's much to appreciate here: the Sea of Silver Sand, so named for its appearance under moonlight; the charmingly named Moon-Washing Fountain; the lush, moss-covered foothills; and the ever-changing flowers and trees throughout the seasons.
Its World Heritage Site status has brought in visitors by the millions, but it still retains its charm. The secret is visiting when it opens at 8:30am, before the surrounding shops begin plying their wares.
2. Katsura Rikyu (Katsura Imperial Villa)
If you visit just one "hard-to-access" garden in Kyoto, make it Katsura Rikyu. Originally built for the Imperial Family, it's considered to be one of the finest existing examples of Japanese gardens and architecture. Mirrorlike ponds, perfectly shaped trees and bushes, winding pathways — on this sprawling estate, there's something to surprise and delight at every turn.
Visiting Katsura Rikyu requires joining a free tour conducted entirely in Japanese. You'll need your passport when making an advance application; tour spaces are limited and are quickly filled. Audio guides are available, but my preference is to soak up the sights, unencumbered by constant chatter in my ear.
3. Saiho-ji (Kokedera, the Moss Temple)
In most Western countries, moss is something to be eradicated from gardens. Here in Japan, it's embraced and actively cultivated. There's no better place in Kyoto for moss-lovers than Saiho-ji.
Imagine lush velvet blankets of moss in all shades of green covering every hillock and stone you see. Leaves rustle with the wind in the cedars and maple trees around you, and the air is cool, fresh, and alive with the breath of moss. If you can, bring a magnifying glass to peer at the mosses up close.
Saiho-ji is a tricky temple to access. Reservations must be made in writing via return postcard, and can be sent only to addresses within Japan. But depending on where you're staying in Kyoto, good hotel concierges may be able to assist. Saiho-ji is arguably best visited in June and July, during the warm, rainy season.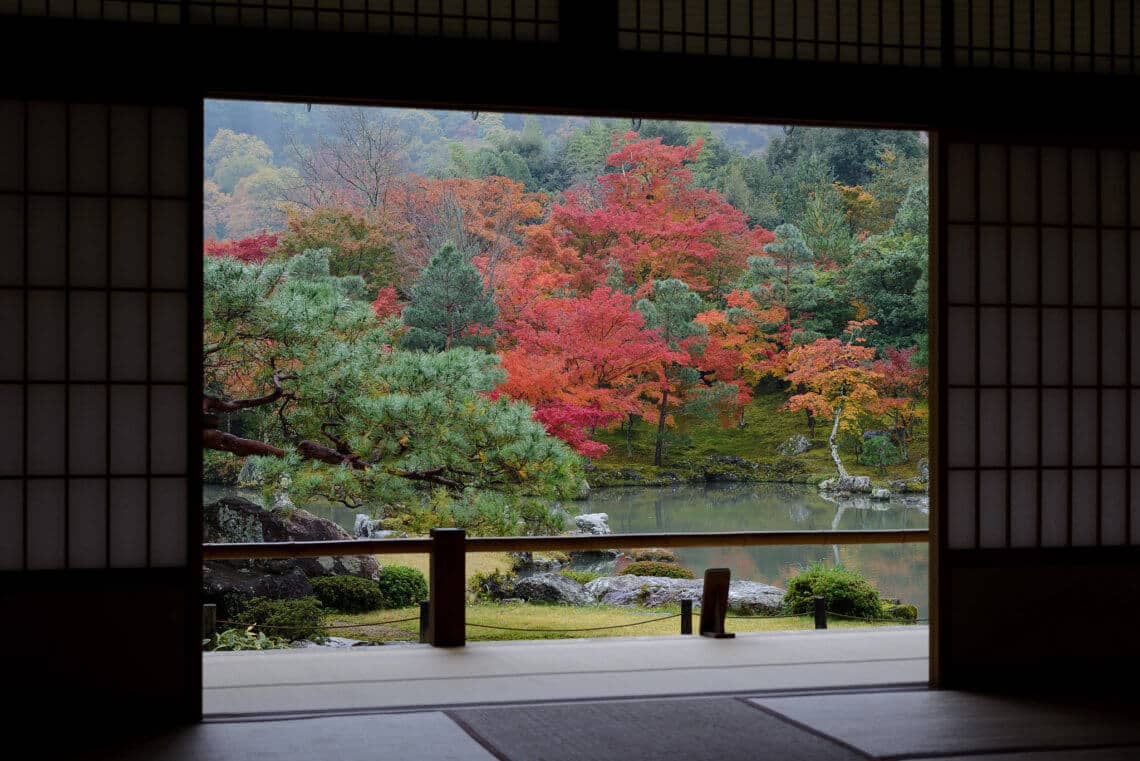 4. Tenryu-ji (Temple of the Heavenly Dragon)
Tenryu-ji began life as a private villa in the Heian period, making it one of the oldest temples extant in Kyoto. It's especially loved in autumn for the stunning view of the central pond surrounded by maple trees, and there are chairs in front of the pond for a spot of seated contemplation. Of course, there's more to explore and see on Tenryu-ji's sprawling grounds — for instance, the lotus pond, which comes into full bloom in July.
A happy bonus on the temple grounds is Shigetsu, a restaurant serving some excellent Zen Buddhist vegetarian cuisine. If you have just one shojin ryori meal in Kyoto, this is a great place to eat it.
The key to avoiding the inevitable Arashiyama crowds is to go early, ideally before the tour buses converge on the area. Try visiting Tenryu-ji at 8:30am when it opens.
5. Daitoku-ji
This Rinzai Zen temple near the charming Nishijin district is starting to see an influx of visitors beyond the usual groups of retired Japanese, and for good reason. Its history is fascinating (see: the tragic end that befell tea master Sen no Rikyu), and its many sub-temples, home to sublime gardens in various styles.
Koto-in is by far the most popular sub-temple, especially in autumn, for its canopy of maple trees framing the entrance. At other times of the year, it's incredibly peaceful — one could almost fall asleep on the tatami mats here.
While Daisen-in, with its highly literary karesansui (rock garden), availability of English-language commentary, and charismatic priest, is a popular sub-temple with visitors and very much worth visiting, I personally like Zuiho-in. With fewer visitors overall, it's a restful spot for quiet contemplation.
Read more about Kyoto's best temples and shrines.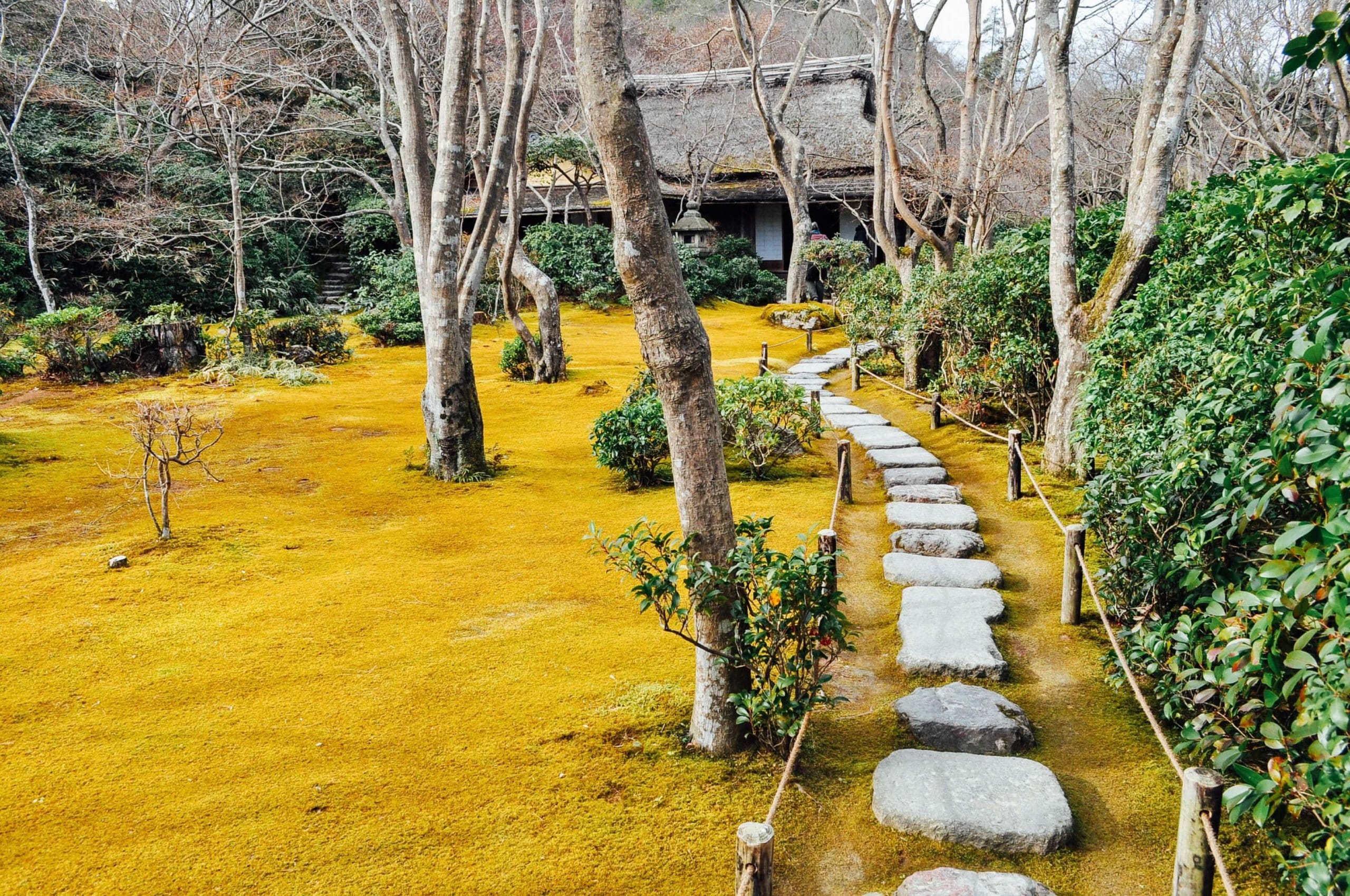 Tokyo Gardens
1. Nezu Museum Garden
The Nezu Museum is well-known for its architecture (a stunning example of Kengo Kuma's work) and the quality of its private art collection. Fewer people visit specifically for the gorgeously landscaped garden set into a small valley. This suits most of us just fine, as it's a relatively quiet escape from Tokyo's urban madness — especially on weekdays!
This garden is most popular in May, when the irises are in full bloom. Honestly, though, it's worth visiting at any time of the year.
2. Shinjuku Gyoen
Makoto Shinkai fans will know of Shinjuku Gyoen as the setting for The Garden of Words, a lushly animated visual tribute to rain in all shapes and forms. It is exactly as beautiful as the film suggests.
It would be a shame to visit Shinjuku Gyoen just for the cherry blossoms. Visiting gives you access to a variety of gardens across a vast tract of land.
For starters, there's a spacious, beautifully landscaped Japanese garden with a small river running through it, an English landscape garden, a formal French-style garden full of roses, and a greenhouse replete with amazing ferns and other subtropical/tropical plants. All this for a paltry JPY 200, right in the heart of Shinjuku!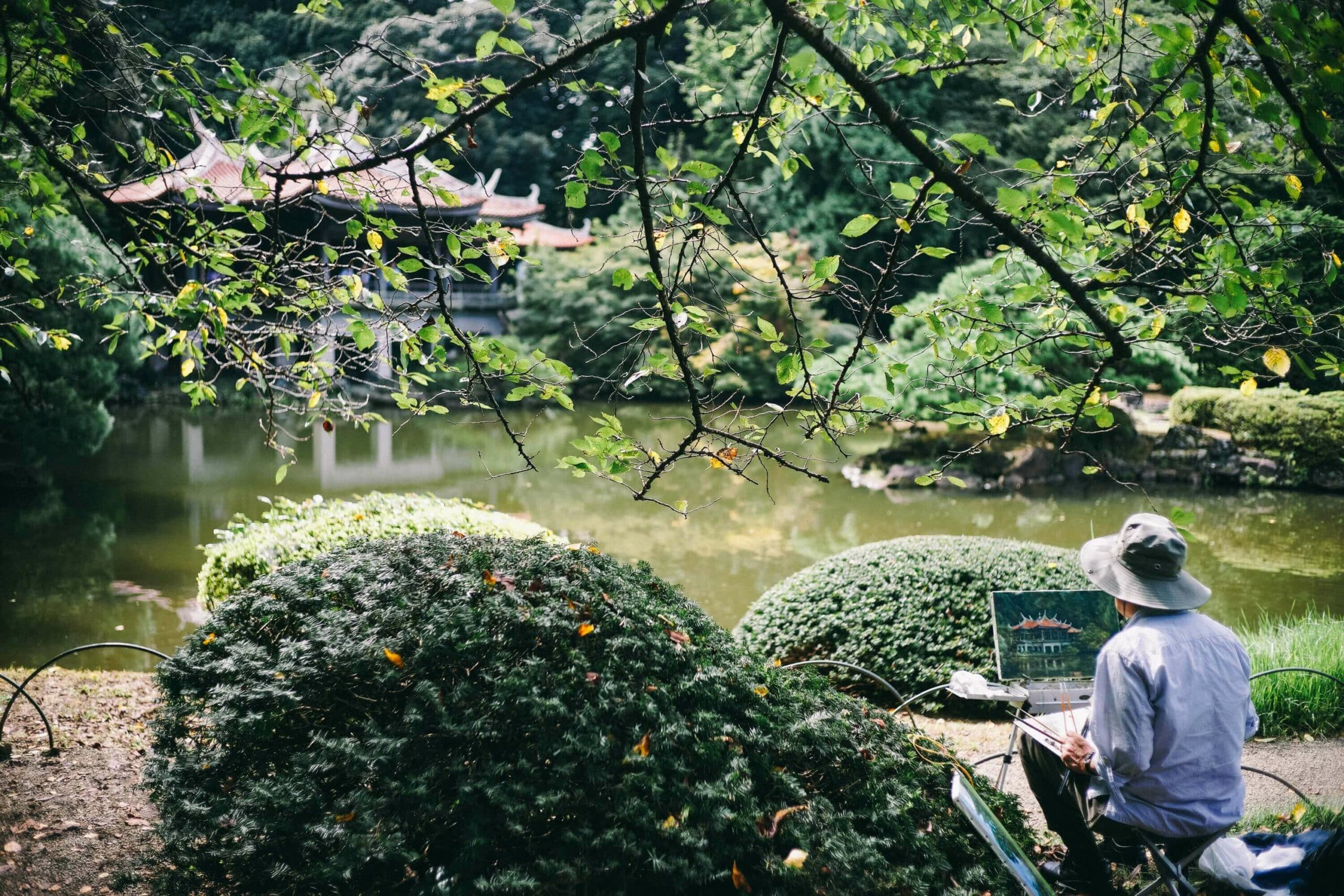 3. Kiyosumi Teien
Though it's a tad farther out east of Tokyo than I'd like, Kiyosumi Teien is one of my favourite gardens in Tokyo.
It's especially fun in spring to watch birds here, and look at tadpoles wriggling in the pond waters. Bring a picnic lunch to the cherry tree grove — which has several tables expressly for this purpose — and follow with a spell on the bench overlooking the central pond, preferably with a good book in hand.
4. Koishikawa Korakuen
One of Tokyo's oldest strolling gardens, Koishikawa Korakuen is one of the more traditional, formal gardens you'll find in the city. Its calling card? The stunning maple trees reflected in the pond at the height of autumn.
There's plenty in the way of famous Chinese and Japanese landscapes in miniature, using rocks to represent mountains and so forth. In terms of layout and garden experience, it can feel a little prescriptive: its network of walking trails leads you to a number of prescribed viewpoints around the garden. If that floats your boat, great; if not, it's still pretty fun wandering around.
5. Hama Rikyu Gardens
A large Japanese-style garden surrounded by towering skyscrapers, a visit to Hama Rikyu gives you fun contrasting views of green and silver. Rather unusual here is the seawater pond, whose water levels change with the tide.
But the best reason to visit is because it's the loveliest green space near Tsukiji's Outer Market — and you can't beat a stroll in a garden like this after gorging on sushi for breakfast. A cup of matcha at the teahouse makes a great post-breakfast digestif.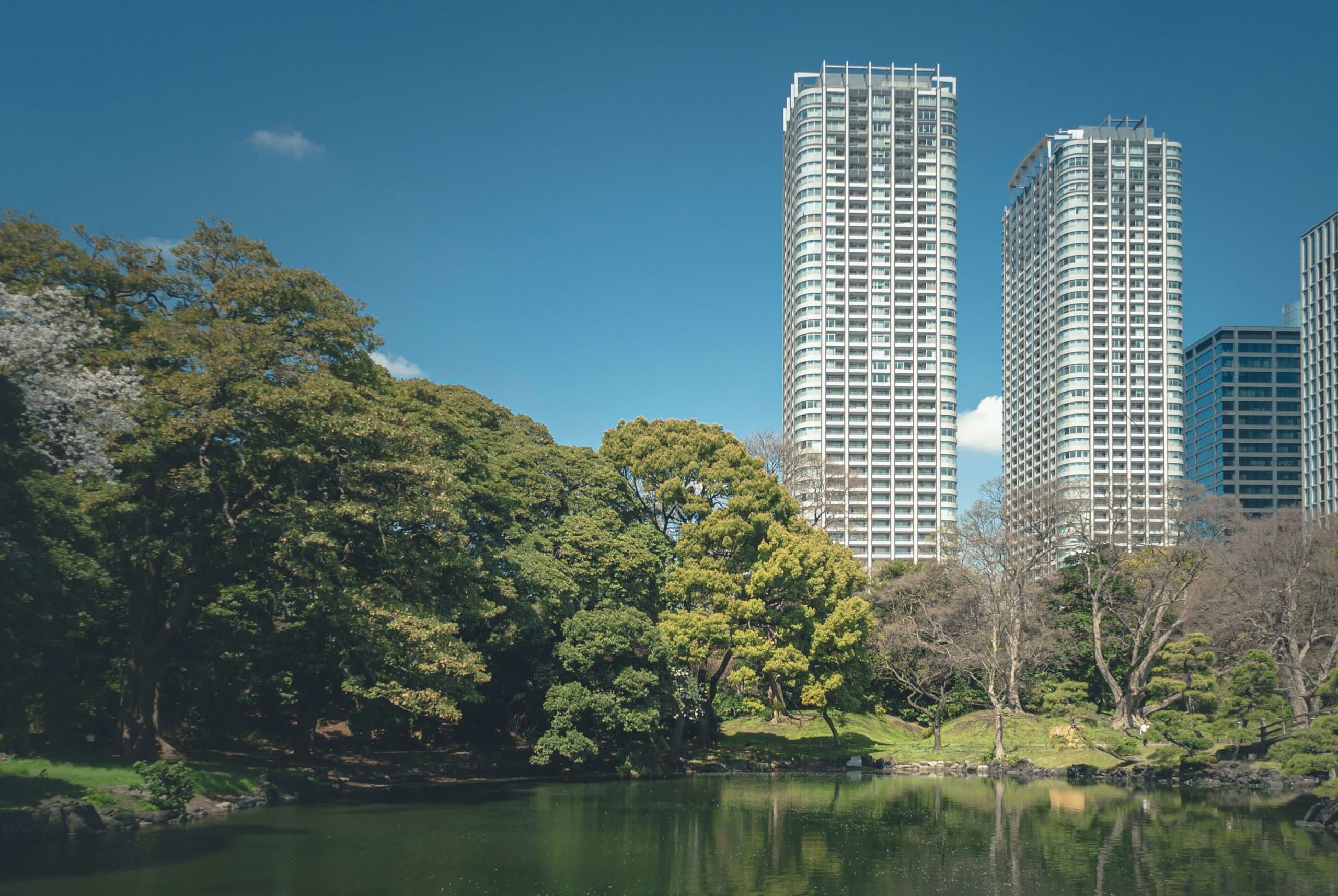 Gardens Across Japan
1. Korakuen, Okayama
Regarded as one of Japan's three most beautiful gardens, Korakuen is Okayama City's calling card. While beauty is subjective, it's hard to argue with this designation, especially after spending an hour or two exploring the grounds.
Few other landscape gardens have a well-preserved castle looming in the distance, and such spacious lawns — the latter most likely influenced by gardening ideas from the West. It's a must-visit if you wind up in Okayama during your travels.
2. Kenrokuen, Kanazawa
Like most strolling gardens in Japan, Kenrokuen is gorgeous in all seasons. However, it's one of the few that is loved specifically for its winter scenery, i.e., the sight of yuki-tsuri common to Kanazawa.
Ropes affixed to bamboo poles between the trees in Kenrokuen provide additional support to branches, preventing them from breaking under the weight of heavy snow. The contrast of white snow, fine networks of golden-yellow rope, and evergreen pines is absolutely stunning.
3. Adachi Museum of Art, Matsue
Not many gardens can claim to be the best in Japan, but this five-hectare landscape garden has held that title — bestowed upon it by the Journal of Japanese Gardening — uncontested since 2003.
Walking through the gardens here is like exploring a Japanese painting from the inside. Indeed, the entire landscape is tightly composed and each element meticulously maintained — not a single leaf out of place from each dome-shaped bush, nor a speckle of gravel outside its sea of silvery sand. The garden as viewed from the museum looks like an eerily perfect-picture scroll!
4. Isuien, Nara
Located just outside Kyoto, Nara can certainly be overrun with tourists. But a short walk from the crowds at Todai-ji brings you to the beautiful, tranquil Isuien, a Japanese-style garden.
Strictly speaking, it's two separate gardens merged into one. The front garden has a villa and tea house, and the back is a strolling garden centered around a pond. But more importantly, it's an inviting and very necessary escape from the crowds nearby.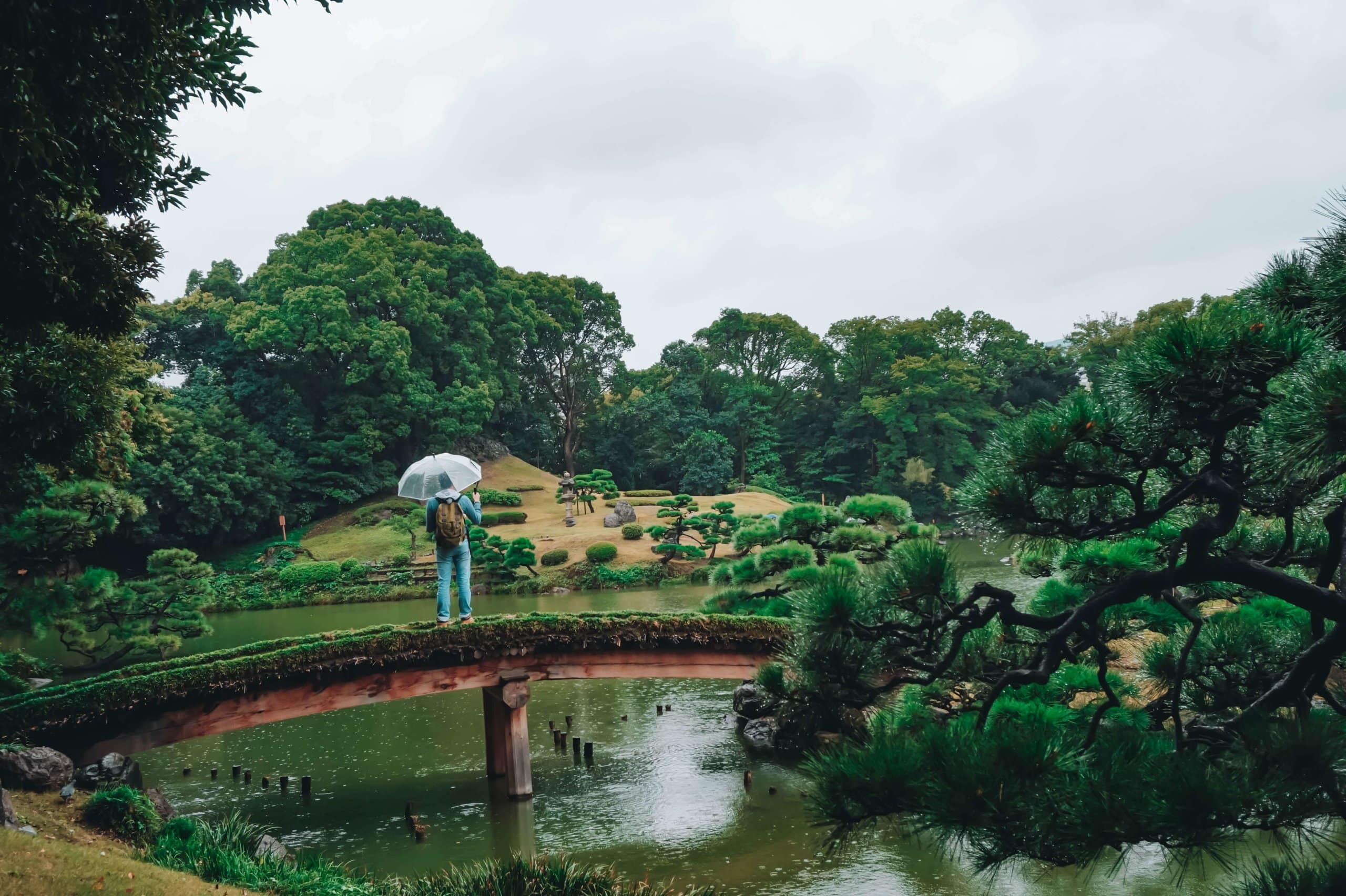 5. Mifuneyama Rakuen, Saga
Saga Prefecture is not exactly top on the tourist destination list, but it should be for Mifuneyama Rakuen alone.
This garden is more like a huge park set into the side of a mountain that's straight out of a Chinese landscape painting. During azalea season, the mountainside is festooned in shades of white, pink, and crimson. If you're staying at one of the two luxury ryokan at the foot of Mifuneyama, so much the better (learn more about ryokans in Japan).
Bonus: Ashikaga Wisteria Park, Tochigi
Located a little ways outside of Tokyo, this is not, strictly speaking, a Japanese garden. But there are few experiences more magical than walking through tunnels of lavender and periwinkle wisteria.
Slowly Savor Your Japanese Garden Visits
How to make the most of your garden visits? A few suggestions:
Wake up early and visit before the crowds set in, especially if it's a World Heritage Site.
Where possible, find a spot to sit down and enjoy the view.
Take it slow while you're walking.
Put the camera away for a moment.
Take a breath, and let the garden find its way into you.
Further Reading on Japanese Gardens
Below are some excellent books by experts in the field of Japanese gardens: