Fall is a wonderful time to be in Japan. In my book, autumn in Japan outshines spring (and cherry blossom season) for its many delights.
Autumn in Japan is one of the country's most beautiful seasons, most would agree. As in other temperate regions of the northern hemisphere, the fall season lasts roughly from mid September, through October and November, and into early December. Temperatures are cool but mild, ranging from about 45 Fahrenheit (7 Celsius) in the evening in late autumn, to as high as 75 F (24 C) on warm September days.
As summer gives way to autumn, the weather gets cooler and the leaves begin to change, creating breathtaking vistas of vibrant red, orange, and yellow leaves in the country's many forests.
The falling temperatures signal the return of comforting fall flavours. Think chestnuts and freshly harvested rice, fragrant pine mushroom broth, oily grilled Pacific mackerel, pumpkin soup, and sweet persimmons. (Hungry? Read more about Japanese cuisine.)
Autumn also brings orange osmanthus, blood-red spider lilies, and chrysanthemums in their delicate pastel glory. And after the heat and humidity of summer, a dip in the onsen at a traditional ryokan suddenly becomes a warming respite from the bracing chill of autumn air.
Of course, one of the best parts of fall in Japan is the colours. Naturally, this means engaging in the ultimate autumn pastime — momiji-gari (also known as koyo).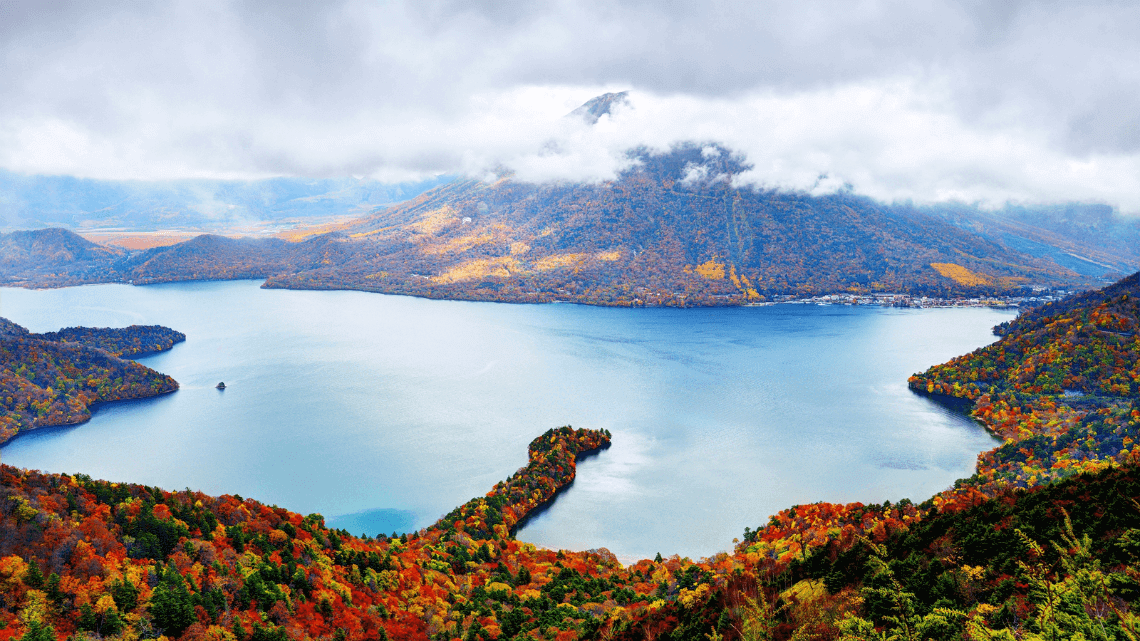 Momiji-gari literally means "hunting red leaves," which is the main draw for many visitors to Japan in autumn. It derives from momiji (red leaves, or maple tree), and kari (hunting).
In practice, momiji-gari and koyo do not refer exclusively to maple leaves. Rather, they're catch-all terms for "leaf peeping," or viewing the fall colours. Think entire mountains enveloped in swathes of red, orange, and gold; an avenue of golden ginkgo trees leading to a shrine; starry red and yellow maple leaves blanketing a carpet of moss.
Because of how beautiful Japan is at this time of year — not to mention the relatively pleasant temperatures — fall has become a peak travel season in Japan. The good news is that, despite its popularity, the crowds in autumn haven't quite reached the heights of those during sakura (cherry blossom) season.
As such, if your dates are totally flexible and you have to choose one or the other, you may want to lean toward fall. On the other hand, it's also worth considering another month or season altogether, as Japan is worth visiting at any time of year. If you're not sure when to visit, see our guide on the seasons and best times of year to travel to Japan.
When to See Fall Colors in Japan
Compared to spring and its ephemeral cherry blossoms, fall is refreshingly forgiving. While the sakura are very unpredictable, there's a relatively long grace period for autumn in Japan. This makes planning around autumn colours a slightly easier process – especially if you're open to broadening your scope with regard to travel destinations.
Much like the sakura zensen, tracking the koyo zensen — the progress of the autumn colours across the country — is an annual routine in Japan. The leaves follow a wave of colour beginning from the north (Hokkaido) and working its way down south to Kyushu and Okinawa. Unlike the cherry blossoms, which occur rather quickly, the koyo zensen has a much more leisurely pace, lasting for a period of around 50 days or so.
To the surprise of many travelers, September is actually a little too early for fall colours in places like Tokyo and Kyoto. Unlike England or the East Coast of the United States, September in these parts of Japan is basically still late summer, with nary a hint of dying leaves anywhere.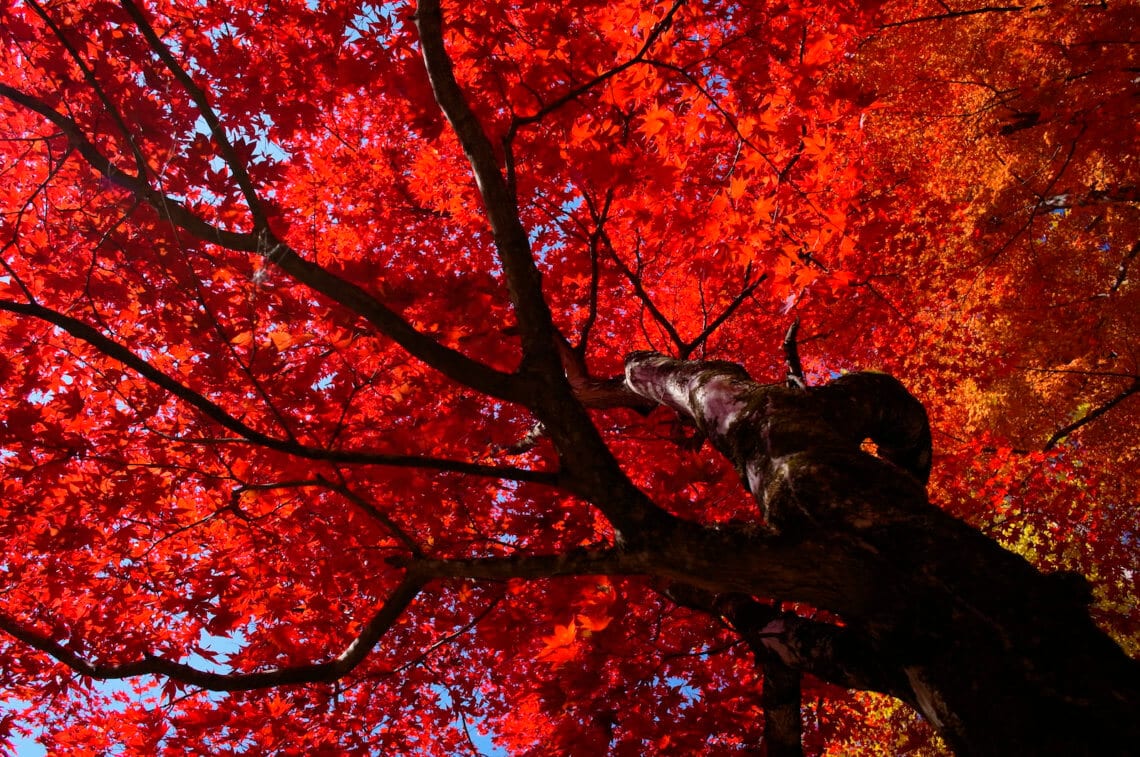 Even early to mid-October is usually too early. The end of October onward is when the colours typically start to turn, peaking around the middle of November. In Kyoto itself, the colours can sometimes linger as late as the end of November, though they'll usually be past their peak.
The timing varies greatly depending on geography and altitude, and in mountainous areas the leaves typically turn a bit sooner. Similarly, if you're willing to travel to more off-the-beaten-path places in Japan, you can often coordinate your travels to overlap with earlier and later fall colours.
For example, mid-September to early October sees some gorgeous fall foliage in the northern island of Hokkaido, and in the lovely and remote Tohoku region you'll see beautiful autumn colours from mid-October onward. Conversely, the much milder southwestern island of Kyushu tends to peak later, around the end of November.
Naturally, exact timings can vary from year to year, and as we all know, Mother Nature is wonderfully unpredictable!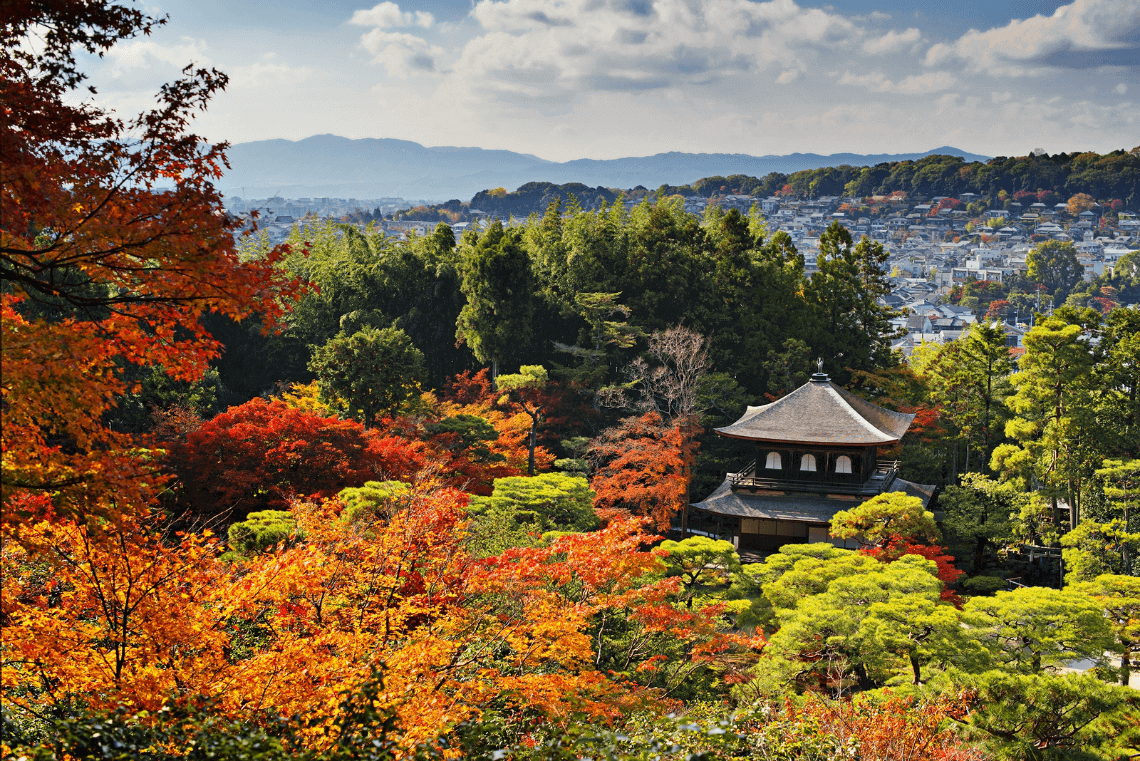 Fall Foliage: Trees and Other Japanese Plants to See in Autumn
Thanks to the abundance of deciduous trees all over Japan, fall transforms the landscape with dizzying palettes of red, yellow, and brown.
Japanese maples, wax trees, rowan, burning bush, and Japanese sumac turn red; the leaves of linden-leaved maples, ginkgo, Japanese elms, and poplars turn golden and yellow; and birches, chestnuts, oaks, and beeches shed leaves in shades of brown.
Aside from these trees, there are also the aki no nanakusa, or the seven representative flowers and grasses of autumn that herald the season's arrival. Taken from a verse in the Manyoshu, the oldest existing anthology of Japanese poetry, the flowers are bush clover, Japanese pampas grass, arrowroot, dianthus, Patrinia scabiosaefolia, thoroughwort, and bellflower.
These flowers often appear throughout Japanese literature with romantic, wistful overtones. Often invoked in tandem with specific characters or events (e.g., the ending of relationships), they evoke deep beauty coloured by a hint of sadness — much like autumn and the passing of time.
Out of all the autumn flowers, pampas grass — also known as eulalia, susuki, or obana — may be the most visually dramatic, especially in the late evening light. You might see them in majestic silvery clumps growing wild along mountain trails, in fields glimpsed from a train window, or on a cliff facing the sea.
The Sengokuhara Susuki Kusahara in Hakone, a huge field covered with pampas grass, is mesmerising in autumn — gold and silver waving and glimmering in the sunlight (Sting would love it).
You'll find many more of our favorite places to see fall foliage below.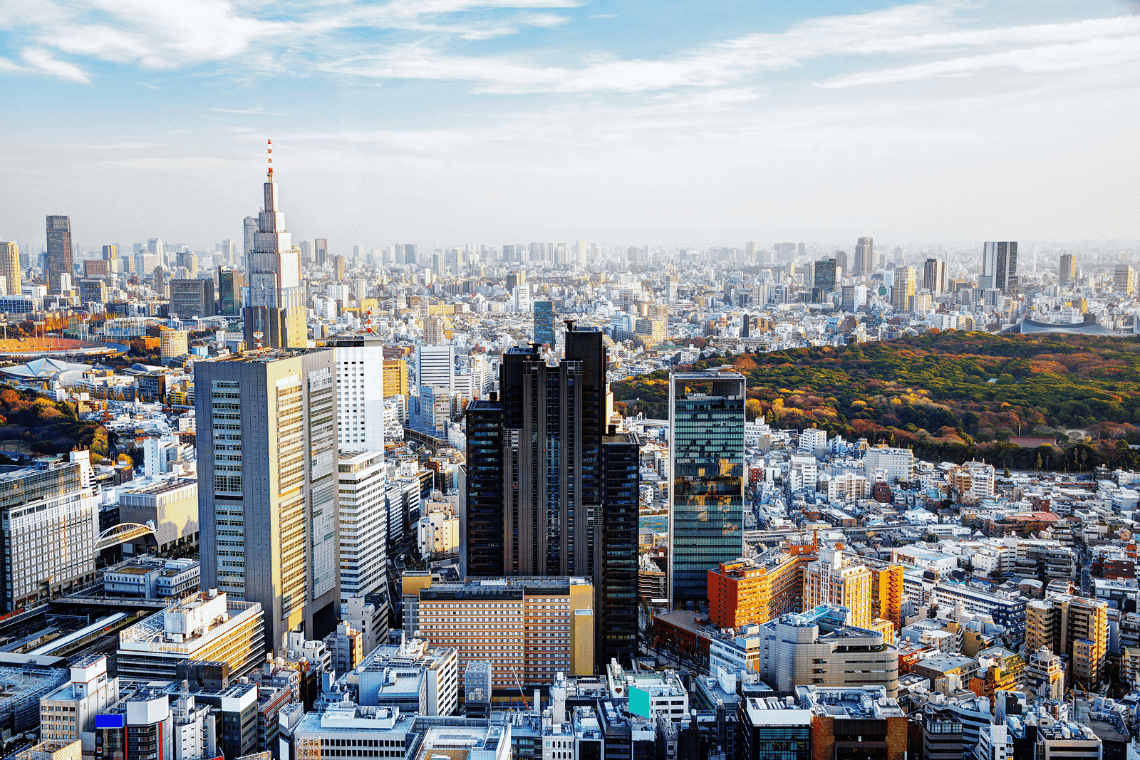 The Best Places to See Autumn Leaves in Japan
Here are some of the most beautiful places to experience the autumn leaves in Tokyo, Kyoto, and beyond. For even more floral inspiration, see our guide to Japan's best gardens.
Tokyo's Best Places to See Autumn Leaves
It might feel like a neon-spiked concrete jungle on steroids at times, but Tokyo — with its many parks and gardens — is home to some truly lovely places to enjoy the autumn colours.
Yoyogi Park
Located right next to Shibuya, Omotesando, and Harajuku, Yoyogi Park is an ideal autumn leaves stop in between shopping in and exploring the surrounding neighborhoods. You'll want to visit the southern section between Yoyogi-Koen Station and Harajuku Station, which is home to many ginkgo and maple trees.
Icho Namiki
An avenue of ginkgo trees, Icho Namiki is one of Tokyo's most iconic autumn leaves spots. The towering trees are pruned into gorgeous, gigantic teardrop shapes, making them seem like an avenue of gloriously golden torches.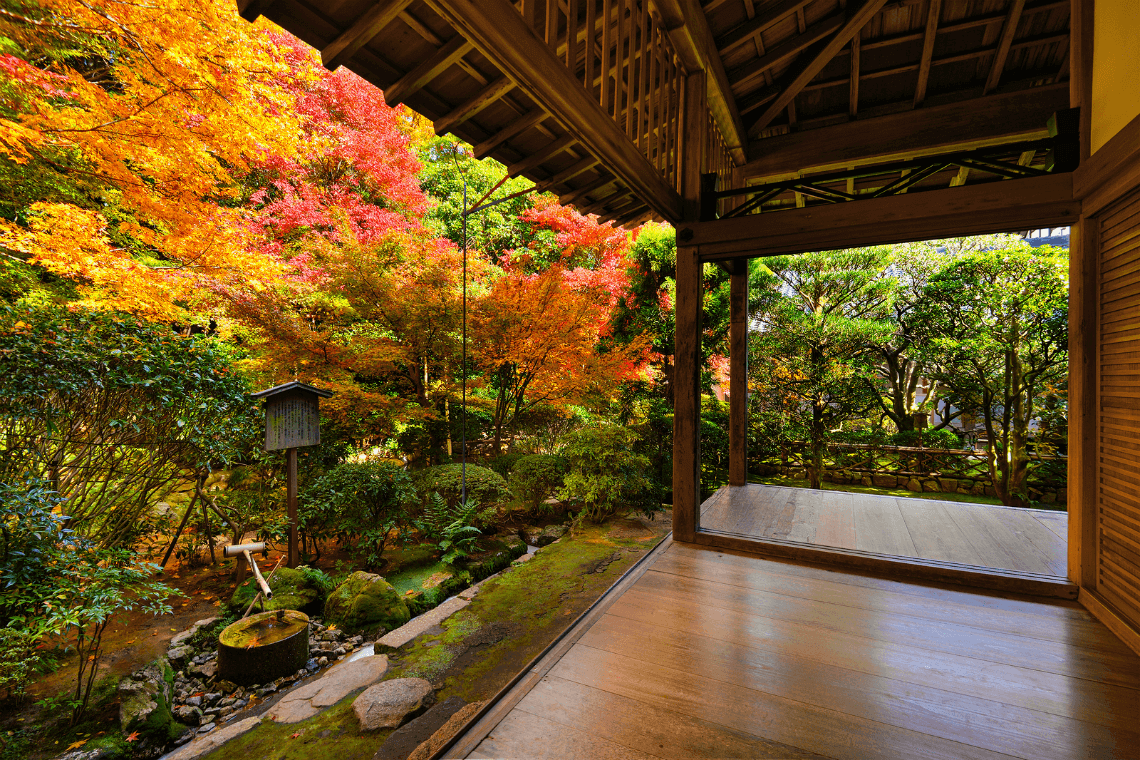 Rikugien
Famous for its weeping cherry tree in spring, autumn sees Rikugien's lovely Japanese landscape garden lit up in late November, making the maples seem like incandescent fires in the night. The garden is large enough to stroll around, and there's a teahouse where you can rest and enjoy the small waterfall nearby.
Shinjuku Gyoen
This sprawling park in the heart of Shinjuku is amazing in any season. With a variety of gardens, groves, and trees, it is a solid choice for enjoying some autumn colours. If the weather is warm enough, bring lunch and have a picnic in the park.
Koishikawa Korakuen
Visitors love this stunning Japanese garden in the middle of Tokyo (not far from the Tokyo Dome) for the glorious crimson and red maples reflected in the central pond. It is best visited at opening time before the crowds hit.
Mt. Takao
This mountain with a temple at the top is popular with Tokyo dwellers for weekend hikes (one of the best day hikes near Tokyo) — and especially so in autumn for the beautiful scenery. There are six routes of varying difficulties leading up the mountain, making it a great option for hikers of all abilities. Mt. Takao is a mere 50-minute train ride away from Shinjuku Station.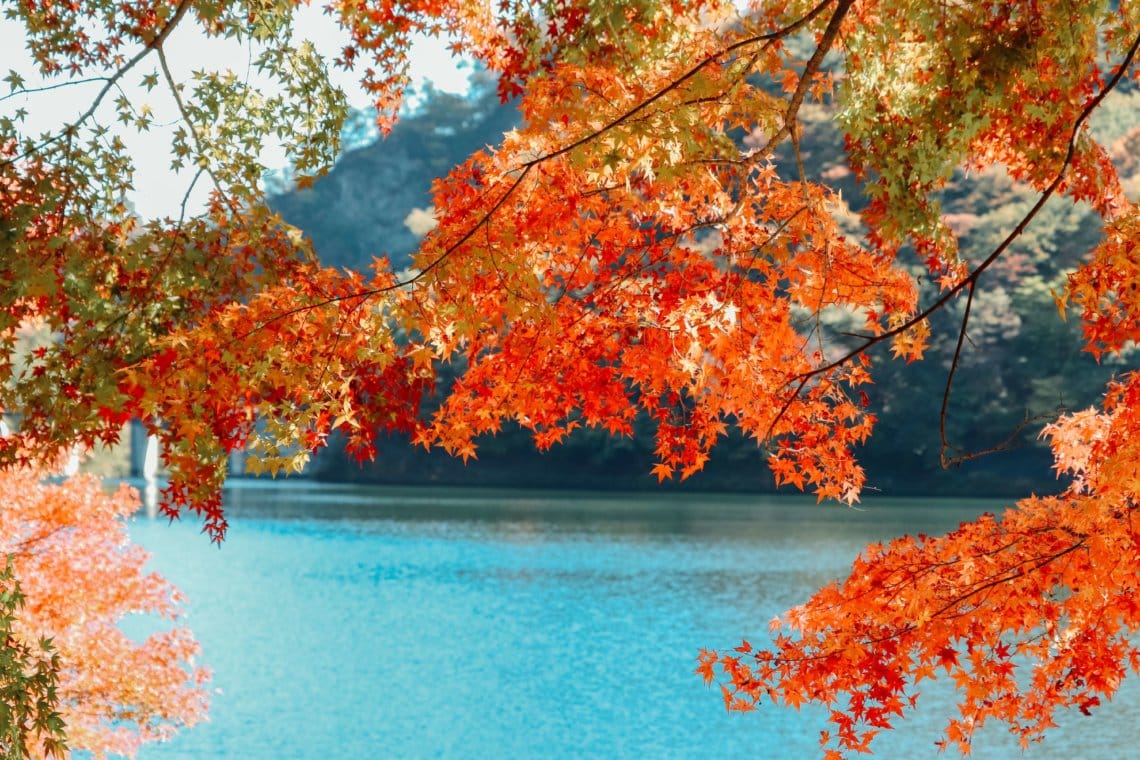 Okutama
Another favourite with Tokyo locals for the autumn colours is Okutama. If you're not keen on climbing Mt. Mitake, the Hatonosu Valley trail is an easy, gentle walk that takes you past a gorgeous river and through some stunning forests.
Kyoto's Best Places to See Autumn Leaves
Thanks to its popularity, Kyoto can seem overwhelming at times. Many of the popular temples, like Kiyomizu-dera, are packed with visitors in any season, so a good rule of thumb is to wake up early and do your best to beat the crowds. If you're traveling to Kyoto, don't miss our post on Kyoto's best temples, both on and off the beaten path.
Daitoku-Ji
This temple near the charming neighbourhood of Nishijin is receiving more attention these days, not least because of Izusen, its shojin ryori (Buddhist cuisine) — an excellent choice for vegetarian and vegan diners. While most of the sub-temples are worth visiting, Koto-in is particularly magnificent; its entrance is essentially a maple leaf tunnel, and it's glorious at the peak of autumn.
Tenryu-Ji
A favorite with photographers in autumn for its stunning landscape garden dotted with maple trees, this UNESCO World Heritage Site in the very popular Arashiyama district also houses Shigetsu, an excellent shojin ryori restaurant recommended by the Bib Gourmand guide.
Daigo-Ji
Given its sprawling grounds and lush maple canopies, Daigo-ji is one of the best out there when it comes to autumn leaves. Popular with photographers, it's definitely worth the half-hour trek from Kyoto Station.
Nanzen-Ji
Remember that iconic scene in Lost in Translation where Scarlett Johansson walks up the steps of a temple at the peak of autumn? This is where that scene took place. It also happens to be one of writer Pico Iyer's favorite places in Japan.
Fewer Clients, Richer Experiences
We live and breathe Japan, and want you to experience the Japan we know and love. If you're as obsessed with the details as we are, chances are we will be a good fit.
Eikando
Conveniently located a few minutes' walk from Nanzen-ji, Eikando is a prime autumn colours spot in the city. November sees the temple putting on special illuminations at night that are quite spectacular. Enjoy your autumn leaf viewing with a spot of whipped matcha.
Kyoto Botanical Gardens
This is a severely underrated destination in any season. With its huge diversity of plants and trees, you'll see spectacular autumn colours when the right time comes, but also enough flowers to fill your dreams for days.
The Best Places to See Autumn Leaves Elsewhere in Japan
Unsurprisingly, some of the best places for fall colours are outside of the cities. In addition to the places below, you'll find lovely fall foliage in most of Japan's best destinations.
Yoro Valley, Chiba
Just outside of Tokyo, Chiba is a rather overlooked prefecture for tourists, due to its association with Tokyo Disney (including the unique DisneySea), Narita Airport, and not much else. But in addition to some nice beaches, it also has some great destinations, like Yoro Valley. This valley is home to eight hiking trails, all great for viewing autumn leaves, and perfectly doable as a day trip from Tokyo.
Oku-Nikko
Most visitors to Nikko focus on Nikko proper, but strap on your hiking boots and venture a little farther and deeper into the mountains. Lake Chuzenji, Senjogahara Marsh, and Akechidaira Plateau are all home to beautiful autumn colours and lovely walking courses.
Ibaraki
Ibaraki is another overlooked destination. Its proximity to Tokyo — around 2.5 hours by train — means it's great for building into itineraries leading northward. Fukuroda Falls, Mt. Yamizo, Mt. Nantai, and Okukuji Valley are all splendid places for autumn colours, with the added bonus of relatively few international travelers.
Daisetsuzan National Park, Hokkaido
Japan's autumn leaves "front" starts here, on Japan's northern island, in mid-September. Parts of the island with higher elevations, such as Kogen Onsen, Mt. Akan, and Mt. Asahidake, are all fantastic places to hike through from mid- to late September for the autumn colours. As some of the trails can be quite challenging, this is for more energetic and experienced hikers.
Oze
This national park, located around 100 kilometers north of Tokyo, is an ideal destination for walkers and hikers. Think trails snaking through mountains and marshland. From late September onward, visitors flock here to enjoy the spectacle of a vast, grass-covered marshland stained reddish-yellow.
Mt. Zao, Yamagata
While most famous for its "snow monsters" in winter, the slopes of Mt. Zao are stained all shades of red and crimson in autumn. The Zao Ropeway, a cable car leading to the summit, will net you some truly memorable aerial views.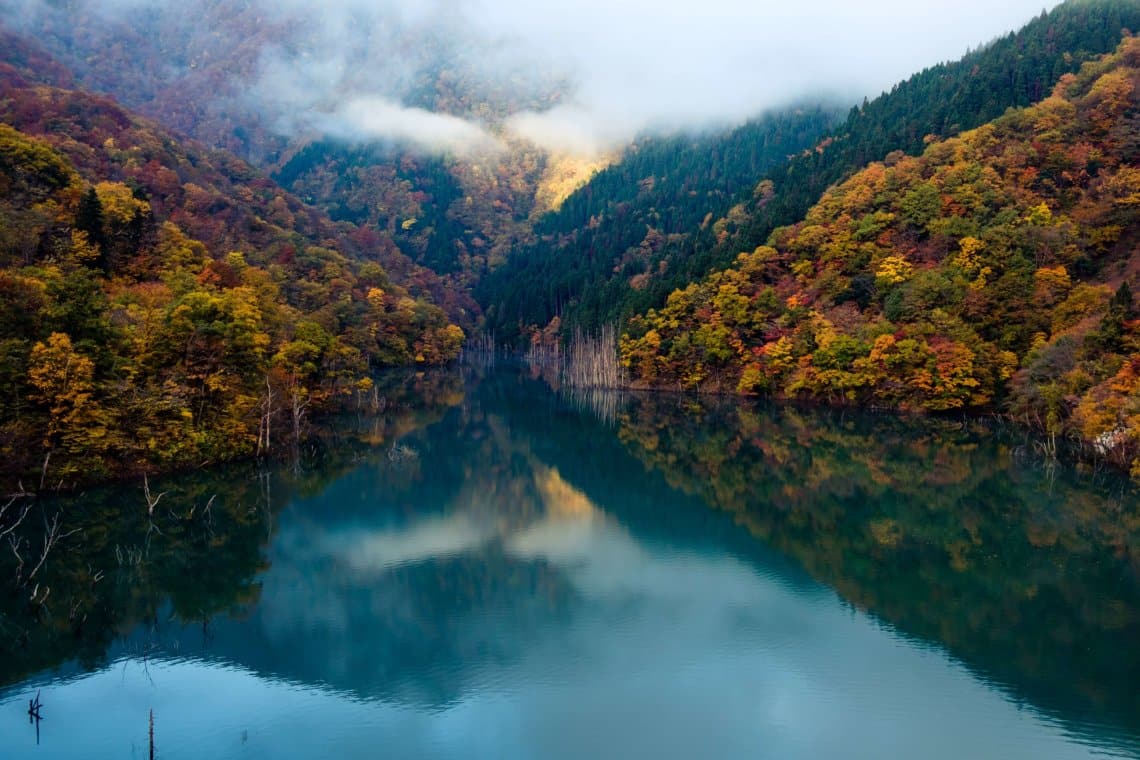 How to Momiji-gari Japanese-style
Now that you know where to go to see beautiful autumn leaves in Japan, here are some tips on how to leaf peep like a local.
Go for a Walk or Hike
It goes without saying that immersing yourself in nature is one of the best ways to enjoy the autumn colours up close, and you'll also see a far greater variety of plants than you might in a more manicured city garden. Even if you can't head out to a mountain, explore on foot and you'll also get a great workout to boot.
Slow Down
The beauty of autumn is in the details, and it is far more rewarding to thoroughly explore a place over a few days than to rush through in a day. Look closely. Take some time to stare at the delicate tracery of lines on a mottled cherry blossom leaf, or the way maple leaves rest on star-shaped moss. Find the crunchiest leaves and step on them before someone sweeps them up. Pick up gingko leaves and toss a handful of gold in the air. Most importantly, don't worry about rushing to tick places off a mile-long list. You'll have much more fun (and remember where you took your photographs) this way.
Take the Slow Train
With a limited amount of time in Japan, it can be tempting to zip through places and hop from destination to destination. But taking a slow train through the countryside to watch the changing colours and bucolic scenery is a beautiful experience in and of itself. Japan also has several luxury trains that snake through particularly scenic routes over the course of a few days. One example is the JR East Shiki-Shima train.
Drive Through the Mountains
Japan has an excellent public rail and bus system, but many remote places are inaccessible without a car. Think national parks and mountaintop temples or traditional ryokans. If you're keen on the path less traveled, take your international driving license with you and rent a car.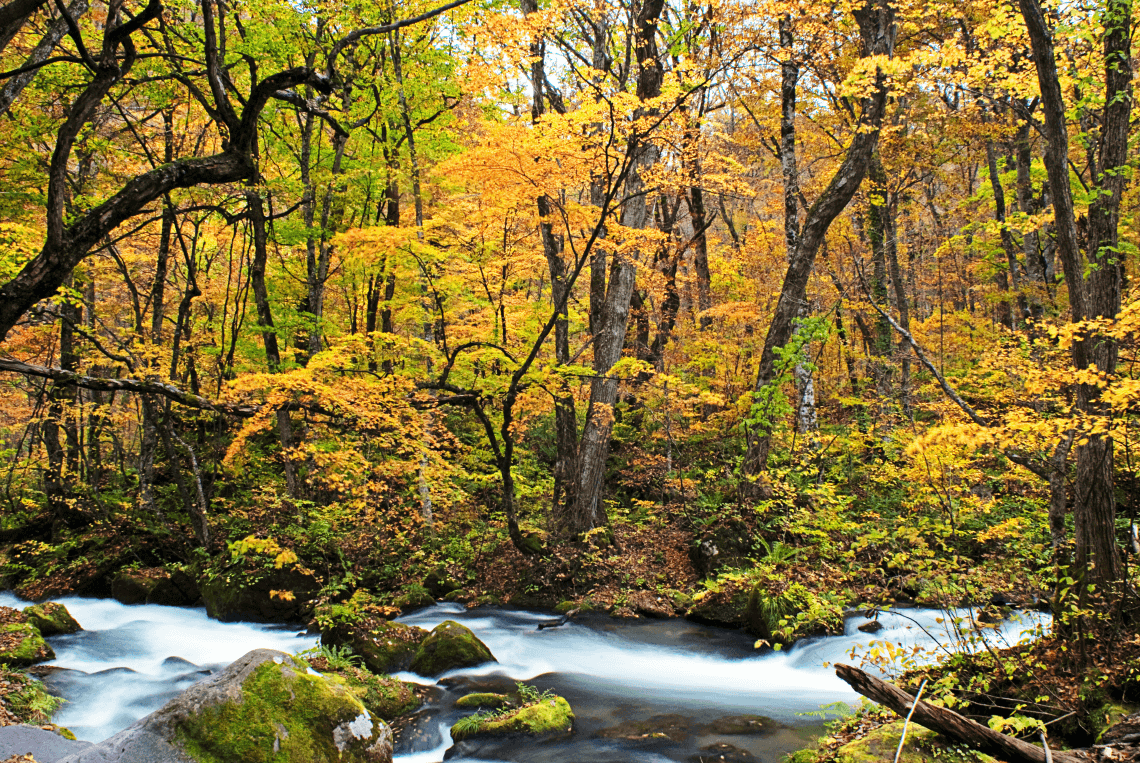 When to Begin Planning Your Autumn Trip to Japan
You're sold on autumn in Japan, and now you're ready to start planning.
The good news: You have a little more flexibility compared to cherry blossom season in that you'll have a wider range of dates to play with.
Still, you should start planning at least half a year to a year in advance, particularly if you're including major destinations like Tokyo and Kyoto in your itinerary.
As in cherry blossom season, hotels and ryokans charge premium prices for rooms, which tend to get snapped up as soon as they're available.
A good rule of thumb is to decide on your dates, and then plan your itinerary for the autumn colours based on the timeframe — see above for when to experience momiji-gari in different parts of Japan.
That being said, planning will ultimately only go so far. The rest is up to the weather and Lady Luck. But don't fret — you're sure to be charmed by Japan nonetheless!